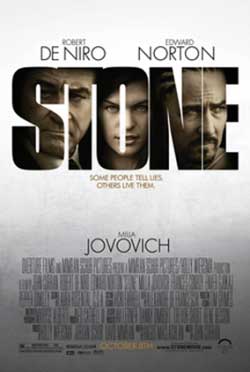 SYNOPSIS:
Parole officer Jack Mabry (Robert De Niro) has only a few weeks left before retirement and wishes to finish out the cases he's been assigned. One such case is that of Gerald "Stone" Creeson (Edward Norton), a convicted arsonist who is up for parole. Jack is initially reluctant to indulge Stone in the coarse banter he wishes to pursue and feels little sympathy for the prisoner's pleads for an early release. Seeing little hope in convincing Jack himself, Stone arranges for his wife Lucetta (Milla Jovovich) to seduce the officer, but motives and intentions steadily blur amidst the passions and buried secrets of the corrupted players in this deadly game of deception
REVIEW:
Director – John Curran
Starring – Edward Norton, Robert De Niro, Milla Jovovich
Anytime you have three heavyweight actors starring in a movie, you immediately go into it with the assumption that this is going to be a good movie and Stone doesn't disappoint. Essentially the movie is a character study, and if you aren't a fan of those kind of films, than I would not recommend it.
The movie opens with a young Jack, who is Robert De Niro's character. He sits almost comatose in a chair, drinking and glued to the golf event that is playing on the television. His wife is clearly at the breaking point as she stares at him. Here is a man that is emotionally distant from his wife, and the marriage is more of two people cohabitating than actually being in love. Well, she's had enough and she tells him that she is leaving him.
Jack doesn't take this very well at all as he immediately jumps up and rushes upstairs, grabs their young daughter from a bed, and threatens to toss her out the second story window if his wife leaves him. After agreeing to stay, they stand out in their field, doing their best to reconcile the situation.
Cut to thirty some odd years later and they are still married, though the relationship hasn't changed much. He is close to retirement as a parole officer and is looking forward to a life spent golfing and drinking. But as in all of these "retired just one week too late movies," he finds himself reviewing the case of one Gerald "Stone" Creeson (Edward Norton), who was convicted in the arson of his grandparents house after they were killed by someone else.
This, of course, is the best part of the film as we watch two great actors going back and forth. By this point in his career Jack has heard all of the pleas and excuses and is not really ready to believe anything that Stone has to say. Stone senses this and thinks that what Jack might need is a little push, say, from his sexy wife Lucetta (Milla Jovovich). What follows is an interesting portrait of three completely different characters as they come to grips with who they are and their purpose in the world.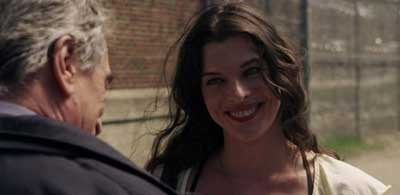 Suffice it to say the acting in this movie is superb. Edward Norton does a fantastic job as a man who has made mistakes in his past but struggles to find some meaning in his life and beyond. Equally amazing is Robert De Niro as a man who inwardly has a lot of demons of his own. He goes to church every Sunday but just because he feels some sort of obligation to do so. He is by no means a righteous man and when Stone and Lucetta start to push his buttons, it doesn't take long for life to unravel. Milla Jovovich also delivers a great performance as Stone's ultra sexy wife, a school teacher by day, a wild and wanton woman by night who lives for the moment and has no problem giving in to her desires and feelings.
There are a lot of nice touches in the film and one of the most important of these is a radio talk show that Jack listens to called "All Voices Under God." Snippets of the program are played throughout the movie and if you listen carefully to what is being said they lead credence to the events playing out on screen. Again, this movie is a character study but it also weighs in rather heavily on the role that religion and spirituality plays in our lives. By the end it does give you pause as you think about how in tune you are with the world around you.
See it once as the story and performances are really good and it presents some great questions. The end will leave you feeling that there was still some story left to be told, that somehow all of the loose ends weren't quite all wrapped up. That will definitely irk some viewers but sometimes with character study movies such as this some questions are probably better left unanswered.