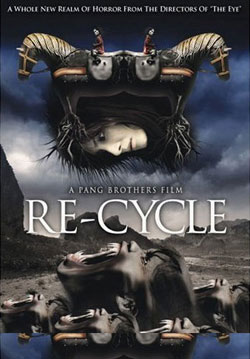 SYNOPSIS:
As she struggles to complete her new horror novel, best-selling author Tsui Ting-Yin's (Angelica Lee) gruesome literary creations come to life and ensnare her in their terrifying and all-too-real alternate world. Now, she must escape, but the only means is to confront a painful incident in her past. Directed by Danny Pang and Oxide Pang Chun, this visually stunning film also stars Siu-Ming Lau.
REVIEW:
If your a fan of the movie "The Cell" then Re-cycle should be right up your alley. After looking over how the public responded on this release, I really have to stick to my guns on how I felt about this movie. I admit to being a fan of really "good" Asian horror. Although I'd also admit there is much repetition in the market, they still seem to deliver stronger scares than that of there American counterparts. I suppose this is due to remakes that fall short on there American go around.
Re-cycle is not your typical girl on the ceiling movie. It may fool viewers as it starts with all the typical Asian scares…then it turns 10 fold as it merges into what I like to call "Alice in Wonderland in Hell". At this point the special FX and huge production aspects take over and your taken to a dream world that reminds me much of that you'd see in "Silent Hill". I had read somewhere that the Pang Brothers had a production cost of 5 million. So while this one may just sneak under the American radar I'm sure it was a blockbuster status release back home in its lavish cinematography.
With the Pang Brothers release of "The Eye" being highly criticized but immensely popular, Re-cycle seems to be the best we've seen from the duo since. If anything, the Asian horror revolution is changing with dynamic visuals that are usually only witnessed in American blockbuster films.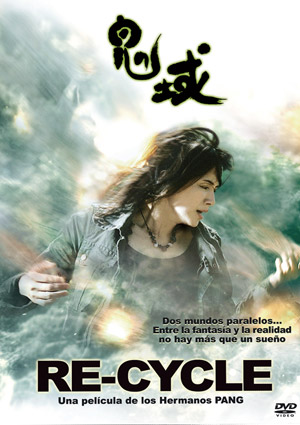 In short, the film should be watched for visual flair even if you find trouble with the story. With flying corpses, huge sets, displaced merry-go-rounds and minions of undead wandering in a psycho-imaginative purgatory states, it also has quite a few Visual FX I haven't seen before. Re-cycle is alot of fun. It takes you on a journey and still throws in typical Asian misdirection for a few worthy scares. For those who have given up on Asian repetition, then Re-cycle brings a nice breath of freshness to the genre.
Give it shot, I for one am a fan.
Re-Cycle (2006)