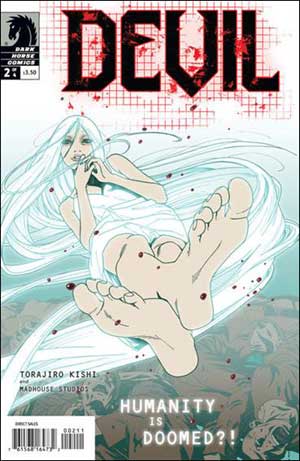 DEVIL #2 (COMIC)
Story & Art: Torajiro Kishi, Madhouse Studios
Letters: Sasquatch
Editors: Tim Ervin
Cover Artist: Torajiro Kishi
Publisher: Dark Horse
Publication Date: 2010
Format: Full Color – 28
Price: $3.50
"Could there ever be such thing as a vampire virus? Sounds like the stuff of sci-fi and horror all wrapped up in one, and that's what makes Devil such an interesting story. Answers unfold about the government program that created this nasty disease of superhuman power and hunger for blood in the second frantic issue. Who is this Mariko creature? Is she a victim, or is she proud of her new, superevolved existence? And can the government really contain the beautiful monster they've created?"
Artwork: 4.0 out of 5.0
The only reason I go a little lower on this artwork is because it's not super rich in detail. So don't let the number deter you, this is a great looking book and I have to say that the colors just make it that much better. The characters are simple yet consistent and they all just shine. This is a great looking book.
Story: 4.5 out of 5.0
The story in this issue picked up. It wasn't so much action as we got in issue #1 but the story was solid. This issue really centered on explanations, which are needed when you have a mini series, and nothing presented let me down. I love the idea here and I can not get enough of how it was told to me. This is an exciting book so take note of it now.
Dying Breath: 4.5 out of 5.0
While the vampire front has been touched on for years, we are really starting to see some high quality mini series come out representing the genre. Devil is nothing but a fresh, much needed take, that is helping steer people back to a fear of the blood sucking creatures (instead of showing them their goo-goo eyes). Solid artwork paired with an amazing story make is a winner so far that you should be reading.
If you would like to buy Devil #2 you can pick it up at your local comic shop. For more on Dark Horse please check out www.darkhorse.com/