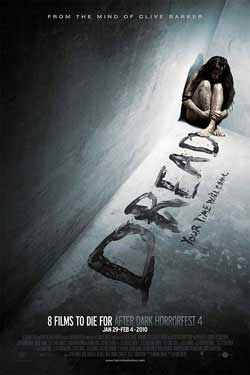 SYNOPSIS:
Assisted by two naïve classmates, duplicitous Quaid (Shaun Evans) conducts a devious research project examining students' innermost fears. Once armed with this data, Quaid methodically torments his hapless subjects, taking full advantage of their weaknesses. Adapted from a short story by fright master Clive Barker, writer and director Anthony DiBlasi's horror movie offers a potent mixture of heart-pounding thrills and extreme violence.
REVIEW:
Dread is a 2009 film inspired by the Clive Barker short story. I actually came across this story way back in the early nineties per the graphic novel "Dread" published under the Marvel epic series. So it was a pleasure to see the piece finally make its way to screen. Strangely enough it wasn't marketed under the Barker name as much as you would have assumed, per the poster which announces Clive Barker rather small.
REVIEW CONTAINS SOME SPOILERS
The story is pretty deep rooted in college philosophy. Yunno… the kind that philosophy majors sit around analyzing the world and all that its comprised of. Well our main characters seem to conduct most of the conversationS from this base. Deep thinkers, I call them. At the forefront is the hyper edgy Quaid and the pacifist Stephen. They hit it off pretty well and an immediate friendship begins to form. Though it's clear that Quaid is the primary driving force on decisions and directions.
Quaid spends his free time painting nude portraits and attending local underground clubs. He is clearly born from the really messed up and yet intelligent batch of highly opinionated world thinkers. We find out that he suffers from a mental ailment that is carried over from his traumatic childhood. An axe murderer came into his house and murdered his parents in front of him. At the same time he seems to keep himself well off enough to afford his own place and a money when needed.
Though a loner, he is the odd man out of the local friends circle they have established. The circle is born out of the thesis project idea to film others on camera reciting what they fear. This thesis is called "Dread". College students swing by and profess there inner fears on camera. Stephen has hired a girl named Cheryl who has agreed to come on to edit the project. They soon hit it off more than friends though that aspect is mostly downplayed. Add to the mix the lovely but deeply birthmarked Abbey who's odd birthmark entails a black patch on her face that extends thru the whole right side of her body. (which is screen makeup for the record) This also becomes a subject that is chucked around and her ability to cope with it over the years. Though its unique, it comes across beautiful and grotesque. This aspect becomes Abbey's main source of anxiety even though she has confided in Stephen and Quaid as friends. What's transpired is disheartening and a reason to feel for the character of Abby far beyond the illusion.
Dread features the acting talents of: Jackson Rathbone, Shaun Evans, Hanne Steen, and Laura Donnelly
Quaid, in his over the edge psychosis, proclaims that the "Dread" project has not gone far enough. In the horror film business this statement usually spells trouble in which this case it clearly does. So much that Quaid becomes obsessed with the idea taking it over the top to recreate the emotional responses based on the subjects fears. The subjecst though are kidnapped unwillingly and subjected to the worst personal tortures imaginable…all to prove a point. This film is inheritantly dark with no recourse for absolvement. The road not taken is the road that that is embraced. As they so often refer to it as…The answer is in the action of "touching the beast".
Dread was directed by Anthony DiBlasi and written based on the short story of Clive Barker. The characters are dynamic and project a level of horror that is psychologically based even though we get a fair amount of brutality and violence. I think this was a interesting ride, that probably wont appeal entirely to mainstream audience. The script is wordy and pretentious which doesn't fit the mold of the American viewers exactly. On the other hand I believe this story to be one of Clive Barkers finer short stories which clearly demonstrate his ability to dig into the minds of his audience past bloodshed and resolution.