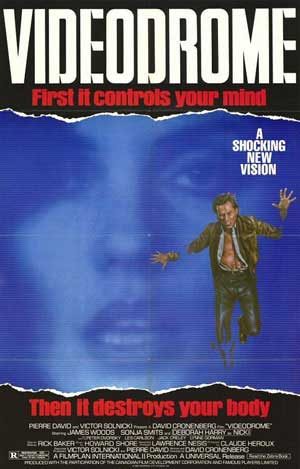 SYNOPSIS:
Max Renn is always searching for new bargain basement priced content and erotic movies for his TV station. After viewing a cable-TV program run by media clairvoyant Brian O'Blivion, Max begins to see his life and the future of 'media' spin out of control. In a very unusual manner he acquires a new kind of programming for his station. His sado-masochistic girlfriend decides to travel to Pittsburgh PA to audition for Mr. O'Blivion. Nicki Brand begins to get weirder than usual after her Pittsburgh visit, so Max investigates Brian O'Blivion and his world. He learns that TV screens act as the retina of the mind's eye, connecting to an unused part of the brain. We also learn that "Videodrome" transmissions create a brain tumor in the viewer, changing conceived authenticity of the world through video hallucination.
Director/ Writer: David Cronenberg
Producers: Pierre David and Claude Heroux
Starring: James Wood, Deborah Harry
REVIEW:
Director/ Writer: David Cronenberg
Producers: Pierre David and Claude Heroux
Starring: James Wood, Deborah Harry
This is still an engaging movie for being made 25 years ago. Max Renn "James Wood" is on that never ending quest for cutting edge programming to include on his TV station. And this activity is where it all starts to unravel for Max. Erotically appealing as things are after he watches 'Videodrome' he begins to come undone.
The Directing by David Cronenberg and the facts of the TV signal soon become horrific and deadly. The sexual and drug using side of his girl friend, a passion-addiction from the 80s add to Nicki Brand's "Deborah Harry" slide into prophet Brian O'Blivion's overall game plan for her and eventually mankind. The combination of exoticism and violence are now beginning to surface in Chronenberg's mythology. This same "exoticism and violence" are to be explored even further in his upcoming features, "Scanners" and "eXistenZ". As Max begins to loose control his TV set seems to come alive and his stomach begins to look like a female vagina, where a strange looking gun is found. It's pretty trippy fare that Chronenberg brings to the screen here. As the movie plays out, we fear for the life of Max just as we did for Nikki.
The suspense is captivating and it all works in some quazi-science fiction glimpse of the fears that free thinking persons had in the 1980s about the cutting age technology of the era and especially Video, same as we do today with the Internet, and many unknown technologies that haven't even hit today's consumer level. In many way that is total and complete horror- the horror of the unknown. The movie is terse paced at 88:00 minutes. It remains simply provocative and strangely contemporary for an 1988 movie. After additional viewings you almost fell the fears. Highly recommended.