What do you call a three day weekend chock full of music, madness and mayhem all devoted to the undying spirit of HORROR?
Rock and Shock, that's what!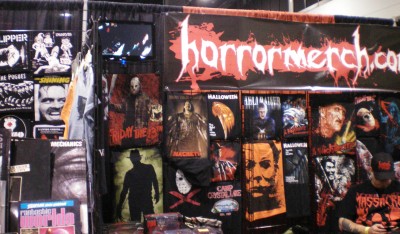 Indeed, promoter Massconcerts and the city of Worcester did a great job as always hosting this annual event, this year presented at the city's DCU and Palladium venues. Between all of the bands playing the Palladium's two stages, the epic horror convention at the DCU Center and the added surprise bonus of Rob Zombie and Alice Cooper's Halloween Hootenanny event…well, my friend, you have a mighty full weekend, let me tell you!
Muster I did the energy to make the trip, and I'm sure glad I did, although I'll proudly attest to the fact that I spent MOST of my time perusing the massive amount of convention booths, plying their respective wares. A few hundred dollars later, and my bags were filled to the bursting with obscure 70s giallos, classic Spaghetti Westerns and more than a few examples of prime 80s sleaze.
The guest list this year was a veritable who's who of horror celebs, as well, including genre hero and legend George A. Romero, Machete star Danny Trejo, infamous Cannibal Holocaust director Ruggero Deodato, Hellraiser's Doug Bradley, original Last House on the Left star David Hess, Thom Matthews and Beverly Randolph from Return of the Living Dead, Swamp Thing's Adrienne Barbeau, Warlock actor Julian Sands, Bill and Ted's Excellent Adventure star Alex Winter, Amelia Kincade from Night of the Demons and many more.
While Silver Bullet star-and all around crazy person-Gary Busey was a last-minute cancellation, this couldn't put a downer or damper on the festivities, because there was JUST so much to do and see! You wanna see some movies? They had movies, including a special screening of The Human Centipede, complete with an introduction by the cast! Other fine examples of indie horror were screening all day long; yet another example of the mass-multimedia experience which is Rock and Shock.
In addition, there were plenty of musical acts playing simultaneously over at the Palladium; a diverse lineup which included Suffocation, Suicide Silence, the Tony Danza Tap Dance Extravaganza, Hatesphere and The Casualties. While I caught what bands I could, most of my time was spent over at the DCU, with my only musical memories being a haphazardly awkward set by Nevermore and a jet-lagged Gwar-scipade; a comparatively low-key affair from a band who usually always deliver in the live arena.
The celebrity panels were an aspect of Rock and Shock which I never truly appreciated until this year. It was a delight and dream come true to be able to sit mere feet away from my heroes, and inundate them with any sort of fanboy query my little heart desired. It isn't every day that David Hess and Ruggero Deodato wander by my neck of the woods, so suffice it to say I was more than a little stoked.
Surprised, as well; at least when it came to the relatively sparse attendance of the 'old school' panels when compared to the packed house the cast of REPO! The Genetic Opera, Rob Zombie's Halloween or people like Adam (Hatchet) Green seemed to receive. While I consider myself open-minded to the tune of modern horror as much as the next guy, my true love is admittedly with the old school, and to witness such apparent disdain and disinterest for films and actors which I myself view as so totally superior was a little disheartening.
Of course, George Romero's panel was standing room only and deservedly so: the man's a legend, and was greeted with a thunderous ovation. While I won't sit here and tell you that I think Diary and Survival of the Dead come anywhere close to the man's classic undead trilogy-perhaps due to the industry's sad acceptance of cheesy CGI in lieu of vintage make-up and puppetry-George A. Romero has earned a pass, simply for providing us as horror fans with so much life-altering art. Thank you, sir.
Speaking of life-altering, what could possibly top this weekend off better than seeing the legendary Alice Cooper in concert? 'Not much,' said the duck.
Cooper, despite age having claimed a bit of his voice's clarity and power over the years, is still a true master showman, and delivered a set chock full of classics. Balancing out both early 70s classics ("I'm Eighteen," "No More Mr. Nice Guy," "School's Out") modern jams ("Dirty Diamonds") and huge 80s power ("Poison") The Coop did the tour's co-headlining gig in style, gracefully letting Rob hit his home town, while providing the DCU center crowd-which was shamefully quiet, and half-empty-with a wondrous, masterful show.
Zombie, in comparison, held an equally higher-standard of theatrics within his show, utilizing everything from giant robots, ticker tape and multimedia screens to copious, blazing pyrotechnics in his mission to thunderously bring down the DCU house. Unfortunately, the decision to hold this at the DCU, combined with the aforementioned lazy crowd response, made this reporter wonder whether or not this show might have better been held at the Palladium. Zombie seemed to sense this unrest, and is showed in his demeanor on
stage, which was fairly gruff and cranky. This, combined with the former White Zombie frontman's ever-present lack of breath—though Rob did admit to feeling a bit under the weather with a cold—left most of the crowd feeling cold to even the hottest of Zombie jams.
Maybe it was the crowd's distaste or unfamiliarity with Zombie's latest Hellbilly Deluxe material, or merely their preference for Rob's older material—which the singer did indulge in with "Thunder Kiss '65" and "More Human Than Human"—but on this night, the DCU audience remained unconvinced with most of Rob's admirable stage show. Not even Zombie's cool-as-hell decision to play after the 11pm curfew—thus incurring the wrath of venue security, and a fine to the tune of $10,000—could change the fact that Rob Zombie needs to make some serious changes to the dumbed-down quality of his recent music, if he hopes to truly remain relevant in the near future.
Written by MetalGeorge
Photos by Melanie Skypeck