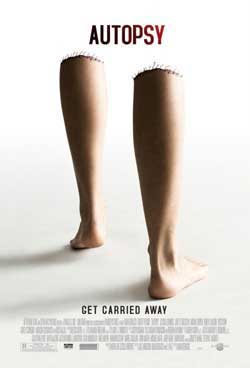 SYNOPSIS:
A night of partying in town turns deadly for a group of five friends, when they get into a car accident and hit a man in the middle of the road. It turns out the man is a patient at the local hospital, as an ambulance soon arrives on the scene and takes the friends and the patient there for a medical check-up. It soon appears, however, that the staff at the hospital have more sinister plans for the friends.
REVIEW:
Director – Adam Gierasch
Starring – Michael Bowen, Robert Patrick, Jessica Lowndes
Hospitals can be scary places for some, and obviously for a wide variety of reasons. Especially if the hospital seems near desolate, bathed in red and blue hues inside, staffed by oddball characters and run by a doctor who might have missed a few lines when he took the Hippocratic oath.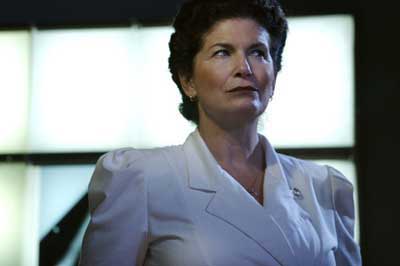 Of course for hospitals in horror movies, this is business as usual. Autopsy falls into this subgenre and overall I would have to say I really enjoyed this movie. Boasting a pretty strong cast, including two alums from the one and only Terminator 2, the movie starts off pretty quick and doesn't really lag.
Which is rare for a hospital horror movie. When you start watching one of these you just know you're going to have those scenes with the actors slowly walking down a deserted hallway, calling out to empty corners and offices, trying locked doors, looking around, repeat ad nauseam. One way for directors to fill out time in a weak script.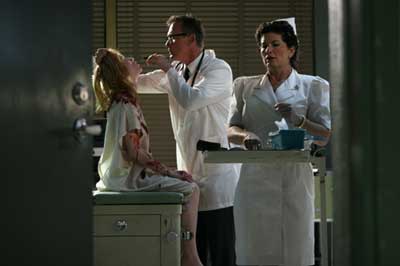 Of course you have these scenes here, it is pretty much a requirement of the subgenre after all, but for some reason it doesn't feel as forced here. One of the main reasons for this is that when it does happen, there is some real tension as to the outcome. Death? Rescue? And for a group of friends who arrive after a car crash, this night will be one to remember.
Autopsy opens with our group of college-aged kids enjoying Mardi Gras. They even meet a young Russian guy who joins them for a night of all out revelry. Things are going great until they get into a wreck traveling back home. And as the information tells us on the screen, more accurately "State route 53, Somewhere in Louisiana."
And if that wasn't bad enough, they are surprised to find a near dead man underneath their car, bloodied and in a hospital gown. They start to panic but to the rescue comes an ambulance. Seems the man has escaped from the hospital and of course you just can't have crazy patients wandering the roads. So into the ambulance he goes.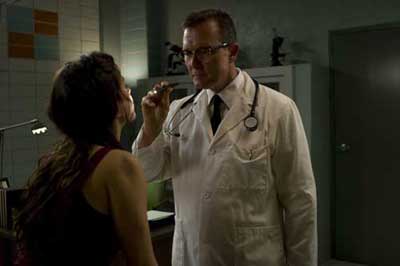 But not before the ambulance team offers the kids to ride along in the back. After all the crash has left them injured and shaken. And what could possibly go wrong? But when they arrive at the non-aptly named Mercy Hospital, it doesn't take long for them to discover that mercy is the one thing they will be begging for by the time the night is through.
Autopsy is a solid horror movie that with good directing, solid pacing and lots of blood and gore keeps the viewer entertained. You're going to recognize some of the cast. Robert Patrick (yep, the T-1000 from Terminator 2) plays Doctor David Benway, and boy you just don't want to get examined by this guy. His staff includes character actor Jenette Goldstein as Nurse Marian.
Seriously, this lady is great. Believe it or not and honestly my jaw dropped when I saw this on IMDB, she played Pvt. Vasquez in Aliens. Not only that, but she gets killed by the T-1000 in Terminator 2! Now she works for him in a rundown hospital! Small world, horror movies are.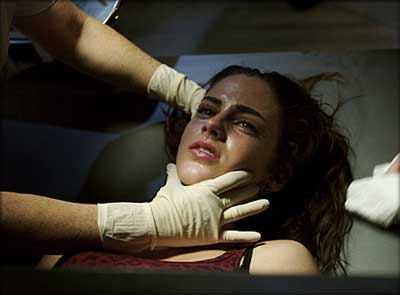 Rounding out the staff is our ambulance team Travis and Scott (played by veteran actor Robert LaSardo). Overall, you don't get much better than that for a crew of baddies sworn to heal the sick and wounded.
And when you have good acting in a horror movie, that always makes for a great time. Everything else, especially emotion, instantly becomes more credible. The blood and gore is rather plentiful and one of the scenes towards the end is quite memorable. One of those that would make the perfect backdrop to any horror diorama.
In the end I would have to recommend seeing Autopsy. Partly because it was refreshing to see a horror movie from the hospital subgenre work so well. And partly because, well, it's just a good horror movie.
Autopsy (2008)