SYNOPSIS:
A weekend getaway turns into a hellish encounter for three college buddies in this unnerving shocker based on a true story. Setting off to chase skirts and get soused, Phil (Rider Strong), Ed (Brian Presley) and Henry (Jake Muxworthy) head south of the border, where Phil soon finds himself held captive by Satanic drug smugglers looking for a human sacrifice. Sean Astin delivers a disturbingly sadistic performance in a career-altering turn.
REVIEW:
I feel that it is only appropriate to begin this review with the words of the director Zev Berman and his reasons for getting the 'average movie-goer' to see Borderland – 'As the credits roll, you'll fall to your knees, a quivering blob of jelly, and ask 'What would I have done?''
Indeed, this entire film was an incredibly tense and brutal one, not for the faint of heart to say the least! Saying that I enjoyed this movie probably wouldn't be the right choice of words, given its horrific plot line, but it was exhilarating and heart-pounding and sweat-inducing, which is personally exactly what I want from a film! There were a couple of recognizable faces amongst the cast, such as Rider Strong (who, for those acquainted with the world of horror, will remember from Cabin Fever) and Sean Astin (who we've now come to know and love as Samwise Gamgee from The Lord of the Rings franchise). In addition, Zev Berman was very complimentary about the actress Martha Higareda, calling her 'captivating' and a 'force of nature', and actor Beto Cuevas who he said was a 'pleasure' and 'rehearsed the role quite thoroughly'. I really must commend all those that took part in Borderland because everyone did an amazing job at convincing the audience of the realism of the film. In fact, Borderland is actually based on a case in Mexico from 1989 where a student disappeared and was later killed by a Satanic cult (who has also murdered at least twenty others). This sense of reality definitely adds an emotional aspect to the film and works to make it all the more shocking. It is incidents such as this which highlight the all to real 'dark' side of human behaviour.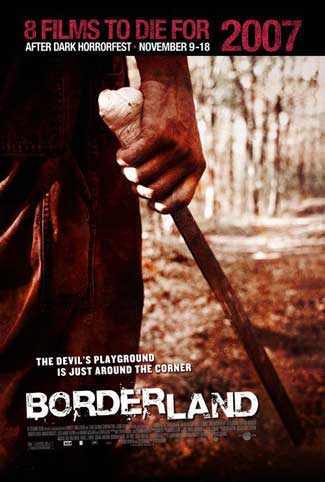 As the real life event says, Borderland begins with a group of three young males who decide to take a well-deserved break in the free and easy land of Mexico, doing what guys do best – drinking beer and pulling girls (even if they are prostitutes!). After a short while of having a good time, however, things go awry when one member of the group goes missing on a night out. Thinking that he just carried on partying elsewhere, the other two wait patiently for his return, but when he does not, tempers start to fly and worry starts to set in. What these two don't know is that their friend was kidnapped and kept hostage by a cult who are going to use him in one of their rituals. It soon turns into a race against time to find their friend and rescue him, obviously without ending up as victims themselves! The violence involved throughout this film is pretty intense and gory, there's severed limbs, eyes gouged out and all sorts of stabbing and slicing with giant knives. I wonder if anyone who's seen this film is tempted to brave going to Mexico with these memories lingering in their mind!
With his cited influences as broad as to include Toy Story to Last House on the Left, Wizard of Oz to Straw Dogs and Singin' In The Rain to Re-animator, Zev Berman clearly has a solid knowledge of films, as well as an awareness of social and political issues of the time. He also made a documentary (called Rituales de Sangre) which explores the true story that Borderland was based on, which was for Lionsgate's FEARnet. I am interested to see more of Zev Berman's work (past and future) because he really seems to know the genre well. I thought that the mixture of Mexican culture (including a healthy amount of Spanish subtitles) and traditional American horror worked wonderfully to give an original twist on an otherwise predictable and well-worn formula. I love the little 'homage' to The Godfather midway through, featuring a woman finding a severed goat's head in her bed, which later on switched a little to a different woman finding her friend's dead body in the bed with the goat's head placed on the shoulders. Nice one!
Borderland was released as one of the 8 Films to Die For at Horrorfest 2007, along with Crazy Eights, The Deaths of Ian Stone, Frontier(s), Lake Dead, Mulberry Street, Nightmare Man, Tooth and Nail and Unearthed. Zev Berman claimed that when Borderland was screened for a test audience 'they went crazy'. Just the reaction you want for a film like this, really.

This is one to check out if you like your horror gory, and it really does deserve more attention. There's nothing quite as scary as a horror film based on real events, plus, Borderland has the great additions of sexy Mexican women, shrooms, awkward prostitute encounters, hardcore looking 'tribal' tattoos on big scary men, gun fights and knife fights thrown in for good measure. Borderland is a movie that you'd be silly to pass up.
Borderland (2007)