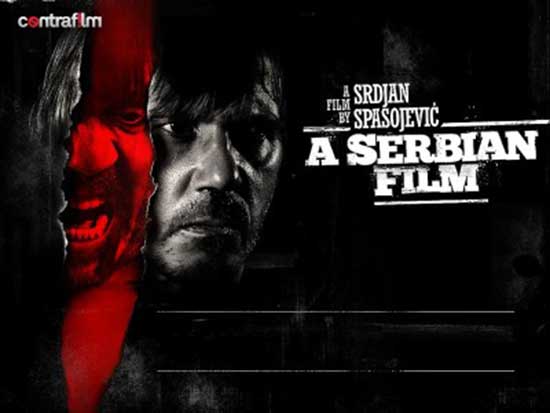 The Most Controversial Film of All Time Hits Los Angeles for Ultimate Three-Day Fan Experience, A SERBIAN FILM EXHIBITION, May 18-21
– Catch a rarely seen one-time screening of the Uncut 104 minute version of A Serbian Film newly restored in 4K, followed by a Q&A with director Srdjan Spasojevic and VIP after-party, May 18 –
– Take home a piece of horror film history! Props and wardrobe items will be showcased at a three-day gallery exhibit and available for purchase during an auction on eBay, beginning May 18 –
– Limited number of original storyboards, each signed by director Srdjan Spasojevic, will also be available for purchase on eBay, beginning May 18 –
– Unearthed Films cameras will be rolling all weekend long, capturing highlights and fan interviews for A Serbian Film Documentary –
Srdjan Spasojevic's 2010 horror-thriller A Serbian Film has been vilified by "mainstream" critics and banned by festival directors worldwide. It's also been called "great" by legendary director William Friedkin (The Exorcist) and is beloved by diehard horror fans. Truly polarizing, one thing is certain: A Serbian Film is perhaps the most controversial film of all time. Now, Unearthed Films and A Serbian Film director Srdjan Spasojevic team up to bring fans of the iconic film the ultimate fan experience, A SERBIAN FILM EXHIBITION. Coming soon to terrorize Los Angeles from Friday, May 18 – Sunday, May 20, the three-day exhibition features a one-time screening of the rare, Uncut version of the film, an after-party hosted by Spasojevic, and a gallery exhibit where all the props will be on full display and available for purchase during a seven-day online-only auction and storyboard sale on eBay. Unearthed Films will also film highlights from the exhibition and interviews with willing fans to include in A Serbian Documentary, a feature documentary of the making of A Serbian Film.
"Unearthed Films is proud to curate this once-in-a-lifetime opportunity to showcase A Serbian Film and to celebrate the work of Srdjan Spasojevic," said Stephen Biro, President and Founder, Unearthed Films. "This unique and exciting event gives fans the opportunity to meet with Srdjan in person, and to acquire their very own piece of his truly masterful film in the form of original props, special FX items, hand painted storyboards, screenplays, costumes, and more."
On Friday, May 18 fans can catch a rarely seen one-time screening of the uncut version of A Serbian Film, beginning at 7:30 p.m. (doors open at 7 p.m.) at Downtown Independent, and followed immediately by a Q&A session with director Srdjan Spasojevic. Tickets to the screening include access to a VIP after-party at Lethal Amounts Gallery hosted by Spasojevic. Tickets can be purchased online HERE.
Fans are also invited to a FREE gallery exhibit at Lethal Amounts Gallery, from Friday, May 18 – Sunday, May 20, where all the props used in the film, including heads, bodies, more lethal devices, and even "The Baby" will be on full display. Wardrobe items including costumes, boots, and accessories, as well as original storyboards and scripts, will also be showcased. Spasojevic will be in attendance to autograph posters and merchandise.
Gallery Exhibit – Schedule:
* free admission to the gallery
Friday, May 18: 1 p.m. – 6:30 p.m.
Saturday, May 19: 12 p.m. – 7 p.m.
Sunday, May 20: 12 p.m. – 7 p.m.
Take home a piece of horror film history! All items displayed at the gallery exhibition will be available for purchase during a seven-day online-only auction on eBay, beginning Friday, May 18 at 8 p.m. PT and concluding Friday, May 25 at 8 p.m. PT. This is a one-time event, as everything must be sold at auction.
There are also a limited number of 16"x11" original storyboard pages available for purchase. Priced at $175 for each page, all 255 pages will be signed by the director and offered for sale in a lottery on eBay at the same time as the auction window, May 18-25.
A link to the auction and storyboard sale will be posted to ASerbianExhibition.com on Friday, May 18.
Anyone attending the screening and gallery exhibit may appear in A Serbian Documentary – a feature documentary on the making of A Serbian Film and the many controversies that followed its release. Cameras will be rolling all weekend long, including interviews with willing fans.
Contests and surprise appearances await everyone who attends A SERBIAN FILM EXHIBITION.
For more information about A SERBIAN FILM EXHIBITION, visit ASerbianExhibition.com.
About A Serbian Film:
Produced and directed by Srdjan Spasojevic, A Serbian Film follows an ex-porn star who plunges once again into the depths of hardcore production to secure money for his family, only this time his diabolical employer has unthinkable terrors in store for him.
About Unearthed Films
Unearthed Films is the world's premier purveyor of outrageous horror. Founded in 2002 to give voice to independent producers and directors whose films were considered too shocking for the mainstream, Unearthed continues its mission to provide horror fans with films so close to the edge that we are in perpetual danger of plummeting into the abyss. Visit UnearthedFilms.com.
SOCIAL MEDIA LINKS:
Twitter:
@Unearthedfilms
Facebook:
Facebook.com/UnearthedFilms
Instagram:
@Unearthedfilms