Night of the Living Dead (1968), directed by George Romero; starring Duane Jones and Judith O'Dea as two strangers who join forces to survive the original Zombie Apocalypse. One of the most influential horror movies ever made, Night of the Living Dead was initially dismissed by many critics as a cheap "exploitation" film (Rex Reed was a notable exception). In fact, it was actually voted "Exploitation Movie of the Month" by the National Theater Owners Association when it was first released. Subsequently, Vincent Canby of The New York Times, one of the most influential film critics of the late 20th Century, called it "a grainy little movie acted by what appear to be nonprofessional actors" that was made by "some people in Pittsburgh." Roger Ebert, who was appalled to see young children at a screening, wrote that the film was unfit for minor audiences, although years later he amended his commentary to say that he liked it as a movie for adults.
Today, the ground-breaking movie is honored for its innovative "docudrama" style of film-making and its then-original "shaky-cam" camerawork—and of course, it's also considered the grand-daddy of all subsequent zombie films. In 1999, The Night of the Living Dead was added to the U. S. Library of Congress's National Film Registry as a "culturally, historically, or aesthetically significant" film; it currently has a 7.9 percent audience rating on IMDb. The original print fell into the public domain early due to copyright mishaps, and consequently, numerous revised versions have been released—including a new Criterion Collection disc that is slated for release on February 13, according to Wikipedia. In addition to the many revisions to the film itself, there have also been numerous remakes/sequels by Romero, as well as a seemingly endless number of imitations and even parodies. On disc and streaming.
The Legend of Hell House (1973), directed by John Hough, based on a novel by master horror writer Richard Matheson, who also crafted the script. Now a classic that every serious horror commentator knows, Hell House failed to impress the few critics who bothered to review it when it was originally released. A.H. Weiler of The New York Times bemoaned the film's "unconvincing legend" and declared that it provided "few chills."
Time Out called it a "disappointing adaptation" of Matheson's novel that is saddled with "some terrible dialogue." TV Guide opined that Hough "fails to breathe any life" into the film and slammed Matheson's script as "woefully undeveloped." Starring a stalwart cast of dependable, 70s B-List actors, including Roddy McDowell from the original Planet of the Apes series and Pamela Franklin from The Innocents, Hell House garners a 6.8/10 audience rating currently at IMDb. On disc and streaming.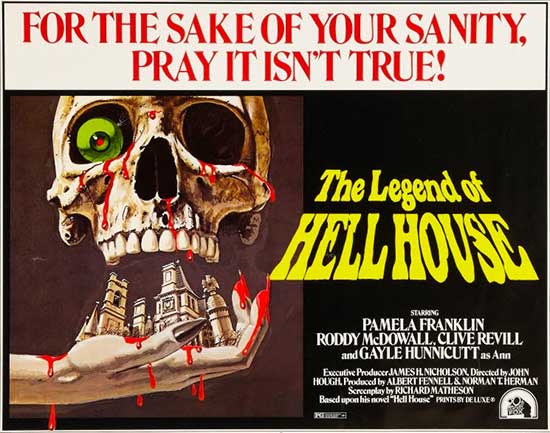 Friday the 13th (1980) – Like Night of the Living Dead, this is yet another hugely influential, low-budget horror movie that was savaged by critics, but adored by audiences. Directed by Sean Cunningham, who produced the original Last House on the Left (1972), the ground-breaking slasher film stars a bunch of then-unknowns, including a young Kevin Bacon, and Harry Crosby, son of legendary crooner Bing.
One of the all-time great teen-scream flicks, it introduced Jason Voorhees into the triumvirate of top-tier 80s slasher villains, along with Michael Myers and Freddy Krueger. Since then, Jason has never really gone away, even after almost 40 years of seemingly endless sequels and reboots. When Friday the 13th came out, however, many critics considered it just another cheap, grindhouse-quality exploitation flick. Gene Siskel, the long-time television partner of Roger Ebert, called it a "disgusting, artless shocker." Variety, the bible of the film industry, sneered that it was "low budget in the worst sense, with no apparent talent or intelligence to offset its technical difficulties." Today, Friday the 13th currently has a very respectable 6.5/10 audience rating at IMDb and a 60 percent audience rating at Rotten Tomatoes. It has made almost $60 million in box office, from its original $550k budget. On disc and streaming.
Angel Heart (1987) — directed by Alan Parker. This offbeat film, starring double Oscar-winner Robert de Niro, Mickey Rourke (9 ½ Weeks) and Lisa Bonet (The Cosby Show), is a rich hybrid of genres: film noir meets Satanic thriller meets slasher film. Based on the novel Falling Angel by William Hjortsberg, it concerns a sleazy New York gumshoe, Harry Angel, who is hired by a shady businessman to find a missing person whose trail leads to voodoo-worshippers in New Orleans.
Critics mostly hated it; they were especially scathing about a chicken-sacrificing scene performed by Bonet. Vincent Canby called it "an odd, utterly humorless fusion of private-eye melodrama and occult-horror film." Pauline Kael of The New Yorker ridiculed de Niro's performance as  "the sort of guest appearance that lazy big actors delight in—they can show up the local talent." Roger Ebert liked it, but his long-time partner in criticism, Gene Siskel, hated it. Today, Angel Heart is celebrated for its stylish neo-noir direction, artful cinematography, and Rourke's scruffy, Robert Mitchum-esq performance. The film now clocks in at a very respectable 7.3/10 audience rating on IMDb. On disc and streaming.
Pet Sematary (1989), directed by Mary Lambert. directed by Mary Lambert. Like Friday the 13th, this is another beloved 80's horror classic, based on the Stephen King best-seller of the same name, which received a harsh drubbing from critics when it was first released.
The Washington Post called it "DOA—Dog On Arrival." The Toronto Globe & Mail snarked at Lambert's "horrifying ineptitude" as a director. Variety pronounced it "undead schlock." The Boston Globe complained that the film was ruined by the two leads—Denise Crosby from Star Trek: TNG and Dale Midkiff from Elvis and Me—who were "uncharismatic." Audiences paid no attention; the film grossed almost $58 million on a $12 million budget. Today, it rates a respectable 6.6/10 audience score on IMDb, and was popular enough to generate a remake in 2009. A third remake is in development for release in 2019. On disc and streaming.
The Ring (2002) — Directed by Gore Verbinski and starring Naomi Watts, fresh off of her triumph in Mulholland Drive, The Ring was one of the biggest box office hits of the early 2000's. In addition, its success launched the short but intense mania for Asian horror remakes that characterized much of the Oughties horror scene. Upon release, however, reviews were decidedly mixed. While the influential Richard Schickel of TIME gave it a thumbs up, many other important critics were scathing. A.O. Scott of The New York Times sniffed that it "fails to deliver the thrills." Roger Ebert said it "teeters on the edge of ridiculous" and Variety said it "has a second-hand, second-rate feel." It currently has a solid 7.1/10 rating at IMDb and a worldwide, box office total earnings of around $250 million. On disc and streaming
Saw (2004), directed by James Wan, starring Cary Elwes from The Princess Bride. The hit indie film that launched the career of top horrormeister Wan and also spawned five sequels (to date), Saw was not universally beloved by critics when it debuted. Roger Ebert said it was "not quite worth the ordeal it puts us through." "It's gross as hell," said Peter Travers from The Rolling Stone. LA Weekly deemed it "ridiculous" and The AV Club pronounced it "dumber than a box of rocks." The Miami Herald fumed that it "radiates idiocy" and USA Today called some scenes "exceedingly disgusting." Audiences didn't care; they made it one of the most profitable box-office hits of 2004, returning $104 million on an estimated budget of $1.2 million. It currently has an audience rating of 7.7/10 at IMDb, and Wan is now one of the most bankable horror directors in Hollywood.