Horrornews.net / MVD Entertainment Group Giveaway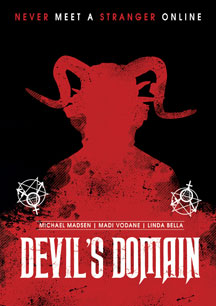 Are you ready to make a deal with the Devil?   Here's what you need to do – just email joyhorror@msn.com and use the subject line, "Devil's Domain Giveaway"with your full name and complete address in the body of the email.  United States and Canada ONLY.
Devil's Domain tells the story of LISA POMSON, a troubled, social media obsessed teen, conflicted with her sexuality and her parents misunderstanding of her. When Lisa gets secretly filmed binging, purging, and masterbating the video goes viral and she suffers extreme cyber-bullying. Suicidal, and on the brink of insanity, a beautiful, mysterious stranger (the Devil) strikes up an online relationship with her. They grow close and meet and the stranger offers to help in exchange for a favor. The devil will rid her of the bullies and give Lisa fame and fortune in exchange for a baby. Lisa agrees and as the bullies die one by one, Lisa's conscious kicks in and she regrets doing the deal. In a climatic finale, the Devil threatens eternal suffering and the death of her loved ones until she finally succumbs to give the devil a baby that will grow to reign terror upon the world. Featuring the music of : IGGY POP, DMX, THE ONYX, BRAINTICKET & more!