Castle became a celebrity that people knew as well as Alfred Hitchcock, except he wasn't on television every week like Hitchcock, but everybody knew who William Castle was in the late fifties and sixties. Castle milked the Diabolique formula until another film came along with an even better formula. It was called Psycho (1960). In film after film thereafter, Castle not only lifted plot elements from the Hitchcock classic, but individual shots and set-pieces. I Saw What You Did (1965) repeats the Hitchcock film's celebrated shower murder complete with screaming violins. Start-Jacket, scripted by Robert Bloch, the author of Psycho, combined elements from the Hitchcock film with Robert Aldrich's psychological thriller Whatever Happened To Baby Jane? (1962), but it was with Homicidal (1961) that Castle attempted to top Psycho with two of the most ingenious gimmicks he ever created.
For the release of Psycho, Hitchcock instituted a policy that no-one would be admitted into the theatre once the film began. Castle went Hitchcock one better by offering cowardly audience members a 'Fright Break'. It allowed them to flee the theatre during the film's closing minutes if they felt too weak-hearted to withstand the shocking climax. They had to follow the yellow streak to the Coward's Corner where their money was sneerfully refunded. Castle even structured the plot around a gimmick. Like Psycho, Homicidal is about a female mad slasher who is actually a murderous male in disguise. The deadly duo was played by Joan Marshall, a young actress whom Castle re-christened Jean Arliss. Homicidal is possibly Castle's best efforts as director. It is certainly one of the best sex-change horror movies ever and, to this day, the identity of the killer is a mystery to viewers until the end of the movie. It was really well-made and it still surprises. After Homicidal Castle started making real suspense movies without monsters in them. With Strait-Jacket and The Night Walker (1964), he was quickly becoming Universal's 'other' suspense director.
Homicidal may have been the best of Castle's Psycho-inspired shockers, but the classiest and most influential fear film he ever had a hand in was the gimmick-free Rosemary's Baby (1968). Castle purchased the rights to the Ira Levin novel and eagerly wanted to direct the film version as well as produce it, but Paramount had other ideas and persuaded him to turn over the director's chair to Roman Polanski. Castle knew his limitations. Polanski also wrote the script. Rosemary's Baby was the biggest hit of Castle's career, but it was a success he was never able to repeat. His time had past, nobody wanted gimmicks anymore and, admittedly, he wasn't a terribly good director – he was efficient, yes, but hardly one of the greats. He couldn't sell himself as a director and refused to sell himself as a producer. You'd think that after Rosemary's Baby was such a box-office smash, he could have easily moved into a producer's office at Paramount and handled some of their other major films but, puzzlingly, he chose not to.
Also worthy of note is the short-lived anthology television series Ghost Story. When the show premiered in 1972, it dealt exclusively with tales of ghosts, vampires, witches, and various other aspects of the supernatural. This was to be expected being a William Castle production written by Robert Bloch, Harlan Ellison, D.C. Fontana, Richard Matheson and Jimmy Sangster, and directed by Richard Donner, John Lewellyn Moxey and Alexander Singer. It was hosted by Sebastian Cabot in the role of Winston Essex, who would open the show by taking the audience through Essex House and introducing the story as something that could happen to anyone. As the story unfolded, however, it would turn into a bizarre nightmare of one kind or another. In 1973 the host was dropped all together and the title was changed to Circle Of Fear in order to include new stories of suspense that did not have supernatural overtones.
Essential Castle viewing includes Macabre (1958), House On Haunted Hill (1959), The Tingler (1959), 13 Ghosts (1960), Mr. Sardonicus (1961), Homicidal (1961), Zotz! (1962), The Old Dark House (1963), 13 Frightened Girls (1963), The Night Walker (1964), Strait-Jacket (1964), I Saw What You Did (1965), Let's Kill Uncle (1966), The Spirit Is Willing (1967), The Busy Body (1967), Rosemary's Baby (1968), Project X (1968), Riot (1969), Shanks (1974) and Bug (1975). Many of these films were released on DVD in 2009 by Sony Pictures Home Entertainment as part of a William Castle Box Set, but I'm sorry to report that these editions are Region One only. Alternatively, Sony's Manufacture-On-Demand service (Sony Pictures Choice Collection) now features titles never before seen on DVD gathered from more than seventy-five years of Columbia Pictures history, available from Amazon, TCM and the Warner Archive.
Perhaps of more interest are the special features on said DVD set. Not only the expected trailers, tests and publicity, but complete documentaries and featurettes including Spine Tingler! (The William Castle Story), Scream For Your Lives (The Tingler), Battle-Axe (Strait-Jacket), and Psychette (Homicidal). There's also two episodes of the aforementioned Ghost Story television series: The New House, in which a young couple (David Birney & Barbara Parkins) expecting their first child decide to purchase their first home. Unfortunately their new house was built on the site where an innocent girl was hanged two centuries before, and the spirit of the girl returns with an dread interest in the newborn; and Graveyard Shift, in which former actor Fred (John Astin) now works as a security guard at the studio where he used to make movies. His wife Linda (Patty Duke) is expecting their first child. While chasing a gang of youths off the lot, Fred discovers something else roaming the deserted studio, something that threatens not only him, but his wife and his unborn child.
William Castle was a showman who is revered more today for the outrageous gimmicks he created to promote his films, than for the quality of the films themselves. He simply loved the show-business of movie-making more than the art, and brought to his work a kind of carnival pitchman's zeal, which is why he and his films remain in the memory. Had he not passed away of cardiac arrest back in 1977, I have no doubt Castle would have become one of today's most popular guests of honour at film festivals and conventions everywhere. It's a role I'm sure he would have enjoyed and would have played it to the hilt, to the immense pleasure of us all. It's with this thought in mind I'll politely ask you to please join me next week when I fish-out more celluloid slop from the wheelie-bin behind Fox Studios and force-feed it to you without a spoon, all in the name of art for…Horror News! Toodles!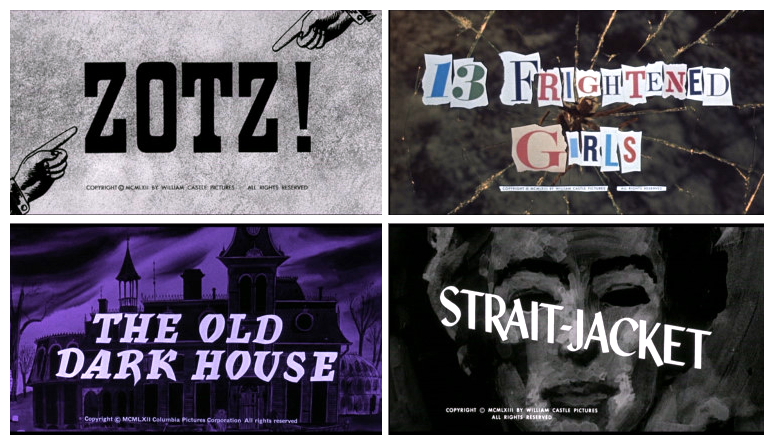 Check out: William Castle – Tribute and Historical Overview (Part 1)