SYNOPSIS:

After a famous author is rescued from a car crash by a fan of his novels, he comes to realize that the care he is receiving is only the beginning of a nightmare of captivity and abuse.
REVIEW:

As of this day in 2016, the only Stephen King adaptation to ever win an Academy Award was MISERY. Kathy Bates won Best Actress for her portrayal of the main antagonist Annie Wilkes. The film was directed by Rob Reiner from a script by William Goldman (THE PRINCESS BRIDE). This was the second time Reiner brought a Stephen King story to the screen. The first one was a much different film, the coming of age classic STAND BY ME. It has been so long since I'd seen the film I forgot just how suspenseful and entertaining the film actually is. Kathy Bates was magnificent but so was James Caan. I'm going to warn everyone upfront: this review will contain SPOILERS so proceed with caution. The film is 26 years old now so I don't really feel too bad about doing it.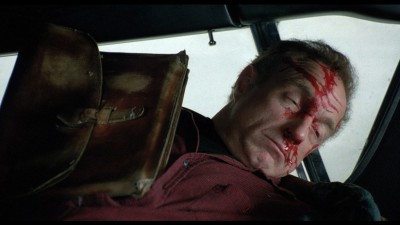 Paul Sheldon (James Caan) is a popular novelist who has a successful series of romance novels featuring the character of Misery Chastain. His final book in the series is about to be released and he has moved on to a more serious novel. After completing his first draft, he hops in his car and leaves Silver Creek in order to deliver it to his agent Marcia (Lauren Bacall). He doesn't get far at all since there's a major blizzard in effect. He quickly loses control and his car goes off the road. Paul is knocked out and injured when he's rescued by Annie Wilkes (Kathy Bates) who carries him back to the safety of her secluded home. With the blizzard closing down all the roads and communication is limited, Annie nurses him back health right there. She also just so happens to be Paul's biggest fan.
While laid up in bed, he allows her to read his new manuscript which she really doesn't enjoy. It's when the new MISERY book comes out where her true intentions become revealed. The sweet, caring nurse turns into a sadistic psychopath who plans on forcing Paul to fall in love with her. She will go to any lengths to make it happen. Paul is helpless from his injuries so he has to use his wits to try and outsmart her and escape with his life.
I'm not really sure what to say about MISERY that hasn't been said before. It remains one of the most successful and faithful adaptations of a Stephen King novel put on the screen. Even King himself cites it as one of his favorite adaptations. So, what do I think of the film? I think it's brilliant storytelling, a spellbinding tale that keeps you on the edge of your seat. Rob Reiner really has a great understanding of King's material. Just look at how different STAND BY ME is from MISERY and both of them were homeruns.
Up until the film was released, Kathy Bates was nothing more than a character actor, a bit part player. Reiner took a chance by casting a relative unknown at the time and she knocked it out of the park. Annie Wilkes is frightening and Bates wasn't afraid to go the extra mile to give her life. This was a different film for Caan but he's every bit as intense as Bates and the two of them fed off each others performance and energy like no one else could.
The most talked about scene in the film was of course the sledgehammer scene. I remember just how cringe-worthy it was the first time I saw it and seeing it now elicited a very similar response. MISERY is a character driven film that featured one of cinema's most memorable performances from Bates. She's gone on to do numerous other amazing things but she will be identified with Annie Wilkes for the rest of her life. Rob Reiner has delivered some amazing films over his illustrious career and MISERY will always be a highlight (not his best, I'm a SPINAL TAP guy for life). If you've never seen it, watch it now, if you have, revisit it, MISERY is a masterpiece. ***** (out of 5)
Bonus Features
NEW 4K Restoration From The Original Film Elements
NEW Interview With Director Rob Reiner
NEW Interview With Special Makeup Effects Artist Greg Nicotero
Audio Commentary With Rob Reiner
Audio Commentary With Screenwriter William Goldman
"Misery Loves Company" Featurette
"Marc Shaiman's Musical MiseryTour" Featurette
"Diagnosing Annie Wilkes" Featurette
"Advice For The Stalked" Featurette
"Profile Of A Stalker" Featurette
"Celebrity Stalkers" Featurette
"Anti-Stalking Laws" Featurette
Trailers
Misery collector's bluray is now available from Shout Factory