In the modern age it's quite an achievement for a magazine to stay alive, and an even more incredible feat to flourish in its 25th year of publication. The Dark Side has managed not only to come back from the dead but also grow into a very impressive concern indeed. In fact, I would go so far as to say that the magazine is now in the midst of a new golden age.
So what brought a magazine that was once thought to be completely done after its dark period and subsequent cancellation a few years ago and changed it into such a powerhouse?
At its heart, the Dark Side magazine has returned so strongly because its writers and in particular its editor, Allan Bryce, understand that the horror genre does not restrict its fans to one era. Where some genre publications have a huge focus on the new and the cutting edge, the Dark Side recognises – and indeed revels in – the hunger for material on classic horror movies and the culture which surrounded them.
Horror is always in a state of flux as a genre, with commercial efforts getting their mileage out of popular tropes at one end of the spectrum and ultra-low budget shockers at the other end, with the two extremes crossing over now and again. Elegance and brutality in a state of constant contrast and juxtaposition.
The Dark Side wallows and lurks and loves the macabre of all eras, and even from across other continents. There are often features on Japanese cinema and Italian releases as well as the UK based flicks and the American market releases. The magazine saw dark times and controversy at the end of its previous life including the passing of Bryce's partner in print, Ken.
During its time away from our shelves, the world and media moved on, but there was always that hunger for classic material building further over here, be it through old-school horror stalwarts or younger fans with a taste for a fine vintage. The classic era of the Dark Side had seen it become the mainstay of the UK horror scene, a reliable and welcoming publication which fired up a lot of British imaginations over the years, and after the magazine closed up shop, it left a gaping void in the market.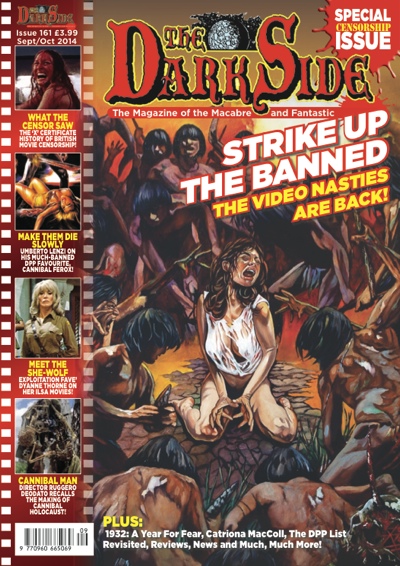 Sure, you could always buy Fangoria over here and other lesser titles, but there was always a focus on new material in those titles and manly movies from America. Horror isn't limited to one country, and it could be very strongly argued that a lot of the best and most original horror content has come from Europe or Asia in addition to the classics from the US. The Dark Side's new era hit the ground running and continues apace.
Its content may not thrill readers every time, but that's the nature of the beast. The magazine is firing on all cylinders now, with features of astonishing depth and research, excellent reviews and engrossing interviews. Sometime's it's hard to believe that the magazine was once seen as a dead concern following various accusations and bad press at the twilight of its first life.
The fact that the magazine continued where it left off and didn't go for a new first issue demonstrates its respect for its own past and its own audience. The interview subjects offer something different, as well. Rather than focusing just on the actors or directors, The Dark Side interviews writers, composers, distributors, artists and pretty much anyone with something interesting to add to the flow.
In the few years since returning to active service, The Dark Side has also brought fans issues dedicated to individual studios, notably their special issues on Hammer and Amicus, issues focusing on icons like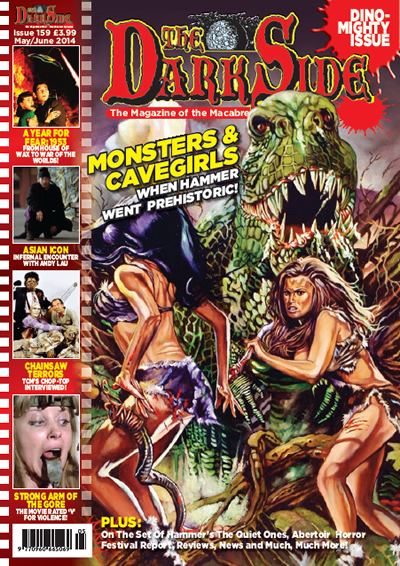 the late Sir Christopher Lee, scream queens, Grindhouse, Horror double bills, Oliver Reed's Hammer movies, Spanish horror movies, censorship, the Video Nasties era and much, much more.
With all of this going on and much more to come, the 25th year of The Dark Side magazine is proving to be the best yet. Even with (or perhaps despite) crypt keeper Allan Bryce's inexhaustible supply of gloriously bad puns. Dear Dark Side, please never stop being exactly the delightful beast that you are.
You can visit the magazine's website at www.thedarksidemagazine.com