On Saturday, July 11, Tom Piccirilli died.
I remember stumbling on A Lower Deep back in 2001. It sat on a shelf in the book section of Kroger, that f**king harlequin staring me down like I owed it money. I remember being drawn in by the smooth, morose lyrical prose down into the depths of this weird ass necromancer and his snarky demonic familiar. I remember finding, among the copious buckets of blood and sex and scabby demons from every level of hell, an intense tale of love, loss and obsession. There was no turning back for me, even after I made the mistake of reading Dark Father.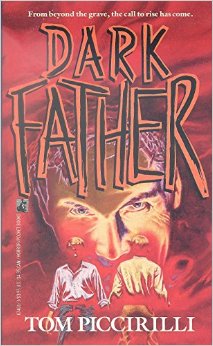 Over my years writing for Horrornews, I've been known to occasionally fawn over Piccirilli's work. Some have accused me of being rather fanboyish, others (myself included in this last list) of riding his nuts. There's a reason for this. While I'm neither arrogant or psychotic enough to believe he was writing directly to me, there are several times that works of his came out saying precisely what I needed to hear in precisely the way I needed to hear it to be able to hold on. To be able to deal with occurrences in my life I didn't think I could deal with. I wouldn't be the person I am if not for his work.
To every person out there who has ever ranted at me about the stupidity of genre fiction or that it only serves as violent and prurient wish fulfillment, this is why I politely ask you to f**k off.
His writing covered everything from erotica to horror to crime to gothic and even a couple of amazing goddam westerns. He could be linear, literal and sledgehammer brutal with his words or dance across the page with lyrical density. Some of his stories, especially the crime ones, were very straight forward. Then there were the weird ones where he really let the crazy come out and play. Those ones still mess with my head. Yet, there was always a core of raw, brutal honesty. That undefinable sense that no one else on the planet could have written this and that every bit of him was bleeding out onto the page.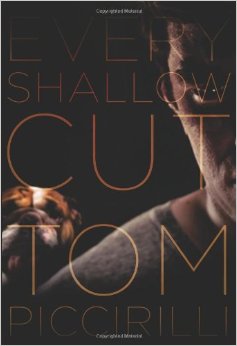 I don't know the man. I never had the chance to meet him, though he did respond to a few of my reviews and was always kind when I emailed him my latest bit of fanboyish squee, but I feel like, through his writing, I grew to know the piece of himself that he shared with the world. Hell, I still have a hard time picturing him without his old pug, Criswell, which used to feature heavily in his website those long days ago.
My condolences go out to his many friends in the writing community and especially to his wife, who fought tooth and nail with him throughout his battle with cancer yet always took a moment out to let his fans know what was going on.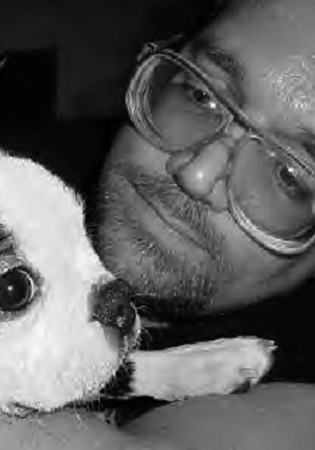 Fuckin Pic, Man. Farewell.