HorrorNews.net is happy to announce the new True Blood®:The Complete Fifth Season
and we have FREE Blu-ray copies.
Please email joyhorror@horrornews.net and put True Blood in the subject line.  Next, you put your full name and complete address in the body of the email.   We will be picking winners at random.  United States and Canada ONLY.
Available on Blu-ray with HBO Select, DVD & Digital Download May 21, 2013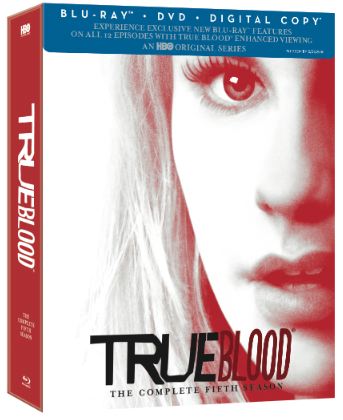 Loaded with Exclusive Bonus Content
New York, N.Y., March 13, 2013 – A vampire civil war is brewing, Sookie's best friend is dead and an old vampire foe has returned to wreak havoc on the human race. True Blood continues to be one of television's most popular series and the wildly entertaining fifth season will be available on Blu-ray with DVD and Digital Copy (Blu-ray with HBO Select* $79.98), DVD ($59.99) and Digital Download on May 21, 2013. Both sets include the full 12-episode season, along with extensive bonus materials including exclusive interviews and never-before-seen content.
Called "fangtastic" (US Weekly) and "cheeky…great fun" (Variety.com), True Blood: The Complete Fifth Season finds Sookie triumphant over her climactic encounter with Marnie. However, her showdown with Debbie may have had fatal consequences for Tara. Meanwhile, the denizens of Bon Temps are approaching a new crisis with Russell Edgington, Bill and Eric are in deep with the Authority and new threats from unexpected sources loom.
Bonus Material
Full of captivating back stories and extensive audio commentaries, the fifth season's bonus materials offer appetizing tidbits for diehard fans.
Blu-ray Features (along with all DVD extras):
True Blood Episode Six: Autopsy – Join the cast and crew as they dissect the major events of episode six and provide an in-depth, behind-the-scenes look at how True Blood is made.
Authority Confessionals – Learn more about the mysterious institution known as The Authority, from Nora, Kibwe, Rosalyn, Salome, Steve and Russell.
Enhanced Viewing:
Character Bios, Vampire Histories and Hints/FYIs: Get even more background on favorite characters, trivia facts as well as show hints and clues.
Flashback/Flash Forward: Move through time in the world of Bon Temps. Flashback to relive pivotal moments or Flash Forward to reveal the significance of a certain scene.
True Blood Lines – Uncover secrets from relationships past and present in this engaging, fully interactive "re-Vamped" guide and archive.
DVD Features:
Inside the Episodes – Get the back stories on each episode with revealing interviews from the show writers.
Audio Commentaries – five commentaries with cast and crew including creator/executive producer Alan Ball, Anna Paquin, Stephen Moyer, Denis O'Hare, Carrie Preston and many more!
Previews & Recaps
*Blu-ray with HBO Select offers buyers the choice of three ways to watch in one set – Blu-ray, DVD and Digital Copy – and at no additional cost. The digital copy is redeemable via a provider of your choice: iTunes, Vudu or Amazon, as well as an UltraViolet copy through supporting providers.
True Blood: The Complete Fifth Season
Blu-ray with HBO Select, DVD & Digital Download
Street Date: May 21, 2013
Order Date: April 16, 2013
Rating: TV-MA
Runtime: Approx. 720 minutes (excluding bonus features)
Price: $79.98 Blu-ray with HBO Select (5 BD discs; 2 DVD discs, Digital Copy)
Price: $59.99 DVD (5 discs)
True Blood cast members include Anna Paquin as waitress and part-faerie Sookie Stackhouse; Stephen Moyer as vampire Bill Compton; Alexander Skarsgård as vampire Eric Northman; Ryan Kwanten as Sookie's trouble-prone brother, Jason Stackhouse; Rutina Wesley as Sookie's best friend, Tara Thornton; Sam Trammell as Sookie's shape-shifting boss, Sam Merlotte; Nelsan Ellis as Tara's clairvoyant sharp-tongued cousin, Lafayette Reynolds; Chris Bauer as sheriff Andy Bellefleur; Carrie Preston as Arlene Fowler, a Merlotte's waitress; Todd Lowe as Andy's cousin, Terry Bellefleur; Jim Parrack as Hoyt Fortenberry; Deborah Ann Woll as Jessica Hamby, Bill's vampire progeny; Kristin Bauer van Straten as Pam, Eric's vampire progeny and business partner; Joe Manganiello as werewolf Alcide; Lauren Bowles as Holly, a Merlotte's waitress; Denis O'Hare as the newly resurfaced Russell Edgington, the Vampire King of Mississippi; Michael McMillian as recently turned vampire Steve Newlin; and Janina Gavankar as shape-shifter Luna.
New cast members for season five include: Scott Foley as Patrick Devins, an Iraq war veteran who comes to Bon Temps to track down Terry Bellefleur, his former comrade; Christopher Meloni as Roman, the Guardian of the Vampire Authority; Valentina Cervi as Salome, a Chancellor of the Vampire Authority; and Lucy Griffiths as Nora, another Chancellor of the Vampire Authority.
About HBO Home Entertainment®
HBO Home Entertainment markets an extensive array of programs ranging from the critically-acclaimed and groundbreaking series including the international phenomenal hits Game of Thrones and True Blood, favorites such as The Sopranos, Sex in the City and Entourage along with multiple Emmy Award-winning mini-series The Pacific and Band of Brothers. The company's catalog contains hundreds of titles including the Peabody Award-winning children's program Classical Baby, provocative programs from HBO Documentary Films including When the Levees Broke, innovative movies from HBO Films including Game Change and Temple Grandin, and comedy specials featuring stand-up performers like Chris Rock and Ricky Gervais. The division distributes programs to the home entertainment market in three formats: Blu-ray, DVD, and digital download. Launched in 1984, HBO Home Entertainment has offices in New York, London and Toronto and the company's releases are marketed in over 70 countries around the world.