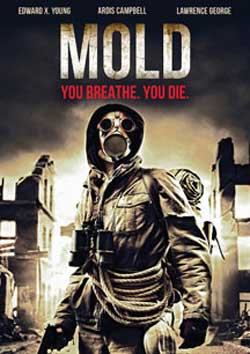 A gloriously gooey tribute to 80s horror and sci-fi like Street Trash and Night of the Creeps
A classified government project is underway to create a new weapon to combat the drug cartels. That weapon is a fast-growing, genetically engineered strain of mold designed to wipe out coca fields – the only problem is, this MOLD also feeds on human flesh. And when the murderous mildew is mysteriously released in a secret lab, it wages its own war on a group of unsuspecting scientists and military officials, who are forced to fight their way to safety while trying to contain the MOLD before it is unleashed on the world.
You Breathe. You Die.
MOLD! is produced by Mentally Ill Films and written by Dave Fogerson and co-written by director Neil Meschino and stars Edward X. Young, Ardis Campbell, Robert Fattorini, Chris Gentile, Lawrence George and Rick Haymes. The film won "Best Feature" in the Nevermore Film Festival, and "Best Director" in the Terror Film Festival.
Bonus features include Director's Commentary, Behind the Scenes Featurette, and Trailers.
"MOLD excels with honors" – Aint It Cool News
"SPORE-Tacular!" – Filmbizarro.com
"[This} slimy 80s throwback is the disease you want to catch." – Bloody-Disgusting.com
"Outrageous, zany and gory!" – Horrornews.net
[youtube]http://www.youtube.com/watch?v=7-KlAj9GzMc[/youtube]
Facebook: www.facebook.com/MOLDmovie
Link to Purchase: www.seeofsound.com/p.php?s=MVD5758D