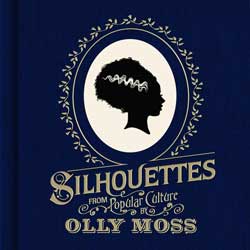 I recently received a book containing no text whatsoever, no color images whatsoever and void from any index or page numbers. You might think this to be one of the most boring books in the world, but on the contrary I found it highly entertaining and engaging.
"Silhouettes from Popular Culture" is a collection of drawn silhouettes featuring the profiles of famous characters, historical figures, and cultural icons. The value lies in perusing thru each page and seeing how savvy you are at guessing who or what the image is. It was just the perfect family sit down book to challenge your intellect against others in seeing who might be able to guess the origin of the silhouettes. While some came, others took a few moments to adjust before acknowledging the mystery image.
There are a handful that alluded the whole team, however with a little bit of patience the profiles begin to reveal themselves. As a book it's not something you can review on a contextual basis, but you can alert others to its interesting visual basis. This was the first of Olly's work I was privy to. Though I can say after spending time with his collection of over 100 profile images, that it's indeed the perfect party book or get-together engager. Olly has earned himself a noted reputation with his works into the past, perhaps it's time you treat yourself to this small "7×7" hardcover release chock full of flavorful visual goodness. I decided to keep this review short as with a book of this nature its all about what you see, not what you read.
Published by Titan Books, it contains enough diversity to invite your 9 year old all the way up to your cultural seasoned veterans.
Book Review: Silhouettes from Popular Culture – Author Olly Moss