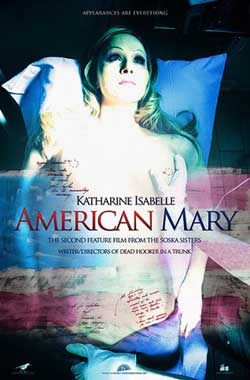 SYNOPSIS:
Mary is a medical student hoping to become a surgeon when a tragic event changes her course. She decides to pursue a career in body modification but with dire consequences.
REVIEW:
The rape-revenge subgenre of horror is a lively one, and one laden with cliché most of the time. I've always loved films like I Spit on Your Grave and Last House on the Left because not only were they endowed with strong female leads, but also because they were the first films to utilize female protagonists in an otherwise male-heavy genre. What's really refreshing about a film like American Mary is that the directors (twins sisters Jen and Sylvia Soska) hardly revert to stereotype when rounding out their narrative, and have created a film brimming with feminist ideology while still being as fun and gross as you expect a horror flick to be.
The film follows Mary, played by the implausibly wonderful Katharine Isabelle—best known for her role of Ginger in Ginger Snaps. She's an incredibly complex character, one who is not easily described. The best I can do without saying too much is that she's an ambitious medical student. She strives to be a surgeon one day and spends her free time suturing turkeys to help better her technique. However so, she doesn't come off as "weird" or as a "freak," mostly just a keener. As a student, she's in dire need of money and so she contacts a man on craigslist offering a job that would grant her $1000 a week and would require no sex. She auditions for the job at a seedy strip bar, but is interrupted by a freak accident concerning one of the patrons. The bar owner, knowing Mary's a med student, gives her $5000 to help him that night.This surgery is the first of many that Mary begins to delve into outside of the hospital she works rounds in. Fairly soon, she's being contacted by a Betty Boop look-alike who propositions her to help modify her friend. Mary is reluctant at first, but a tragic event involving her professor pushes her to drop out of med school and continue to pursue work in body modification; both for pleasure and torture.
Calling this film a rape-revenge movie is only an apt title in the sense that it is an easy way to define it. American Mary does not conform to the conventions of said genre at all. Mary is victimized by her experience for only a moment, and even in that instant she shows little weakness. She makes it known that she has no connection to anything anymore, even down to her attire. In a movie where all the women represent blatant sexuality, Mary stands out. Although dressing in provocative wear, we quickly learn this is her façade as much as it is her own. She chooses to represent herself in this way only because she sees her surgical processes as a performative one. Her revenge sequences are to die for, literally. As I was watching I imaged myself her in her position and thought, "oh f*ck yes" when she began to modify her aggressor. These moments are the type to make any viewer loudly cheer her on.
When Mary begins to work in the underworld of body modifications, it is delightfully highlighted in a way that is neither formulaic, i.e. people into mods shown as "freaks," or seen as an exclusive subculture breaming with pretension. The Soska twins deal with the subject of body modification in an entirely respective tone, which is so rare to see. Modification in the film is rather extreme but the subject matter is still carefully handled. Many of the mod scenes were especially fun because of the gross-out factor in some of the effects. The sisters confirmed that some of the mods shown were real, while others were discreetly edited to make them seem as such. The ultimate result is a lot of fun gory moments that are completely unexpected.
The film is brimming with outstanding performances from nearly everyone involved. Mary is always transforming as a character, just when you begin to think you understand her motives, she changes again. Isabelle plays her so convincingly, and makes her so enchanting that the audience just has to root for her. Billy is expertly played by the dashing Antonio Cupo, who comes off as both a gross misogynist and the only man who really cares for Mary. Beatrice, the Betty Boop human incarnate, comes to life through Tristan Risk's stellar rendering. The cast is nuts, and together they create a world where nothing is as it seems, but remains totally believable.
If you love to watch a strong and intelligent woman kick some serious ass and perform amazing surgeries, then this is the movie for you. With a killer cast and a fantastic premise, the movie provides a really unique and entertaining experience for horror lovers. The twins themselves make a knockout cameo as German twin and body mod enthusiasts who seek out Mary for a very specialized surgery. Viewers should know, the twin's portrayal in the film is not unlike how they are in real life, minus the accents. At the Canadian premiere last night, it was announced American Mary was just picked up by Anchor Bay for distribution, meaning there's no reason why you cannot see this movie.
American Mary (2012)