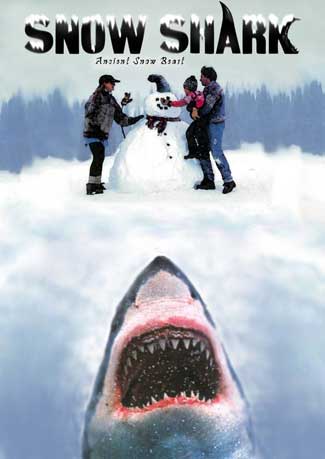 Sam Qualiana, the writer-director-star of the upcoming creature feature Snow Shark: Ancient Snow Beast has been added to the list of guests appearing at Buffalo Screams Horror Film Festival, which runs October 17th – 21st at Dipson's Market Arcade Theater in downtown Buffalo. Qualiana joins honorary chairperson Debbie Rochon, Genre Spirit Award recipient Chris Seaver, and POP Cinama marketing executive Paige K. Davis at the five day event.
Qualiana will screen Snow Shark: Ancient Snow Beast, which POP releases on DVD this winter, as a non-competition showcase presentation. The film is the first feature shot in Lockport, New York. Qualiana attended the inaugural Buffalo Screams in 2010, and scored the fest's Filmmaker to Watch Award after screening his crime drama No Road Out. The following year, his film Something Dark won Best Western New York Horror Short and was nominated for Best Short Screenplay. He recently worked as 2nd Assistant Director on Model Hunger, directed by Rochon, and is currently working as 1st Assistant Director for Lloyd Kaufman on Troma's Return to the Class of Nuke 'Em High.
"Buffalo Screams' mission is twofold," says Gregory Lamberson, the festival's chairman. "We want to bring the best independent horror films from around the world to Buffalo, and we also want to foster and showcase local talent. Sam serves as a perfect example for other filmmakers: he's made dozens of shorts, travelled around the country to act in films, made his own feature, and now he's working on larger productions. He's got a positive attitude and his first priority is the work, not the glory."
In addition to Snow Shark: Ancient Snow Beast, Buffalo Screams has announced special non-competition screenings of Father's Day, directed by Astron 6 and released by Troma; Sexquatch, the latest comedy from Rochester's Seaver; and Crimson: The Motion Picture, directed by Niagara Falls, New York filmmaker Ken Consentino. The submissions deadline for the festival's competition categories, including the Faux Grindhouse Trailer competition, which has a $500.00 cash prize, is September 1st. Visit www.buffaloscreams.com for details.