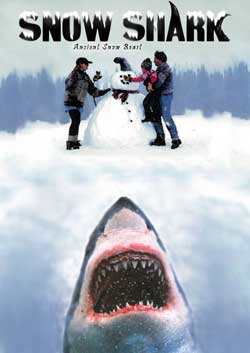 Snow Shark: Ancient Snow Beast, the feature film debut of 26 year old screenwriter, director, and actor Sam Qualiana, has been acquired for worldwide distribution by Independent Entertainment, part of the Alternative Cinema network of labels. The deal includes DVD, VOD, cable, and digital downloads.
"This is a real achievement for everyone involved with Snow Shark," says Gregory Lamberson, one of the film's producers. "As many filmmakers have come to realize, the market for independent genre films is brutal, and obtaining distribution can seem like an impossible goal. We're thrilled to be working with Independent Entertainment, and the wonderful people at Alternative Cinema. I know they'll give this film the tender loving care it deserves."
Other Alternative Cinema brands include Shock-O-Rama Cinema, Seduction Cinema, and Camp Motion Pictures. The company offers Lamberson's first three films, Slime City, Undying Love, and Naked Fear on the two-disc DVD Greg Lamberson's Slime City Grindhouse Collection.
"The plan is to release the film on DVD in the winter, which is appropriate for the subject matter," says Lamberson. "This will give us the chance to screen at film festivals over the summer and fall. Sam and the cast did a great job, and this is a real audience picture; we're going to build word of mouth ahead of the release."
Snow Shark: Ancient Snow Beast, just had its world premiere in Buffalo; it was filmed in neighboring Lockport, New York. Its next screening will be at the Bronx Week Film Festival on Saturday, May 12th, at 8:30 pm. The film's other producers include Marc J. Makowski, John Maclay, Mike Gessel, Michael Faust, and Richard Chizmar of Cemetery Dance Publications. Brett Piper and Mark Polonia edited, Michael Girard Paul composed the score, and Arick Szymecki, John Renna, and Andrew Lavin created the special effects.
[youtube]http://www.youtube.com/watch?v=NCywrFyN_R4[/youtube]