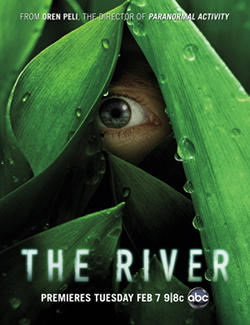 When you see the name Oren Peli you should pretty much just figure that we are going to be treated to some type of "found footage" type of project. The good thing is, nobody does it better.
His new project, THE RIVER is a bit of a hybrid as you will see when you check out the video below. It starts off as a standard made for TV drama and then becomes a "found footage" thriller. Judging from what you are about to see, it looks kind of promising. Steven Spielberg executive produces.
The series stars Bruce Greenwood, Leslie Hope, and Joe Anderson. Jeff Galfer and Thomas Kretschmann co-star and most of Peli's Paranormal Activity crew is along for the ride.
Story wise, it all goes something like this:
Famed explorer Dr. Emmet Cole (Greenwood) went looking for magic deep in the uncharted Amazon and never returned. The shocking truth about his disappearance is out there, somewhere, just waiting to be discovered. To the millions of kids who grew up watching his nature show, Dr. Cole was a hero. To his own son, Lincoln (Anderson), he was more of an enigma. Now, six months after he vanished, Lincoln is finally ready to bury the past when Dr. Cole's emergency beacon suddenly goes off. At the urging of his mother, Tess (Hope), Lincoln reluctantly joins her on a search for his father. To fund the rescue, they agree to let Dr. Cole's cagey ex-producer, Clark (Paul Blackthorne), film the mission documentary-style. The mixed crew of old friends and new acquaintances includes the sexy and resourceful Lena (Eloise Mumford), loyal mechanic Emilio (Daniel Zacapa), and lethal bodyguard Captain Kurt Brynildson (Kretschmann).
It all debuts Feb. 7th on ABC so mark it on your calendar.
Here's the preview: