SYNOPSIS:

Alyce (Jade Dorfeld) is a fragile mind, a girl who acts on a random, deranged impulse resulting in the death of her best friend Carroll (Tamara Feldman) and that alters her life forever. Overcome with guilt, Alyce is tormented by her actions and spirals into a world of sex, drugs and violence. With each passing day, each darker step into depravity, Alyce's mind continues to unravel and fracture. Soon Alyce is no longer in control as she begins to drown her sorrow and depression with increasingly disturbing and psychotic actions.
REVIEW:

Jae (New World Order, Zombie Strippers!) Lee's latest directorial effort, Alyce, is an engrossing (and frequently gross) examination of a mind that comes completely and unforgiving unhinged. After a shaky, ineffective start, the story steps up and hooks you completely once Alyce makes her twisted, impulsive, drug-influenced decision of pushing her best friend off the high rise roof. The story illustrating how she reacts to that one bad decision by adding more and more bad decisions upon it and becoming paralysed and socially dysfunctional along the way is a fascinating and disturbing look into insanity.  The film sports a number of impressive performances that strengthen the film, most notably Eddie Rouse as Rex, the drug dealer, and Jade Dornfeld as Alyce. Lee's direction is captivating as well, capturing Alyce's mental anguish and the increasingly degenerating world Alyce creates around her. Alyce isn't a perfect film, but it succeeds in spite of its flaws…and occasionally because of them. Alyce is gory, fascinating and revolting.
Jade Dornfeld blossoms as Alyce. At first she's a wallflower, hidden in Carroll's shadow. At first she has a difficult time making an impression. It's not until her character is forced to deal with her actions that Dornfeld begins to reveal her range. She quickly transforms from mediocrity to extraordinary. The more she sinks into insanity, the more captivating she becomes. It's a terrific performance that drives the film. By the time she begins hacking away at her friends and enemies or confesses her love for Carroll at her friend's funeral, she's wrapped the audience around her little finger guiding them along a bizarre and tormented journey.
While the rest of the cast is provide solid performances, ranging from the prolific James Duval (Donnie Darko, Independence Day) as Carroll's cheating boyfriend to Rena Owen as Alyce's jealous, egotistical boss, it's Eddie Rouse (Pandorum, The Number 23) as Rex, the drug dealer, that makes the biggest impression, nearly stealing the spotlight from Jade Dornfeld and Alyce. Every time he is on screen, he is magnetic and kinetic as he rambles on about stories of his character's past. Even when Rouse's Rex is sitting still, it feels like the character is bouncing off the walls. Rouse's delivery is intense.
The script is also darkly funny and delightfully, devilishly gruesome. Alyce's actions are so absurd that, when she bluntly reveals what she is up to, people think it's only her odd sense of humor and cannot possible be true. Once she totally losses it, her actions are oddly cathartic for her character. Alyce is bonkers; it's jarring and amusing to watch. Earlier in the story, when Alyce is haunted by her actions, where she sees ghoulish version of Carroll appear and torment her, the film creates an unnerving atmosphere – so much so, that a simple passing truck becomes a startling freight train of noise and blurred colors. The interactions between Alyce and Rex (and Rex's encourage) contain vibrant, jabbing dialog full of stories and conflict. The film is not afraid to bring on the gore, either. When the time comes to get bloody, Alyce does so gleefully and without reservation.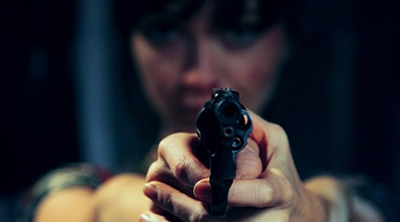 With its tongue planted firmly in its cheek, Alyce bravely dives into the damaged, lonely, dangerous world of its main character. The film is an absorbing character study, unpleasant but bewitching. It takes a bit to get going and to find its feet; but, once Alyce delves into madness, the film errupts as it inches closer and closer into her deteriorating mind. Alyce benefits greatly from two incredible performances from its star, Jade Dorfeld, and Eddie Rouse in a important supporting role. While it never takes it too far, Alyce has no trouble reaching past conventional boundaries and breaking its share of taboos. Jae Lee's film is a hidden treat, one that is well worth seeking out and exploring.
3.5 out of 5
Alyce Kills (2011)