MOVIES: GHOSTBUSTERS, PHANTOMS, MEN IN BLACK, ARMY OF DARKNESS
When there's something strange in the neighborhood, who you gonna call? BILL BRYAN!! Wait, who? That's right folks – Bill Bryan, or, some of you may know him better as THE STAY PUFT MARSHMALLOW MAN.
You have chosen the form of the destructor, and i'm sitting down with him for some serious issues. Let's find out what's beyond the big puffy foam suit, and get inside the head of Bill Bryan . . .
First of all, how could you step on a church?
By lifting my feet high.
How do you feel when kids squid out (like I did) about you playing Stay Puft in Ghostbusters?
I love it! People always smile.

How did you get to play Stay Puft?
It was my Shakespearian training. That, and 'who ya know'. Linda Frobos had been helping me build stillsuits for Dune. When she heard they needed someone capable of building and playing Staypuft, she called me. I interviewed and, with my acting resume and foam construction skills, I got the gig.
Give us a quick silly story about the making of Ghostbusters.
2 AM I sit bolt upright in bed. "What's wrong?" Asked my wife.
"He wasn't wearing his tie!" Check it out. It's in the film.
So, has your past made it difficult to enjoy marshmallows?
It always feels a bit like cannibalism now.
What's it like having a kick ass beard? Do you feel more powerful than beardless men?
Grrr
You're an artist, FX technician, puppeteer, filmmaker, and musician. You're a talented fella, but what's your favorite thing to do when you have some free time?
I read. Sci-fi, mysteries, whatever's around.
You've worked on some heavy hitters such as Child's Play, Phantoms, Men in Black, Species, Pet Sematary II, Spiderman II, and The Village. What has been your favorite film to work on?
On MIB I got to do the whole thing. The drawing was by Carlos, and the paint by Mark Killingsworth, but everything in between from inventing, welding, constructing, to performing was my work.
Outside of the film industry, what's your greatest achievement, so far?
That's easy for any parent to answer. My kids. Four of the world's best people.
What's your favorite horror film of all time?
I guess it's American Werewolf in London.
What movie scared, or scares, the sh*t out of you most?
Jurassic Park. The spectre of the death of practical effects.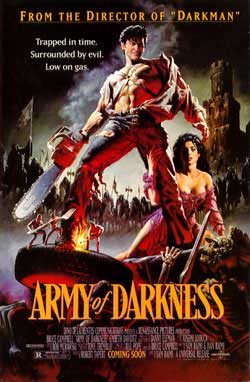 Werewolves or Vampires?
Werewolves
All time Favorite ice cream flavor?
Mint chocolate Chip
Who would win in a no-holds-barred fight to the death between The Stay Puft Marshmallow Man and The Pit Bitch from Army of Darkness?
My therapist.
What do you think the worst way to meet your demise would be?
Proton Pack fireball for sure.
All time favorite Monster?
Modesty prevents me.
"Mother puss bucket." When Gozer the Gozerian sends the ultimate harbinger of death, Horrornews.net gets the scoop. Check out Bill Bryan's FX reel at http://www.youtube.com/watch?v=LyJs8cbi2qw , and keep checkin in for more kick ass interviews.
Bill Bryan (Stay Puft Marshmellow Man)