SYNOPSIS:
Several students on a school holiday discover a mysterious camera, but after several of them start showing up dead after having their picture taken, they start to realize this camera is much more than they bargained for. In looking at the photos that have been taken of everyone, they find that the deaths correlate to the image. As time runs out, they must piece together the puzzle before they become the next victims.
REVIEW:
Director – Francesco Gasperoni
Starring – Armand Assante, Harriet MacMasters-Green, Antonio Cupo
Smile falls into the possessed inanimate object subgenre of horror. You know, those items and tokens of our affection that love nothing more than to watch us die in grisly ways by their supernatural hands. In this case it is a 1966 color instant camera or more commonly a Polaroid. For those of you old enough to remember having and using them they were the coolest things in the world. I mean, who doesn't love instant photos?
There have been other movies that to some extent use the camera as not only a weapon but as a means to "tap" inside the spiritual plane. Superstitions about the camera being able to take a part of your soul have been around for a long time. Maybe the best way to describe Smile is to think of it as a combination of several horror movies you've seen before with just enough of a twist here and there to make it a little bit different.
The movie starts off with a very quick introduction into the daily life of Tollinger (played by the one and only Armand Assante), a respected forensic photographer who goes from crime scene to crime scene taking photos of people who have met some very violent ends. Cut to a group of students on holiday traveling by beat up van to the Atlas Mountains in Morocco. They have heard legends of "black demons with flaming hands," and want to go camping up there to have some fun and get scared. Not necessarily your typical holiday but hey, it's a horror movie.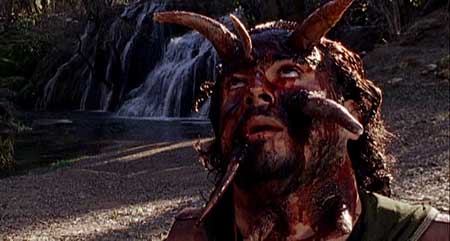 The group is led by Clarissa (Harriet MacMasters-Green), a beautiful blond who is an aspiring journalist and just loves to take pictures. Lots of them. In a very well done and concise scene we get to meet the group by way of Polaroid snapshots (nice touch) and a quick bio courtesy of Clarissa. We have the usual mix of character types but here it doesn't feel forced. All is going quite well until they almost get into an accident. Everyone is okay save for the van which has a flat.
In town Clarissa stops in an old antique shop run by none other than Tollinger. She spots the antique 1966 camera and mentions that one day she would love to own one but really can't afford the 200 euros that it's worth. No problem, Tollinger practically gives it away, only charging 25 euros. On top of that he throws in a roll of film. His only request? Take lots of pictures of your friends. To use one of his quotes, "what is a great moment if you cannot prove you had it?" Clarissa thanks him and off the group goes for some camping in the woods. Too bad not all of them are going to get out of this alive.
Smile is, for the most part, a straight forward horror movie. The question is not who is going to die but how. Kind of like Final Destination in that aspect. The script keeps the pacing moving relatively quick with no real lulls. There is one great moment when one of the characters starts to quote Dante's Inferno only to have a another character like the "poem" and ask in all earnest if they wrote it, much to the amusement of the others.
The direction is solid and the special effects not bad. There really isn't a whole lot of blood and seeing how this is an Italian horror movie that's saying something. Of course, this having more of a supernatural bent, that aspect can be excused. The acting is above par for this fair. Always good to see Armand Assante albeit for a small amount of screen time. Antonio Cupo is fun as Tommy, the character who starts to flip out when things go bad.
I personally enjoyed the film but for some it will cause eye rolling. I would rate it a rental, a good film to see once. Just please don't go buying any antique cameras. Pretty soon you won't have anyone left to take a picture of.
Smile (2009)