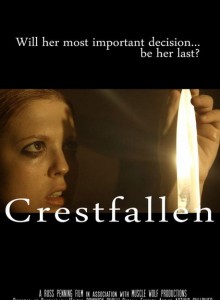 REVIEW:
A woman takes her own life by slitting her wrists in a bathtub. As she fades away, alone and depressed, she envisions moments of her life flashing before her. It is thru this short 5 minute tale that we discover the back story to her suicide. The short plays thru much in the style of a movie trailer only letting the sound of the brooding back score highlight the films progression.
Our main character is presented in expression rather than words flashing over her husbands unfaithfulness. Her world has been broken losing not only a husband but her family as well. It is in her final moment that she has a change of heart.
Russ Penning has shot a simple but beautifully shot piece, rich in storytelling. It's horror is simple in the aspect of death, but its main focus is a troubled soul. Using pictures, framed composition and time lapsed moments we share the experience of our focal character. Due to its short length, it doesn't warrant a long explanation, though it is a stunning to piece to behold.
The short if reported as: Budgeted at $2200 featuring music from horror film composer legend Harry Mandfredini. It was created in association with Muscle Wolf Productions and Marv Blauvelt