What's up Fiends! It's your hellish visitor back to introduce you to all to a bit of pain and pleasure, and believe me, it's going to be an incredible edition! This very special piece not only includes all the carnage you crave, but an interview with incredibly talented and absolute lover of horror, former Rue Morgue editor and future visionary director, Miss Jovanka Vuckovic. I also have few other important guests to introduce, so. . what do you say? Let's get down to some f*cking horror business!

Let's start off with movies, and there are tons to look forward to! I have chosen the offerings I think will reveal new forms of darkness into your souls.
First up is a fantastic, surreal vision of evil from director Pearry Teo who incidentally is the first individual of Singaporean descent to direct a horror film. So Pearry's not only breaking down barriers in the visual sense, good for you, my friend! The film is called Necromentia, and the highly stylized story involves three men who have their lives turned over by the existence of a tattooed Ouija board which opens the gateways to other dimensions. One of the men, Hagan, keeps the corpse of his lover in his home, hoping one day she will come back from the dead. When he meets a man named Travis, he learns that maybe he could go into Hell and bring her back to the world of the living. Teo's vision has many dimensions including intricate storytelling, incredible creature effects, massive amounts of gore, and the visual stylings of masters such as Rob Zombie and of course, the ultimate Hellraiser, Mr. Clive Barker. Travel to the bowels of the damned once again when you purchase Necromentia from Image Entertainment available right now!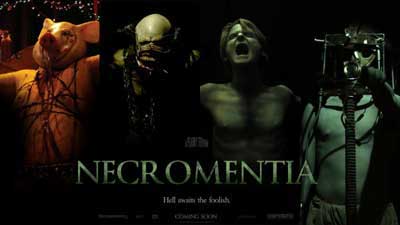 Next up is Let Me In, which of course is a remake, but I have a positive feeling in my bones that this is going to shock people. Let Me In is an American drama horror directed by Matt Reeves based on the novel Let The Right One In by John Ajvide Linqvist, who has on many occassions been compared to Stephen King. The movie tells the story of a twelve year old who develops a friendship with a centuries old vampire child in a New Mexico town in the early 1980's. Yes, it sounds like fluff, but trust me, this is nowhere near Disney family sh*t. In adapting the film, a few adjustments were made such as changing the names of the main characters to Owen and Abby. The plot of Let Me In will closely resemble that of the original film, except the producers state that it will be very accessible to a wider audience. It has the same beat, but the scares are actually a bit more over the top. Sound good to me. The film stars Chloe Moretz of Kickass and Kody Smit McPhee. Fall in love with the innocence of evil when Let Me In from Hammer Films and Overture on October 1st.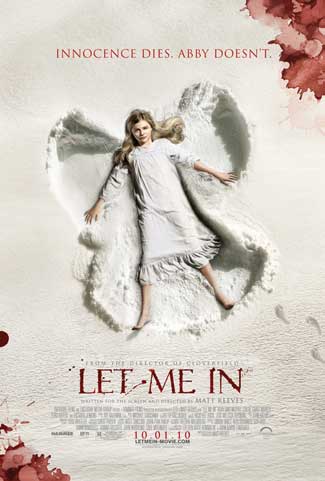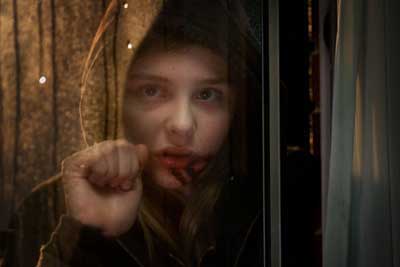 Finally, there's a film that stars two friends of mine, the lovely duo of Ashlynn Yennie and Ashley C. Williams, and of course features the maniacal, but more importantly believable Dieter Laser as Dr. Heiter. The film, written and directed by Dutch director Tom Six, is of course The Human Centipede. If you did not know already, the story involves two U. S. tourists, Lindsay and Jenny. Due to a flat tire and bad directions, they enter the home of a mad doctor who drugs them immediately. The two wake up in a makeshift hospital room only to be told that they are to be part of an experiment to make a creature that share a single digestive system by joining them to another male captive, played by Akihiro Kitamura, via their mouth and anus. If I reveal anymore it would ruine the experience of the experiment, so become one with The Human Centipede from IFC Films when it crawls onto dvd shelves October 8th.
Searching for some sinister tunes this fine month of everything dark and gruesome? Well, I have a few bits of news for some of you, as well as a possible introduction to a kickass band you probably have never heard of, but should!
First is the Salt Lake City creatures Diemonsterdie. These guys have released five studio albums, and have drawn influence from music, games, literature, and of course their love of evrything horror. The band wear their own brand of garb on stage which include a skull mask and tons of blood, which bring back the stylings opf the great and powerful Danzig projects Sam Hain and The Misfits, and of course the gruesome stage theatrics of Gwar!Join the Zealots Of The Blood Circle when you get your claws on their new album, Fall To Your Knees, available on their own site, DIEMONSTERDIE. COM.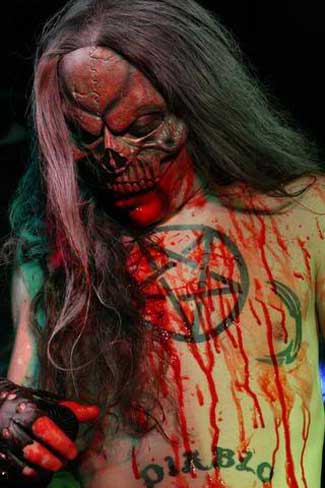 Next up is Zombie news! Oh yeah, Rob f*cking Zombie! Rob Zombie has premiered a new song on ARTISTDIRECT. COM, Everything Is Boring. This is the first song from the band's upcoming special edition of Hellbilly Deluxe 2. Everything Is Boring is one of a few newly recorded songs on the expanded release. The others are entitled Michael(hmm. . finally a song about my favorite slasher? Maybe? ). Devil Hole Girls, and The Big Revolution. Also packaged is a dvd containing the videos for Mars Needs Women, a live rendition of tourmate Alice Cooper's School's Out(featuring Alice himself), and the documentary film Transylvanian Transmissions. Revisit the sounds of the SuperBeast when Hellbilly Deluxe 2 hits shelves from Roadrunner September 28th.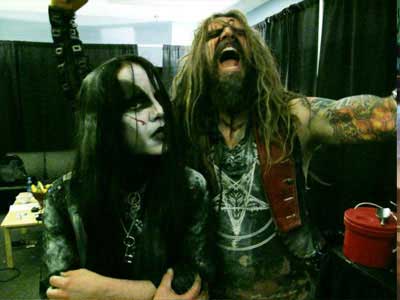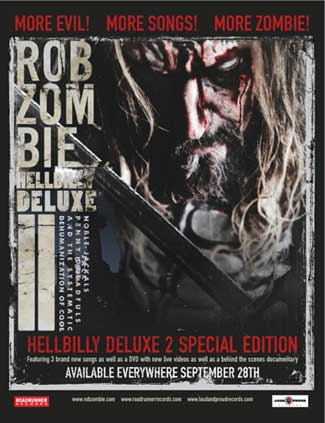 Looking for some horror love in literary form? I have only one offering to inform you about, and it's also Delamorte's Deadly Delight because it is just that goddamn good! Let The Right One In is a 2004 vampire fiction novel by Swedish writer John Ajvide Lindqvist. The story just like the film centers on the relationship between a horribly abused twelve year old boy, Oskar, and a centuries old vampire child, Eli. It takes place in Blackeberg, a working class suburb of Stockholm in the early 1980's. The book focuses on a darker side of humanity dealing with issues such as bullying, drug addiction, theft, pedophilia, prostitution, and murder, as well as the obvious supernatural themes. The novel was a bestseller in the author's home country of Sweden and has been translated into Danish, German, Dutch, Russian, English, and Chinese. This worldwide phenomenon has been rereleased to coincide with the remake's release, and is available now from Kindle.
Do you love zombies? Well, television in October definitely has the urge to munch down on your brain stem.
First is the horrifyingly hilarious new series from FEARNET and Ghost House Pictures, Zombie Roadkill. The story involves a group of college kids who drive an unfamiliar winding road to discover that the woods are alive with undead animals. Meek Simon must venture out to find help for his injured friends and brother with the help of dedicated park ranger, Chet Masterson. Genre icons Sam Raimi and Rob Tapert are the executive producers on the project so definitely expect some Evil Dead horror slapstick. The show stars Spiderman 3's Thomas Haden Church and Texas Chain Massacre's David Dorfman. Give PETA arun for their money when you help to destroy the plague of critter on FEARNET. COM in September.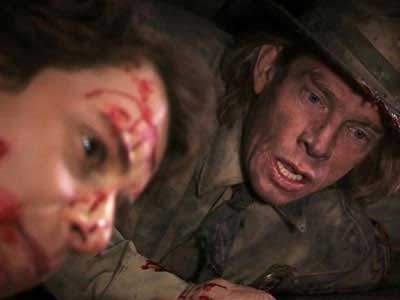 Next is the awesome E. C. comics style animation of Ugly Americans. The new season premieres incidentally on my 32nd DEATH-day and focuses on Mark Lily, a social worker at the Department Of Integration in an alternate version of New York City with monsters and other creatures living amongst human beings. The series also features Mark's undead roomate, Randall Skeffington, his superhot demon girlfriend, sadist Callie Maggotbone, and his demonic mid-level bureaucrat boss, Twayne Boneraper. Continue your journey in the true melting pot when Ugly Americans premieres on Comedy Central October 6th.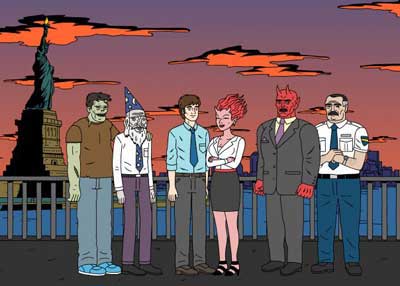 And finally, if you don't live underneath the ground you know about the huge premiere of The Walking Dead. The series is created for television by Stephen King picture painter, Frank Darabont, and is based on the amazing comic book by Robert Kirkman and Tony Moore. The Walking Dead tells the epic terror tale of the aftermath of a zombie apocalypse, and follows a small group of survivors travelling across the United States in search of a new home away from the horde. The group is led by Rick Grimes, who was a police officer before the aftermath. As their situation grows more grim, the group's desperation to survive pushes them to do almost anything to stay alive. The huge cast includes Andrew Lincoln, Boondock Saint Norman Reedus, and of course Henry:Portrait Of A Serial Killer and Slither's Michael Rooker. Celebrate all Hallow's Eve when The Walking Dead premieres with a ninety minute opener on AMC!
.
Finally, I have introduced you to future horror masterminds in past editions including Johnny Daggers and Phil Grimsley, both with their own budding and respective production companies. Now I would like to introduce you maniacs to my new friend, Jeremiah Kipp! Jeremiah was born in Rhode Island(which is incidentally H. P. Lovecraft country) in an isolated and solitary home. Because he was not really accessible to anything fun for a child, he began to draw from his imagination especially when it came to his love of horror. At the ripe age of ten, Kipp had faced his fears with terror classics such as Halloween and The Texas Chainsaw Massacre. But it was when his family purchased a camcorder for special occassions that Mr. Kipp truly found his calling in life, filmmaking. As an adult, he attended NYU Film School and learned many new tools of the trade.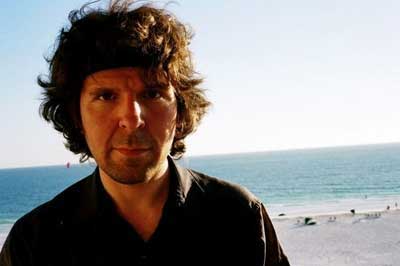 In 1999, he directed a low-budget film and in 2008, he had the amazing opportunity to co-direct I Sell The Dead with irish director, Glenn McQuaid. The film was a dark tale of graverobbing starring Lost's Dominic Monahan, Sons Of Anarchy's great Ron Perlman, and of course the Tall Man himself, Angus Scrimm. Now, Jeremiah is showcasing his ten minute short film Contact, starring the gorgeous Zoe Daelman Chlanda in a Cronenberg-esque take on the dark side of drug addiction which has received rave reviews from many including director Paul Solet who introduced us to the highly disturbing and hauntingly beautiful, Grace. Kipp is also working on filming The Sadist, a nod to the 80's slasher with special effects master Tom Savini, the man who created practically everything to do with the slasher, in a role he was born to play, a post traumatic war veteran stalking the woods killing everyone in his bloody path. Look for Jeremiah Kipp on Face book to find the link for Contact, and look out for more information on The Sadist stalking towards you real soon!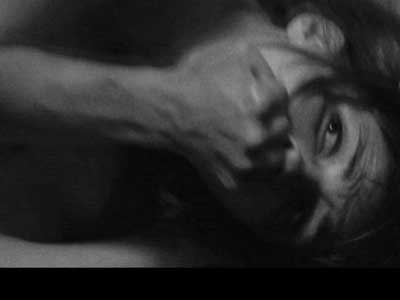 So, once again I have brought you new fiendish faces and tons to look forward to. Be sure to check out my tricks and treats this Halloween, keep on loving and supporting the genre, and in the words of Scream's Billy Loomis, "Movies do not create psychos, movies make psychos more creative!"Of course, remember my motto to you all, the only thing that can impale your dreams is your own negativity. Take care, and I will scare ya later!
Sweet Nightmares and Pleasant Screams,
SIN-cerely, Your Ringmaster of Rigamortis, Robert Delamorte