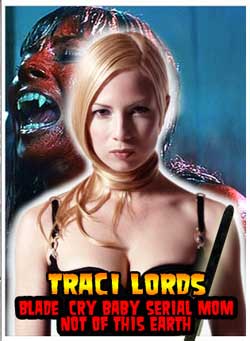 Representing one of the most talked about guest additions of the month for DAYS OF THE DEAD 2011, actress, singer, and author, TRACI LORDS, will be making her highly anticipated return to the mid west this July! The controversial, but strong minded starlet is known for her roles in such films as Cry Baby, Blade, Serial Mom, Zach and Miri Make a P*rno, and the remake of the Roger Corman cult classic, Not of This Earth.
In addition to her film career, Lords has appeared in such television programs as Tales From the Crypt, Married With Children, Melrose Place, and Roseanne. Lords is also a multi-platinum recording artist who, in addition to her own musical works, has written and records music for such films as Virtuosity and Mortal Kombat, as well as the b est selling author of the memoir, Traci Lords: Underneath it All.
Traci Lords will be making a very special appearance Friday, July 1st, and Saturday, July 2nd, at DAYS OF THE DEAD 2011.
Also recently added to DAYS OF THE DEAD 2011 is musician and actor, MICHALE GRAVES. Best known for his tenure as the lead singer of famed horror punk band, The Misfits, Graves provided the vocals for two of the groups most critically acclaimed works – "Famous Monsters" and "American Psycho." Graves has also appeared with the Misfits in the films Bruiser (by George Romero) and Animal Room – Graves also had an acting role in the thriller, Perkins 14.
Michale Graves is scheduled to perform a very special acoustic set at the DAYS OF THE DEAD VIP Party on Saturday, July 2nd. Graves will also be headlining the official DAYS OF THE DEAD Pre-Convention Concert, happening at the Melody Inn in Indianapolis IN, on Thursday, April 30th. Also performing with Graves will be Ari Lehman's metal duo, First Jason, and Kentucky punk rockers, Black Sunday.
Now Taking Submissions For FANGORIA FILM FESTIVAL At DAYS OF THE DEAD 2011
In case you missed the announcement, none other than FANGORIA MAGAZINE will be officially sponsoring a film festival at DAYS OF THE DEAD 2011. A name long regarded as being synonymous with the horror genre itself, FANGORIA has been the #1 distributed horror magazine since 1979, as well as branching off into other areas of media such radio and film production.
The FANGORIA FILM FESTIVAL will kick off Friday, July 1st, with the mid west premiere of Heather Langenkamp's, I Am Nancy, and commence throughout the weekend showing the best up and coming feature length films, shorts, and even sneak peeks of highly anticipated projects.
If you are a film maker and are interested in submitting your film for consideration, please send it to:
FANGORIA FILM FESTIVAL
c/o Adolfo G. Dorta
507 Lincoln Rd.
#203
Ingelside, IL 60041
Submissions will be accepted all the way through April 30th, 2011.
Vendor Space Going FAST!
Despite the show being just over 3 months away, there are less than 40 vendor spaces left for DAYS OF THE DEAD 2011, including newly added hall space. Promising to be the most anticipated new horror show of 2011, purchasing vendor space at DAYS OF THE DEAD 2011 is a great way to sell merchandise and promote your brand, whether you are an artist, author, film maker, or dealer of goods and services pertinent to the interests of our wide audience. DAYS OF THE DEAD also offers special discounts to independent artists and film makers as a way of promoting the working class horror scene.
To inquire about rates and details and secure your vendor space before they are all gone, please send an email to vendors@daysofthedead.net
Finally, hotel rooms at the Wyndham Indianapolis are almost SOLD OUT for the DAYS OF THE DEAD 2011 event! Don't get left out – book your room today by visiting: daysofthedead.net/hotel
Tickets are also currently ON SALE! You can purchase advanced weekend passes, day passes, and very limited VIP Passes NOW by visiting: daysofthedead.ticketleap.com/tickets/
DAYS OF THE DEAD 2011 happens July 1st – 3rd, at the Wyndham Indianapolis West in Indianapolis, IN and features 3 days of events, parties, movies, and exciting celebrity guests including Gary Busey, Edward Furlong, Heather Langenkamp, Roddy Piper, Traci Lords, Derek Mears, PJ Soles, and MORE!
For more info, visit the convention's official website at www.DaysoftheDead.net.