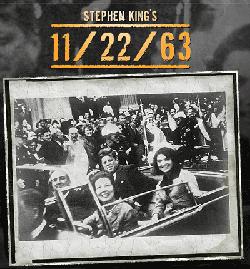 All right KING fans, time to get stoked.
Been a busy week for horror maven Stephen King. Early in the week it was announced that come this November we will all be treated to another 1000 page master work. This one is called 11/22/63 and for those of you out there over 40 years old (or who paid attention in history class) this date should immediately mean something.
It was the date that President Kennedy was assassinated.
Here's the official synopsis about the story:
On November 22, 1963, three shots rang out in Dallas,
President Kennedy died, and the world changed.
If you had the chance to change history, would you?
Would the consequences be worth it?
Jake Epping is a thirty-five-year-old high school English teacher in Lisbon Falls, Maine, who makes extra money teaching adults in the GED program. He receives an essay from one of the students—a gruesome, harrowing first person story about the night 50 years ago when Harry Dunning's father came home and killed his mother, his sister, and his brother with a hammer. Harry escaped with a smashed leg, as evidenced by his crooked walk.
Not much later, Jake's friend Al, who runs the local diner, divulges a secret: his storeroom is a portal to 1958. He enlists Jake on an insane—and insanely possible—mission to try to prevent the Kennedy assassination. So begins Jake's new life as George Amberson and his new world of Elvis and JFK, of big American cars and sock hops, of a troubled loner named Lee Harvey Oswald and a beautiful high school librarian named Sadie Dunhill, who becomes the love of Jake's life—a life that transgresses all the normal rules of time.
November 8th is when this one hits shelves, start saving now.
As if that wasn't enough tonight came word from the man himself that he had done completed a whole new DARK TOWER book.
You read that right. THE WIND THROUGH THE KEYHOLE is done and going to be released in 2012.
Holy Crap!
Here's the message that King sent around, all your questions are answered:
Dear Constant Readers,
At some point, while worrying over the copyedited manuscript of the next book (11/22/63, out November 8th), I started thinking—and dreaming—about Mid-World again. The major story of Roland and his ka-tet was told, but I realized there was at least one hole in the narrative progression: what happened to Roland, Jake, Eddie, Susannah, and Oy between the time they leave the Emerald City (the end of Wizard and Glass) and the time we pick them up again, on the outskirts of Calla Bryn Sturgis (the beginning of Wolves of the Calla)?
There was a storm, I decided. One of sudden and vicious intensity. The kind to which billy-bumblers like Oy are particularly susceptible. Little by little, a story began to take shape. I saw a line of riders, one of them Roland's old mate, Jamie DeCurry, emerging from clouds of alkali dust thrown by a high wind. I saw a severed head on a fencepost. I saw a swamp full of dangers and terrors. I saw just enough to want to see the rest. Long story short, I went back to visit an-tet with my friends for awhile. The result is a novel called The Wind Through the Keyhole. It's finished, and I expect it will be published next year.
It won't tell you much that's new about Roland and his friends, but there's a lot none of us knew about Mid-World, both past and present. The novel is shorter than DT 2-7, but quite a bit longer than the first volume—call this one DT-4.5. It's not going to change anybody's life, but God, I had fun.
— Steve King
Very great news indeed.