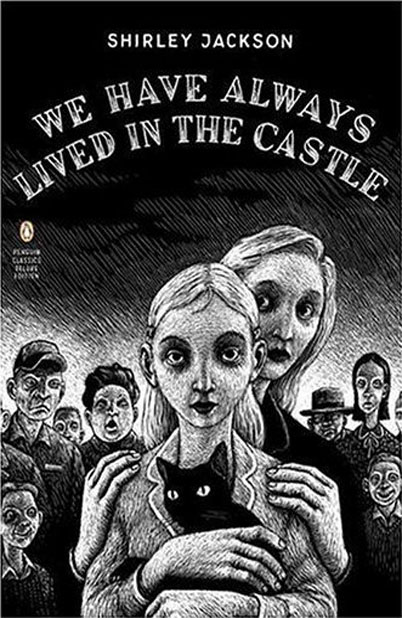 WE HAVE ALWAYS LIVED IN THE CASTLE
The best works of fiction are those that absorb you to such an extent that they become a work of non-fiction, in that the world you're drawn into is real and utterly absorbing. This is one of those memorable literary experiences.
It's a particular treat if you like your fiction dark and bewitching. Imagine a black cat, illuminated by a candle atop a skull, sitting in an old ruined castle, in New Orleans, on Halloween, surrounded by leaping vampires and cackling witches, as the wind tears through the trees, on the night of a full moon. It still wouldn't be as deliciously Gothic as this masterly crafted tale.
Sisters Constance and Mary (Merricat) Blackwood, live with their wheelchair-bound Uncle Julian and cat Jonas, in a large, remote house on the edge of a small New England town. They're the last of a large, moneyed family, the rest of the clan having been poisoned at dinner a few years earlier – an event from which Uncle Julian has never recovered, physically or mentally. The story is narrated by Merricat, a precocious, spiteful, charming, complex and totally loopy anti-heroine, who spends her time wishing people dead, smashing mirrors and casting spells in her efforts to maintain the trio's reclusive status quo.
The creeping tension in the story hinges around the poisoning of the Blackwood family (a classic whodunit) and the arrival of an unpleasant relative who acts as a catalyst for terrible changes. This is a world of black hearts and deranged desires. Yet within it, we also find gentleness, love and kindness. For me, it was this see-saw blend of light and dark (mostly dark to be fair) that made the tale so intriguing. Books don't become literary classics without good reason. Read it and you'll be charmed and chilled in equal measure.