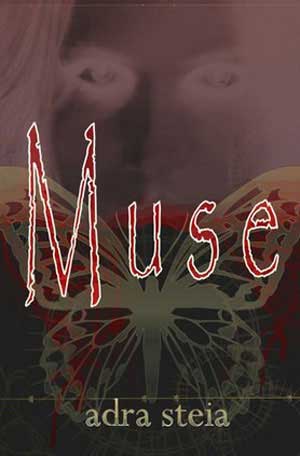 MUSE
Author Adra Steia
Published by Tease Publishing LLC
Publication Date: 2007
Format: Black /White – 285 pages
Price: $3.99
A Psychic Obsession…
Ash Roland does not hold back from the message she wants to convey to us. The story Muse had a very profound impact on me when I read it. The story is centered upon an artist who once again reconnects to his long time sweetheart. The emotion that was put behind the novella was as intense as anything that you could possibly read. It was filled with both fear and a sense of love, an undying love if you will for one person who you care about more than anything in this life. Ash has managed to capture our hearts and emotions as she takes us on one hell of a roller coaster ride.
The fear is in this. There is a lot of terror within the pages of this novella; there is a sense of strong urgency as we read what one person is willing to do in order to save the person she loves the most. The artist happens to have a Muse, hence the title. He is a painter and photographer. Once the artist known as Miguel reunites with the love of his life, him, Leah and his brother move into their family home. Strange occurrences happen within the house as Miguel makes contact with his Muse, a seductive woman by the name of La Mariposa.
Miguel is captivated by her unnatural beauty. Leah and Jose believe they are dealing with a ghost. There is more to this story than meets the eye. The characters are so rich and tender, towards the end of reading the novella I found my heart aching through the trials and tribulations each person was going through in the story as Leah and Jose desperately tried to find a way to rescue Miguel from falling into an abyss from where there is no returning from. The writing is very effective and it now makes me think of the supernatural in a whole new level. Ash Roland has once again caught my attention with her stories of true passion and love. There is not another author that writes like the way Ash writes in this story.
The pacing of the story is done well. It flows very nice. I found myself more and more involved with the story as I read the pages. The first part of the book is very good as it introduces us to the characters and we get to learn who they are and where they came from. The supernatural aspect of the novel is really well done. I've had a chance to speak with the author who told me she had done some research and she really did do her homework when writing this. Her inspiration shows within each and every single page you read of this novel. There is not a moment when you want to put down the book and say "I can't read this". Once you read it you will discover that you cannot put the story down. That is how strong the author's writing is. Ash manages to once again capture our imaginations and I give her a round of applause for capturing my imagination and making me feel for these characters who I want to know more of. There are moments though where you will not want to read this book alone at night. The fear that Ash manages to tap into within the pages is as raw as it will ever be.
There will be moments where you will find yourself looking over your shoulder and making sure there is nothing in the room with you. That is saying a lot about the writing style of the book.
I have mentioned before in my past review of Ash's earlier novels that she has gained one fan of hers for life. I am anxious to read her next work of fiction. The  author has a very good career ahead of her. I hope she cranks out another novel in the future. I am proud to say that I am now a devoted reader of her work of fiction.
Available from FictionWise