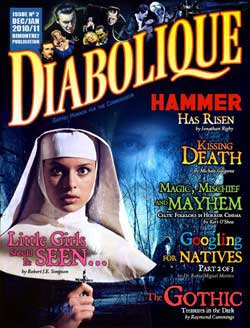 Diabolique Magazine is the creation from the minds over at horrorunlimited.com, this being the 2nd issue but a first look for us cannibals of horror over here at horrornews.net. We are told that Issue 2 is to be the first printed edition which hopefully will be a trend that continues with great success.
It's always good to see another publication make it's way onto the scene. Contrary to how we do things here, I actually do most of my reading away from computers, so it's a great thing to have a new piece to indulge into. It goes without saying as you dig into the contents that this publication has alot of love for the Hammer clan. No, not another tribute magazine to the SAW chronicles or even what your latest tabloid cover model is doing delving into horror films but a tribute to the ways of old and gothic.
"Kissing Death" takes on a overview of the cult like hit (in my book) "Make out with Violence". If the title didn't get you attention then the film should as it's a winner piece of work. Its good to note that the reviewer also mentions its standing ovation soundtrack which is still on my Christmas list this year to acquire at some point. You can read the article or just go an check out the film.
"Celtic Folklore" is one for the Goths, but also for inquiring minds like you and me. I like to believe that horror is one of fiction and research. In fact our own history has alot to offer that doesn't involve high def cameras and blood packs. Disheveled hair, black robes and some down to the wire lore makes its way into a nice overview of Celtic traditions. A special offset takes on Sam Hain and those nasty Romans. This evolves nicely into some pretty focused research work that gives us fairy tales, magic and even some comparison to modern cinema.
This segues nicely into the Wicker Man which stands as a perfect example of combining cinema with Celtic origins. Its a bit creepy and it will make you wonder if society from those days were just plain insane or incredibly naive. The lore and legend went on to inspire alot of knock off releases that takes all this myth and legend into a portrait of a paranoid age. Ritual magic played a bit part here and its scary to think what really transpired under that paranoid notion, check it out!
"Googling for Horror" takes a stab at Cuban horror. Cuban horror you say…..never heard of it! Ok, well maybe more kept under radar, but this article gives up a taste of things to come and a few that already have. "Juan of the Dead" , "Cupla" and "Molinas Test" are a few focal films discussed. Perhaps Cuba is waiting in the wings of Serbian to make its mark into the Western world??? We'll see,
Now I wont overview everything within, but it appears that this issue is built for the souls of gothic thrill seekers who would like to get hipper to the trends just enough to back up their social participation. With some pretty solid imagery, a nice helping of historical side dishes and smart comparisons to new age you may have yourself a hearty little goth treat to throw down your mullet. It looks like the team drew in some great writers and the horror genre has just become a little bit smarter because of it.
Check out – horrorunlimited.com/
Diabolique Magazine – Issue 2