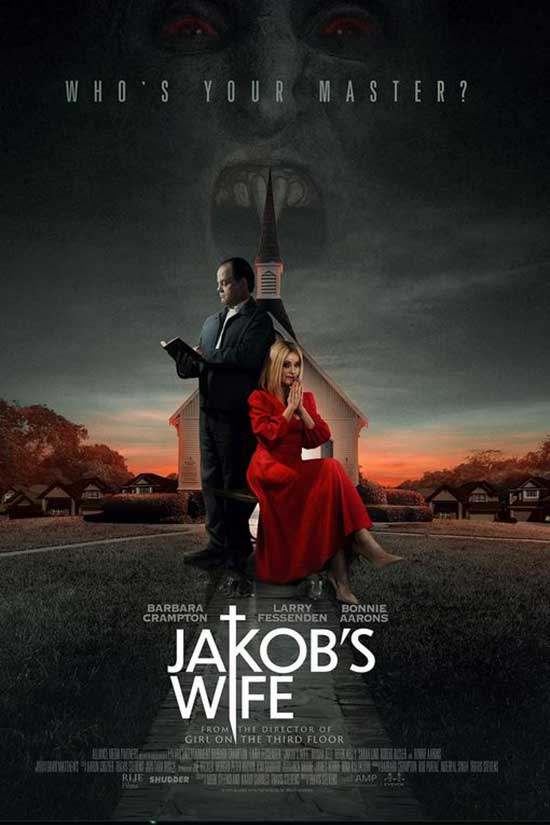 SYNOPSIS:
Anne is married to a small-town minister and feels like her life and marriage have been shrinking over the past 30 years. After a chance encounter with "The Master," she discovers a new sense of power and an appetite to live bigger and bolder than before. As Anne is increasingly torn between her enticing new existence and her life before, the body count grows and Jakob realizes he will have to fight for the wife he took for granted.
REVIEW:
Travis Stevens directed Jakob's Wife and it was written by Mark Steensland, Stevens, and Kathy Charles.
DVD and BD release July 20.
Let's discuss vampires for a moment, shall we? We shall… Like many of you, I have seen my fair share of vampire movies. Near Dark, Subspecies, Salem's Lot, Climate of the Hunter, Fright Night (1985), Fright Night II (1988), Nosferatu The Vampyre (1979), Bram Stokers: Dracula, The Shed, Let Me In, Bloodstone: Subspecies II, From Dusk Till Dawn, 30 Days of Night, Blade (1998), Blacula (1972), Dracula (1931), Nosferatu (1922), Thirst (2009), Underworld.
So, over the years, we have seen a variety of vampire movies and Travis Stevens is delivering something different. Jakob's Wife may not intentionally pay homage to some of the great vampire movies, but it does with ease.
The film opens with Pastor Jakob Fedder portrayed by Larry Fessenden Wendigo, The House of the Devil) preaching and we meet his lovely wife, Anne Fedder portrayed by Barbara Crampton (Body Double, Re-Animator, From Beyond).
Amelia (Nyisha Aarons) is walking home after church and she is attacked. Meanwhile in the Fedder household, Anne is taking care of business. Jakob finds out that Amelia is missing. He talks to Sheriff Mike Hess (Jay DeVon Johnson).
The rest of the Fedder family comes for dinner. Bob (Mark Kelly) and Carol (Sarah Lind). Anne is in this stifling marriage with Jakob. She seems to be looking for something… What does she find? Tom Low played by Robert Rusler (A Nightmare on Elm Street 2: Freddy's Revenge, Thrashin'). Tom wants to know what's going on with Anne? Where did the fun go? How do we bring it back? How do we keep it fresh?
Don't worry… I'm sure something will come along. This is a movie directed by Travis Stevens, and you know SOMETHING IS COMING! Tom and Anne head out to work on the project and they reminiscence. Robert Rusler and Barbara Crampton are the cutest, I'm not even sorry for writing this. I typed it out and I'm not taking it back. It seems like Tom and Anne found The Master's lair or den.
That was gnarly. Let's just say there are rats involved, a LOT OF RATS and well, maybe a bat or a vampire. (Oh, I love vampires.) We get a brief glimpse at The Master. The Master is a master of bringing these wildly fascinating characters to life. Bonnie Aarons (The Nun, Drag Me to Hell, The Conjuring 2) plays The Master.
It's the next morning, after the attack on Anne, and she's not feeling life as a preacher's wife. Jakob is looking for Anne. She comes home and she's acting different. She can hear The Master calling to her. Anne changed her look and she wants to go out for dinner. Jakob's stifling and Anne is annoyed at even his small habits.
Barbara Crampton is walking through the grocery store as new fledging vampire. She is searching for food that she now detests. She heads over to the butcher and wants the blood. Barbara Crampton is a rock star.Anne's a vampire now, and she's having fun being a vampire. She doesn't seem so stifled. The soundtrack and the songs are good. Barbara Crampton is so animated as Anne. She gives her this electrifying feeling, that only Barbara Crampton could.
Jakob goes to visit Bob and Carol. He tells Bob everything that's going on. He thinks Anne is having an affair with Tom. While Jakob is doing all this stuff, Anne gets a visit from The Master.
Who knew going to the dentist would be so problematic for a vampire?
Jakob heads over to the site where Anne and Tom were working. He found someone, just not Anne. Anne and Jakob are not perfect but everyone wants to be loved. These two go through the motions of a marriage but there doesn't seem to be that genuine happiness.
This is indeed, "some mother*cking vampire sh*t." Okay, so after all of this, Anne confesses something. It's so nonchalant. Larry, Barbara, and Bonnie are just… There are not enough words to describe them and how they make Jakob's Wife so delectable.
Robert Rusler and Jay DeVon Johnson, Angelie Simone, Nyisha Bell, and Bonnie Aarons. They all put heart and soul in the characters.
We finally meet The Master. The Master is our modern Nosferatu. A beautifully transcended being that is terrifying yet you want to know more about The Master. Bonnie Aarons is just exquisite in this role. She has unrelentless onscreen chemistry with Barbara Crampton.
The shots, the music, the actors, Travis Stevens, and everything in between is great. Make sure to check out Jakob's Wife.