RLJE FILMS: SHUDDER Presents: JAKOB'S WIFE. Jakob's Wife was directed by Travis Stevens and stars Barbara Crampton, Larry Fessenden, Robert Rusler, and Bonnie Aarons. Travis spoke with Horrornews.net for an exclusive interview about Jakob's Wife.
JAKOB'S WIFE is available in select theaters, on demand and digital April 16th.
Anne is married to a small-town minister and feels like her life and marriage have been shrinking over the past 30 years. After a chance encounter with "The Master," she discovers a new sense of power and an appetite to live bigger and bolder than before. As Anne is increasingly torn between her enticing new existence and her life before, the body count grows and Jakob realizes he will have to fight for the wife he took for granted.
Hi Travis, it's so great to talk to you. This cast is incredible. Barbara Crampton, Bonnie Aarons, and Larry Fessenden. How did this movie manifest?
T.S. – Its really nice to get a chance to work with friends. It was great to work with Barbara, Bonnie, and Larry in roles that give them a bit more space as performers. It all started with Barbara Crampton being sent the script. Mark Steensland wrote the script. Barbara fell in love with the character, fell in love with the world, and then spent many years developing it and nurturing it. Eventually, they sent it to me and I said, I think this could be a great movie for us to do together. Barbara, Larry, and I had worked together on We Are Still Here. It's been nice to see people respond so positively.
How do you prepare as the director? How do you get everyone prepared for such an intense film and the special effects?
T.S.- I go for a lot of jogs.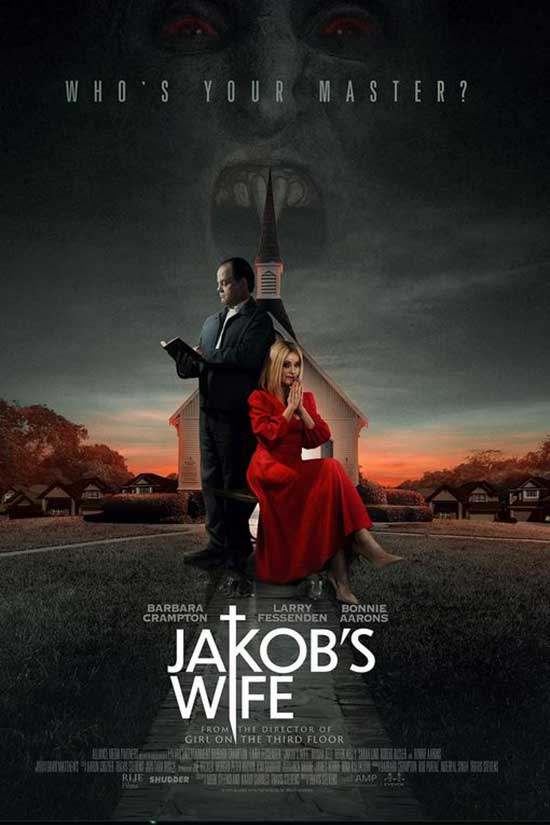 Sounds like me. (Laughing) I go for walks.
T.S.- This is true with any film but wanting to make sure everybody understands the movie you're trying to make is the first step towards anchoring the experience. With Barbara and Larry, early on when I was working on the script, we had conversations about relationships. We wanted to bring truth and authenticity to the movie.
What do you want to say to everyone watching Jakob's Wife?
T.S.- I want people to enjoy them with popcorn, and have fun. I want people to enjoy a film that transforms along with its main character. I think we have all been sort of constrained in our own lives. I hope that the wild fun aspect of this movie, where we watch a character really cut loose and live a bit freer, I hope the audiences do that as well. We have all been carrying this heavy burden for the past year. It would be nice to put it down and dance a little.
It is weird not being able to see friends and family. Movies have been so cathartic. It means a lot that you guys put so much heart in these movies.
T.S.- Thank you. They are made with love. That means a lot.
What's next for you? Are you working on anything else? Is there any chance of a sequel?
T.S.- We would love to continue exploring. There are other movies in the works. I like using horror sub-genres in interesting ways.
The image posted with Barbara pushing the shopping cart, I thought so much about The Stepford Wives. Was that maybe an homage?
T.S- That image specifically, no. But of course, there is a correlation of this dutiful, obedient submissive wife. A free walking cheetah. Those are her first steps in her new reclaimed confidence.
I had to ask because that's one of my favorite images ever.
T.S.- Thank you.
It was so much fun talking to you Travis. Thank you.
T.S.- Thank you.
IMDB www.imdb.com/name/nm1705857/?ref_=tt_ov_dr