DarkMatter TV – Lift your spirits from this COVID-19 madness with 10 new horrors, guaranteed to be a frightfully good watch here.
Bleeding Heart (2015) – directed by Diane Bell
A yoga instructor looks to protect her sex-worker sister from her deadbeat boyfriend.
American Exorcist (2018) – directed by Tony Trov and Johnny Zito
A paranormal investigator, trapped in a haunted skyscraper on Christmas Eve. The skeptical young woman, Georgette Dubois, is horrified once confronted with the reality of the supernatural. She risks life and limb to escape her ghoulish prison, stranded on the 11th floor.
Exposure (short, 2015) – directed by Ignacio F. Rodó
Following a sexy photo shoot, she goes to her darkroom to develop the pictures, soon to find out she's not alone.
I Am A Ghost (2012) – directed by H.P. Mendoza
Emily, a troubled spirit, haunts her own house every day, wondering why she can't leave. With the help of Sylvia, a clairvoyant hired to rid the house of spirits, Emily is forced into a 'patient/therapist' relationship, uncovering disturbing mysteries about her past that may help her move on to 'the next place'.
Doom Chapel Horror (2016) – directed by John William Holt
This is an 80's style creature feature with a modern twist about a man returning to his childhood town and to parents that had sent him away after his brother's death. But something has been waiting for his return, something he has forgotten, something he asked for, and it is hungry.
Agramon's Gate (2019) – directed by Harley Wallen
A psychic reader and Medium are invited to a party. Something goes very wrong and something comes over from the other side to haunt the people from the party. They must solve the mystery before it's too late. Agramon will not be easy to stop.
Blood Punch (2014) – directed by Madellaine Paxson
A young man is lured into a dangerous love triangle that begins to take a series of shocking and grisly supernatural turns.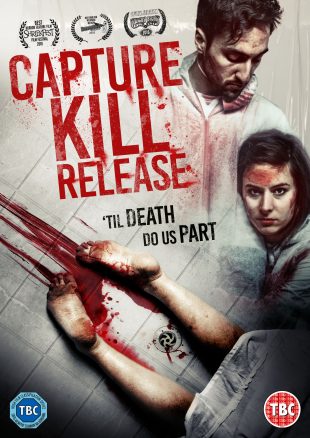 Capture, Kill, Release (2016) – directed by Nick McAnulty, Brian Allan Stewart
A couple plots to murder a random stranger just for the thrill of it, but things turn ugly when one of them decides not to go through with it.
Chicago Rot (2016) – directed by Dorian Weinzimmer
After years of rotting in Joliet, Les, a wrongfully imprisoned street legend known as "The Ghoul", is released into a mad search through Chicago's back alleys for the man who slaughtered his mother and robbed him of his soul. Aided by mysterious benefactors, he must delve beneath the city into a modern labyrinth of gutters whose tendrils have grown deep while he was gone. What unfolds is a desperate tale of brute force tragedy set in the supernatural underworld of Chicago, where heroes are reduced to horror-shows, villains dream of their own demise, and good and evil prove to be antiquated concepts.
Evolution of Evil (2014)
Also known as 'Removed', this psychological survival thriller is based in the forests of the Pacific Northwest. Getting away from it all has never been so dangerous.
DarkMatter TV welcomes you to the dark side. With +400 titles of the best horror, sci-fi, action and true crime entertainment for FREE all in one place, make sure to tell your ghoulfriends to download the DarkMatter TV app today on an iPhone, iPad, Apple TV or Android devices here or on Google Play.
Follow DarkMatter TV on Twitter @TVDarkMatter (twitter.com/TvDarkmatter), Facebook (www.facebook.com/DarkMatterTV/) and Instagram (@DarkMatterFreeTVapp). Please contact DarkMatter TV at info@tricoasttv.com for more information.
As a free streaming service available across all various devices, DarkMatter TV is available on mobiles and tablets (Google Play, Android, Apple iOS), OTT devices (Roku, Apple TV, Amazon Firestick, Chromecast), Smart TVs (Samsung, Vizio, TCL, Hisense, Phillips, LG), gaming consoles (PlayStation, Xbox) and more. Viewers may also subscribe commercial-free for $4.99 per month. DarkMatter TV has also partnered with major worldwide mobile device companies to expand the App and Linear channel to the international market in Q2 2020.
About DarkMatter TV: DarkMatter TV is an A-VOD app and Linear TV channel was launched in the U.S October 31st 2019, and available in Africa, and South East Asia Q2 2020. Founded in 2019 by TriCoast TV, DarkMatter TV features science fiction, horror, and action themed content that is expertly curated by our staff TV, film directors and festival Programmers. DarkMatter TV's operations are based at TriCoast Studios in Culver City, CA, United States. Official app page: apps.apple.com/us/app/id1474261935.
About TriCoast TV: TriCoast TV is a premium provider of Genre content for fans worldwide. The company is also located at the TriCoast Studio facility in Culver City, Los Angeles. Founded by: Marcy Levitas Hamilton, Strathford Hamilton and Daisy Hamilton. The curation and acquisition team is headed by Daisy Hamilton. For more information, please visit: www.tricoastworldwide.com.