Full Moon Features "Puts the C in Cult" (Dark Matter TV Collection)
Dark Matter TV announces Full Moon Features collection – "Puts the C in Cult"— now available on the Dark Matter TV app.
As Full Moon Features' legendary cult films arrive Dark Matter TV, things are about to become freakier with scream-inducing plot twists, bone-chilling goose bumps and the mind-bending emotional and physical terrors.
Dark Matter TV presents 18 cult franchise favorites from Full Moon Features that are guaranteed to be a frightfully good watch:
Gingerbread Man (2005) – directed by: Charles Brand
An evil yet adorable Gingerbread man comes to life with the soul of a convicted killer – this real life cookie monster wreaks havoc on the girl who sent the killer to the electric chair.
Evil Bong 777 (2018) – directed by: Charles Band
EVIL BONG 777 leaves off where EVIL BONG 666 left off: our scowling weed-spewing Eebee is out of "Sexy Hell" and heading to Sin City with danger on her tail. She's joined by her whack pack of fabulous freaks: Faux Batty, Rabbit, Misty and The Gingerweed Man. Get ready for a tidal wave of smutty, skunky, surreal insanity as the gang gets into all manner of misadventures. Can Vegas handle this gaggle of ganja-fied weirdos?
Castle Freak (1995) – directed by: Stuart Gordon
This award-winning horror follows a man who struggles to save his family from the strange and deadly occurrences in the castle they've inherited.
Puppet Master III: Toulon's Revenge (1991) – directed by: David DeCoteau
A puppeteer's ability to bring inanimate objects to life attracts the attention of the Nazis during World War II.
Trancers (1984) – directed by: Charles Band
A gruff bounty hunter travels back in time to 1980s Los Angeles to stop a twisted criminal who can transform people into zombie-like creatures.
Dollman (1991) – directed by: Albert Pyun
A hard-boiled, intergalactic policeman lands on Earth where he is only 12 inches tall.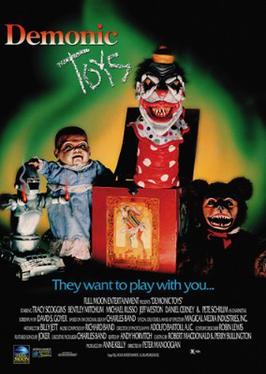 Demonic Toys (1992) – directed by: Peter Manoogian
A pregnant policewoman, her quarry, and an innocent delivery boy become trapped in a haunted toy warehouse.
The Haunted Dollhouse (2012) – directed by: Charles Band, Peter Manoogian, Ted Nicolaou
AKA DevilDolls, this horror follows three different episodes of killer dolls coming to life and wreaking havoc.
Dollman vs. Demonic Toys (1993) – directed by: Charles Band
Judith Grey teams with Brick Bardo (Dollman) and his girlfriend Ginger to face the evil Demonic Toys for one final battle.
Cannibal Women in the Avocado Jungle of Death (1989) – directed by: J.F. Lawton
The U.S. government, eager to protect the nation's avocado supplies, recruits feminist professor Margo Hunt to make contact with the Piranha Women, an all-female tribe who believe men are only good as a source of food. Accompanying Dr. Hunt on her trip are Jim, a guide of questionable competence, and Bunny, a student of unquestionable incompetence.
Pit and the Pendulum (1991) – directed by: Stuart Gordon
A horror film set in 1492 Toledo, Spain, depicting the cruel deeds of a monk named Torquemada, Grand Inquisitor of the Spanish Inquisition.
Killjoy's Revenge (2010) – directed by: John Lechago
AKA Killjoy 3, the demon clown Killjoy is resurrected once again, but this time he is not given the name of his victim and is trapped in his realm. Using a magic mirror he lures four unsuspecting college students into his realm where he can have his macabre fun! A mysterious man returns and we finally discover who Killjoy's true target is!
Mega Scorpions (2003) – directed by: J.R. Bookwalter
AKA Deadly Stingers, this comedy/horror pays homage to the giant mutant bug films of the 1950's by following residents of a halfway house, who are bombarded by 6-foot long killer scorpions.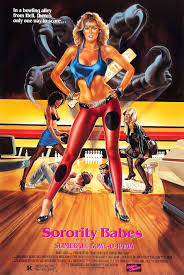 Sorority Babes in the Slimeball Bowl-O-Rama (1988) – directed by: David DeCoteau
As part of a sorority ritual, pledges and their male companions steal a trophy from a bowling alley; unbeknownst to them, it contains a devilish imp who makes their lives a living Hell.
Dr. Alien (1989) – directed by: David DeCoteau
A sexy substitute teacher replaces a teacher who was killed by a UFO encounter, but her research on a nerdy student is now making him a lady magnet.
Beach Babes From Beyond (1993) – directed by: David DeCoteau
Three intergalactic beauties beam down off the California coast and have close encounters with three local beach boys.
Slaves Girls From Beyond Infinity (1987) – directed by: Ken Dixon

Lovely and resourceful Daria and Tisa escape a space gulag only to crash land on a nearby world where a guy in tight pants named Zed is playing The Most Dangerous Game. Zed turns the girls and another guest loose in his jungle preserve to serve as the prey in a mad hunt. Armed only with knives and their wits, the girls must battle their way accross the jungle to a hidden arms cache before Zed catches and kills them.
Savage Island (1985) – directed by: Ted Nicolaou
Women who have been captured and sold as slave labor to a South American emerald mine hatch a plan for revolution and revenge.
Join the dark side with Dark Matter TV today – containing over +500 titles of the best curated horror, sci-fi, action and true crime entertainment for FREE all in one place. Download the Dark Matter TV app today on an iPhone, iPad, Apple TV or Android devices here on the app store, on Google Play or by visiting: www.darkmattertv.com.
Follow Dark Matter TV on Twitter @TVDarkMatter (twitter.com/TvDarkmatter), Facebook (www.facebook.com/DarkMatterTV/) and Instagram (@DarkMatterFreeTVapp). Please contact Dark Matter TV at info@tricoasttv.com for more information.
About Full Moon Pictures: An American motion picture production and distribution company headed by B-movie veteran Charles Band. It is known for the direct-to-video series Puppet Master, Trancers, and Subspecies, as well as the film Castle Freak. Visit: www.fullmoonfeatures.com/.
About Dark Matter TV: Dark Matter TV is an A-VOD app and Linear TV channel launched in the U.S.A October 31st 2019, and soon to be worldwide on cellphones, desktops, tablets and connected TVs. Founded in 2019 by TriCoast TV owners Daisy Hamilton, Marcy Levitas Hamilton and Strathford Hamilton, Dark Matter TV features science fiction, horror, true crime and action themed content that is expertly curated by our staff, TV and film directors and festival Programmers. Dark Matter TV's operations are based at TriCoast Studios in Culver City, CA, United States. Official app page: apps.apple.com/us/app/id1474261935.
About TriCoast TV: TriCoast TV is a premium provider of genre content for fans worldwide. The company is also located at the TriCoast Studio facility in Culver City, Los Angeles. For more information, please visit: www.TriCoastTV.com