2018 has been a truly excellent year for horror movies, with popular releases such as Unfriended: Dark Web and Insidious: The Last Key haunting our cinema screens with triumph. It can only be asked whether 2019 can live up to the high expectations following this year's current success in the box office and the obvious fact is that it can. In 2019 we can expect to see horror movies smash box office records.
IT: Chapter 2
After the roaring victory held by IT: Chapter 1 in the box office (beating the record for the largest opening weekend for a horror movie ever), the anticipation for IT: Chapter 2 has done nothing but increase with ferocity. Following on from the devastating events of IT: Chapter 1, IT: Chapter 2 rejoins the story of the Losers Club after a 27-year gap. Based on the Stephen King classic horror novel IT, we're expected to have our minds warped once again by the terrifying trickster villain Pennywise, who has haunted the dreams and daydreams of children and adults alike for decades. For those who hate clowns, beware! You're in for a fright if you dare watch the film on the night.
3 From Hell
Beloved director and White Zombie member Rob Zombie's newest outing, 3 From Hell, is set to be one of the hottest releases of 2019. Following on from the cult classic The Devil's Rejects, 3 From Hell's plot has been shrouded by mystery and speculation. For those who have watched The Devil's Rejects, you will be confused as to how 3 From Hell could be considered a sequel because (SPOILER ALERT) the antiheroes of The Devil's Rejects were clearly seen being shot dead by policemen in the closing moments of the film. Perhaps Rob Zombie will use some of his cinema magic to resurrect the terrible threesome so they may continue to live as the Firefly Family? We may not know much about 3 From Hell's plot but what we do know is that it's set to be one freak fest.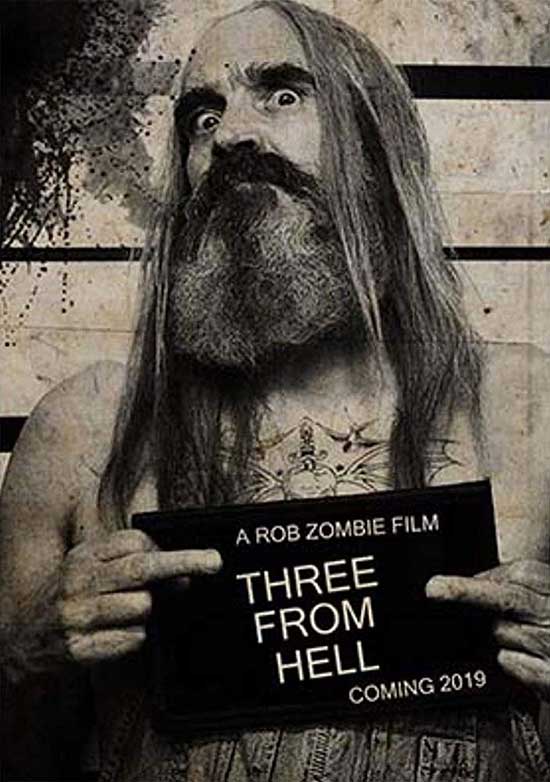 Zombieland 2
Horror and comedy fans alike have been in a state of rejoicing ever since the announcement of the follow-up to the 2009 zombie comedy Zombieland. To be released exactly 10 years after the original, the anticipation has already begun to mount. Retaining the core cast of the original, Zombieland 2 is also shrouded by a veil of secrecy in that the plot also remains unknown as of yet. Highly rumoured is the introduction of 'super-zombies', a new breed of zombie unseen as of yet. Whether it will freak you out or make you laugh, don't miss out on Zombieland 2!
Leprechaun Returns
He's back [again]! That's right, the tiny terror is set to return to our screens in 2019, expected to wreak havoc upon a group of girls who have built a sorority house on the ruins of an old cabin. Gold, girls and goofs galore are guaranteed to ensue as the vengeful little creature seeks his revenge upon the unlucky ones to cross his path. Dare you watch Leprechaun Returns? Are you feeling lucky?
An American Werewolf In London (remake)
If ever there's a cult classic horror to live up to its voracious reputation, it's the 1981 classic An American Werewolf In London. A werewolf, an isolated tavern known as The Slaughtered Lamb and mysterious locals; what's not to love? Set for a 2019 release, the remake of An American Werewolf In London is to be directed by Max Landis, son of John Landis, director of the original. Expected to follow the lines of the original script, An American Werewolf In London is set to be popular amongst old school horror fans.
The Conjuring 3
One of the most beloved horror franchises of the 21st century, The Conjuring has earnt itself another sequel which promises to continue to terrify audiences across the globe. This time, The Conjuring 3 follows the story of Ed and Lorraine, a couple who head to London to investigate a man who seemingly is being possessed by a demon of a werewolf. Brace yourselves, as The Conjuring 3 is guaranteed to be a rollercoaster of horror, frights and freaks.
The Crooked Man
Just as you thought it was safe to come out, the great minds behind The Conjuring franchise have created not only 1, but 2 films set to have a 2019 release. This time, The Crooked Man is a spin-off of The Conjuring franchise and is to focus on the main character of the traditional English nursery rhyme "There Was A Crooked Man". Who ever said nursery rhymes weren't terrifying as they were? Beware the crooked man, as he hobbles to your screen next year.
Alien: Awakening
In space, nobody can hear you scream, but down here, you can be heard screaming at any film from the Alien franchise from quite the distance. Being in space must be terrifying in itself, even without a bloodthirsty Xenomorph on your tail. Set to follow on from Alien: Covenant and lead directly into the events of Alien, Alien: Awakening is the gap-filler that Alien fanatics have yearned for. Breathe easy for now, but in 2019, you're at the mercy of the Xenomorph queen.
With an awesome array of titles set to obliterate our cinema screens in 2019, it's rather safe to say that we're in for a treat. Even before 2019's horror film flurry begins, remember to check out upcoming releases such as the Suspiria remake (set for a November release) and the Halloween sequel (set for October). Which films are you looking forward to watching in 2019?