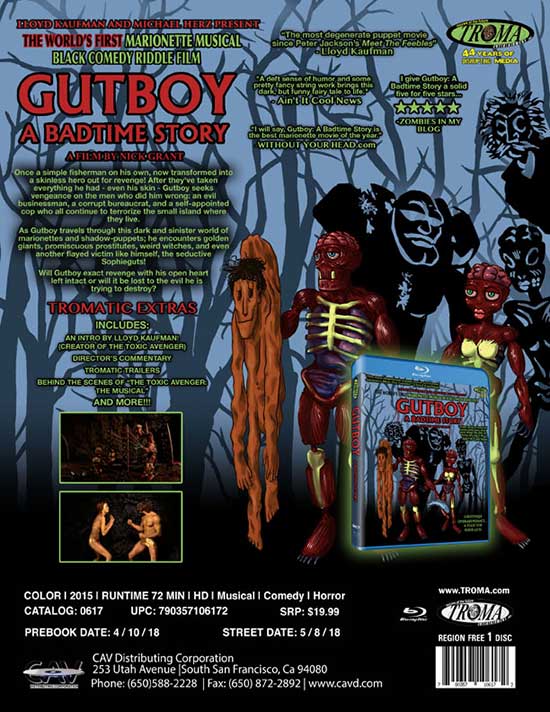 Troma Entertainment's May 2018 Release of GUTBOY: A BAD BEDTIME STORY
The World's first Marionette Musical Black Comedy Riddle Film
Gutboy: A Bad Bedtime Story
1 Blu-ray disc
Label: Troma Entertainment
Prebook: 4/10/18 Street: 5/8/18
MSRP: $19.99
UPC: 790357106172
Catalog #: 0617
Color, 72 minutes in English
Widescreen 1.78:1
Dolby Digital 2.0 Stereo
Production year: 2015
Director: Nick Grant
Cast: Will Cooper, Marybeth Schroeder, Nick Reed, Anthony Herrera
Once a simple fisherman on his own, now transformed into a skinless hero out for revenge! After they've taken everything he had – even his skin – Gutboy seeks vengeance on the men who did him wrong: an evil businessman, a corrupt bureaucrat, and a self-appointed cop who all continue to terrorize the small island where they live. As Gutboy travels through this dark and sinister world of marionettes and shadow-puppets; he encounters golden giants, promiscuous prostitutes, weird witches, and even another flayed victim like himself, the seductive Sophieguts! Will Gutboy exact revenge with his open heart left intact or will it be lost to the evil he is trying to destroy?
Special Features:
An Intro by Lloyd Kaufman (Creator of THE TOXIC AVENGER)
Director's Commentary
Tromatic Trailers
Behind the Scenes of "THE TOXIC AVENGER: THE MUSICAL" and More!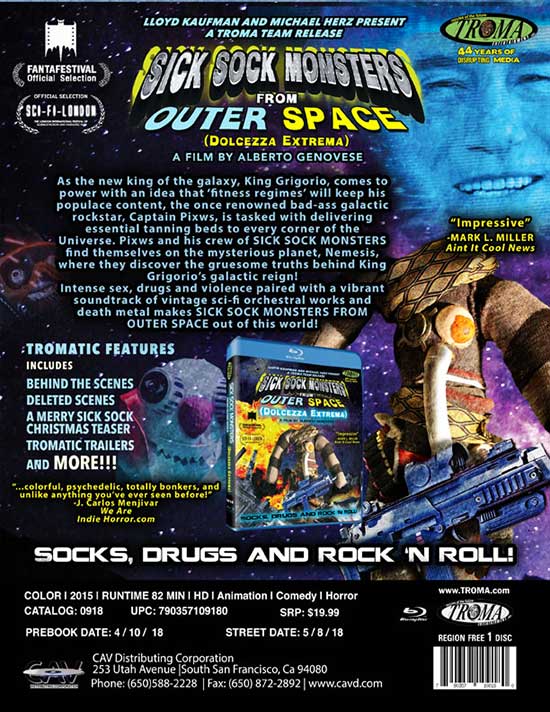 Sick Sock Monsters From Outer Space
1 Blu-ray disc
Label: Troma Entertainment
Prebook: 4/10/18 Street: 5/8/18
MSRP: $19.99
UPC: 790357109180
Catalog #: 0918
Color, 82 minutes in English
Widescreen 1.78:1
Dolby Digital 2.0 Stereo
Production year: 2015
Director: Alberto Genovese
Cast: Eddy Endolf, Alberto Pagnotta, Alessandro Bianchi, Paola Masciadri, Massimo Muntoni
As the new king of the galaxy, King Grigorio, comes to power with an idea that 'fitness regimes' will keep his populace content, the once renowned bad-ass galactic rockstar, Captain Pixws, is tasked with delivering essential tanning beds to every corner of the Universe. Pixws and his crew of SICK SOCK MONSTERS find themselves on the mysterious planet, Nemesis, where they discover the gruesome truths behind King Grigorio's galactic reign! Intense sex, drugs and violence paired with a vibrant soundtrack of vintage sci-fi orchestral works and death metal makes SICK SOCK MONSTERS FROM OUTER SPACE out of this world!
Special Features:
Behind the Scenes
Deleted Scenes
A Merry Sick Sock Christmas Teaser
Tromatic Trailers, and More!