I am a horror fan because I like to be scared, visual terror is a good time in my mind. And so to that end I watch a lot, I mean A LOT of horror television, everything from the fantastical to the goofy, always looking for the next scare. I do, however, realize that my idea of what is scary may really differ from that of other horror fans. So I've been asking everyone who would give me five minutes of their time about the shows they actually find frightening and why. I've since gone back and watched some of what others suggested (kid stuff like "Are You Afraid of the Dark" and "Goosebumps" came about long after I was already an adult and looking for the extreme scares but it was fun to find a few episodes and start watching now) and I've gone back and watched some of my favorites. So here are five tv shows that were found to actually be frightening.
5. "American Horror Story" (2011-present)
Everyone who has ever watched this FX anthology series has a season they love and a season they hate – and most people are ready to debate each of those to no end. One thing that everyone agreed on is that there is some scene in at least one season that really scared them. I had a friend say that the concept of perfectly normal behaviors being grounds for mental confinement in "Asylum" was the scariest concept ever. I know several people who are terrified of clowns in general and couldn't stand even a glimpse of Twisty from "Freakshow". Those who like a more cerebral twist to their horror were disturbed by all of the themes in "Cult". And if jump scares are your thing each season has a good sprinkling of those – I still haven't used the microwave since that episode of "Cult".
4. "The Walking Dead"  (2010-present)
Don't stone me for this but….I'm not a fan of "The Walking Dead", it's just not my thing. That being said I have watched a few episodes from various seasons,  I am so committed to horror that I will watch things that don't necessarily appeal to me just to understand it. The episodes I have seen and the chats I've had with fans lead me to put it on this list. Primarily focused on the lives of the survivors TWD features some incredibly scary moments including proving the age old adage that humans are the real monsters, attacks from the zombies (arguably the best zombies in television history) and monumental choices that could destroy any living human.
3. "The Strain" (2014-2017)
Let me preface this by saying – I am a huge fan of Guillermo del Toro but not that into vampires. This horror series based on the books by by Guillermo del Toro Chuck Hogan had some issues that often made it clunky  like some particularly bad acting and a lack of chemistry between many of the actors. That being said, I had nightmares after bingeing the first couple of  seasons and it takes a lot for me to have nightmares. The vampires in the series are absolutely terrifying and some of the best creature creations I've ever seen on television. These are the first vampires that have truly disturbed me (which is a good thing) and if you have a worm phobia this is going to send you over the edge.
2. "The Twilight Zone" (1959-1964)
There is a reason that this series is still highly watchable 50+ years later, the universal themes of personal horror, morality tales and intrigue are timeless. With scares ranging from monsters to climate change gone horribly awry, dystopian futures and aliens "The Twilight Zone" found a way to push everyone's scare buttons. We recognize the faces of now iconic actors and ideas that still reverberate through modern television and cinema. "The Twilight Zone" sparked our love of creepy anthologies and was able to put universal horror concepts into a then modern setting which still unsettle and fascinates just as much today.
1. "The X-Files" (1993-2002, 2016-present)
It's hard to find fault with the "X-files" on any grounds. The writing was great, the acting was great, the chemistry goes without saying and the creatures, bad guys and horror themes were among the best ever created. I can almost guarantee that watchers of the original series still have one scene or one creature that haunts them to this day. Flukeman and Leonard the fetus still show up occasionally in my nightmares, the Smoking Man is considered a classic villain at this point and the whole concept of aliens terrifies a good many people. 25 years later the original series has held it's scary, creepy cool factor and occasionally I still need to watch with the lights on.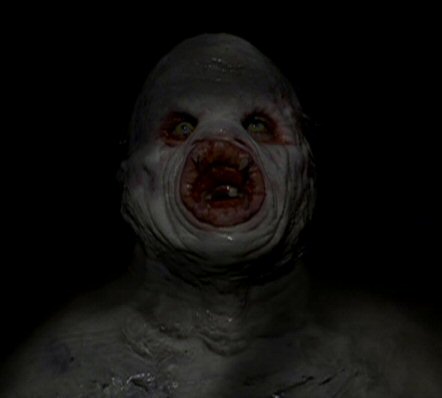 The honorable mentions: I left off some of my favorites, those that gleefully terrify me even now well into my adult years. While I find these scary they didn't get mentioned often by others but I feel like they can he enjoyed by any true horror fan. Among these are "Monsters" (1988-1991), this was some of the first tv stuff that scared me as a kid. Some of the best actors today showed up in this often goofy series and there are some story lines that make for incredible tv viewing. Although terribly '80s in every way the series is worth a watch for the good and the bad. I've been enjoying "Channel Zero:Butcher's Block" and have found it both intriguing and terrifying both in real world concepts and fantastical meat beasts, I also really enjoyed "Channel Zero: Candle Cove" (2016) though the ending was a little disappointing – I wanted a bigger creep out scare. I find "Black Mirror" very unsettling, in a good way and think some of the concepts forced upon the viewer are quite horrific. I was obsessed with "Hemlock Grove" (2013-2015) when it was first airing on Netflix, this has been to date the only vampire story I've trule loved and Bill Skarsgård will forever be Roman Godfrey to me. My all time favorite terror TV, however, will always be Lars Von Trier's "Riget" (1994-1997) or "The Kingdom" not to be confused with the bland American remake. I watched it twenty years ago when I lived in Europe and it has managed to haunt and inspire me to this day with it's incredibly unsettling characters and strange but totally watchable story. The day it appeared on Shudder was one of the happiest horror days of my life.
And the honorable mentions for scariest TV by others include "Are You Afraid of the Dark" (1990-2000). After finding a few episodes I have to say that I am sad I didn't catch this as a kid, this is classic horror, toned down just enough to be palatable to the average pre teen but frightening enough to be enjoyed by die hard horror fans. Older horror lovers all mentioned "Kolchak:The Night Stalker" (1974-1975) as genuinely terrifying, I remember this in syndication as a kid and I am about to rewatch the entire one season series. The original "Twin Peaks" (1990-1991),  and various episodes and characters of "Dr. Who" (1963-present) both came up several times in conversations about genuinely scary Television.
Monsters, zombies, ghosts, aliens, vampires and other people abound in a wide variety of shows, If you are a fan of being scared and enduring fright there is a good deal of TV out there, past and present, that will delight and terrify to no end.