While researching this list, I came to the wholly unscientific conclusion that the most dangerous movie sets for performers and crew members are those for sword-and-sandals movies, followed by aviation flicks. Strangely, not a lot of search hits came up for accidents and deaths associated with horror movies, unless the comic VAMPIRE IN BROOKLYN (see below) qualifies. This is by no means a complete list; there are many other films that I could name, but it should be noted that generally, film sets have become much safer in recent years, due to improved safety protocols and the advent of CGI.

TWILIGHT ZONE: THE MOVIE (1983) – Co-produced by Steven Spielberg for Warner Brothers, this film featured four separate segments, each directed by a different A-List director, and each based on an episode of the ground-breaking 60s TV series. Tragically, a set for the segment entitled "Time Out," directed by John Landis (BLUES BROTHERS, ANIMAL HOUSE), was the location of what is probably the worst fatal accident in Hollywood history. Veteran TV actor Vic Morrow (of the 60s COMBAT! TV series) and two child actors, Renee Chen and My-ca Dinh Le, were killed instantly when a helicopter used for a night-time Vietnam bombing scene lost its tail-rotor to an on-ground explosives charge and crashed directly onto the three actors. Landis, the helicopter pilot and three production crewmen were later charged with manslaughter and tried in a Los Angeles court over a 10-month period from 1986-87. During the trial, testimony emerged that Landis and his crew violated child labor laws by making the children work at night as well as having them on-set while live explosives were used without telling their parents. In heartbreaking court testimonies, the parents of the kids said they never would have allowed them to do the scene if they'd known about the explosives. In addition, an on-set fire inspector was deliberately not informed that children would be used in the scene he approved; he testified that he would have stopped the filming if he had known that minors would be present. Despite these violations, the five defendants were acquitted of all charges. The movie was completed without the tragic footage and ironically premiered on the very same day that Landis and his co-defendants were arraigned in court. Members of a special film industry committee, led by a Warner Brothers executive, later issued extensive, revised safety regulations designed to prevent future on-set accidents. The three families of the deceased sued in civil court and received undisclosed compensation. Vintage news footage of the case is posted on Youtube.
THE CROW (1994), directed by Alex Poryas for Miramax. Actor Brandon Lee, son of 70s martial arts mega-legend Bruce Lee, was shot and killed accidentally by another actor firing a prop gun during the filming of this ultra-Gothic flick,  based on the graphic novel of the same name. Handsome, charismatic and just 27, Lee seemed headed for sure superstardom; his darkly comic, kick-ass performance in THE CROW was possibly an inspiration for Heath Ledger's Oscar-winning portrayal of The Joker many years later in THE DARK KNIGHT (2008). Sadly, his life was cut short when actor Michael Massee fired a prop gun at him during a shooting scene; unbeknownst to both the actors and production crewmen, a partial dummy bullet from an earlier scene was jammed into the barrel of the prop gun and expelled toward Lee by the force of the blank charges. Lee was hit in the side and bled to death while in surgery. The film was finished using a body double and the nascent  technology of CGI in some scenes; the fatal scene was rewritten and re-shot. The original distributor, Paramount, declined to release THE CROW because of the tragedy, but it was eventually picked up by Miramax and debuted to critical and box office success. No criminal charges were filed against the production, but Lee's mother, Linda Lee Caldwell, charged negligence in a subsequent civil suit and eventually settled out of court. Massee, who passed away late in 2016, reportedly did not speak publicly about the accident until years later. Tragically and ironically, Brandon's father Bruce Lee collapsed from cerebral edema (swelling in the brain) while dubbing dialogue for his last film, ENTER THE DRAGON (1973). He recovered after the collapse, but fell ill with the same malady two months later and died, just a short time before the premier of ENTER THE DRAGON, which went on to become a smash, international hit.
BEN-HUR, A TALE OF THE CHRIST (1925), directed by Fred Niblio and others for MGM. For almost six decades, it's been a widespread urban legend that a stuntman died while filming the famous chariot racing scene in the 1959 blockbuster film version of BEN-HUR, directed by William Wyler and starring Charlton Heston in the title role; Wyler is rumored to have kept the fatal footage in the final cut against the wishes of the stuntman's widow.  However, according to fact-checking website Snopes, the fatal accident actually took place in Rome while director Fred Niblio was filming this earlier version of the Ben-Hur story—one of the greatest spectacles of the silent screen era, which literally starred "a cast of thousands." One of the film's stars, Francis X. Bushman, witnessed the accident while driving his own chariot in the scene; he later described how he saw a chariot break apart and send the driver flying into the air, where he subsequently landed directly on his dead, dying instantly. There were also statements by witnesses that several extras were drowned during an epic sea-battle scene filmed off the coast of Italy, but these rumors appear to be unsubstantiated. The troubled production eventually left Rome and Niblio had the chariot racing scene reshot (see the final footage) on a Southern California lot. This wasn't the only tragedy associated with this version of BEN-HUR; years later, Ramon Novarro, the star who played the title role, was brutally murdered by a couple of young men who thought he was hiding money in his home.
SOLOMON AND SHEBA, (1958) directed by King Vidor for release by United Artists. Handsome and athletic, Tyrone Power was one of the top box office draws of the 40s and 50s. He was especially good at swashbuckling roles, as he was an expert fencer and swordsman. As the leading star of this sword-and-sandals epic directed by the legendary film pioneer King Vidor (WAR AND PEACE, 1956), Power was required to participate in a long and strenuous fencing duel for the film. Tragically, he collapsed during the fight from a sudden heart attack and died an hour later at the age of 44. He had complained of chills and weakness earlier that day. Although the film was 75 percent completed at the time of Power's death, Vidor chose to reshoot the film completely, with Yul Brynner (THE KING AND I, 1956) taking Power's place. It was the last full-length feature film directed by Vidor, although he made a few shorts in the early 70s. Power received a U. S. military funeral in recognition of his World War II service as a Marine pilot in the Pacific theater of the war. His widow, Deborah Minardos, gave birth to his son, Tyrone Jr., just nine weeks after his death. Rare film and still footage of Power from the set of SOLOMON AND SHEBA is posted on Youtube.
THE RETURN OF THE MUSKETEERS (1989), a U. K. production directed by Richard Lester, acquired for distribution in the US by Universal. Veteran British character actor Roy Kinnear suffered a terrible fall from a horse—causing broken bones and internal bleeding—while filming this sequel to the popular  Musketeers franchise of the 70s near Madrid, Spain. He was rushed to a local hospital, but died while undergoing treatment. Fifty-four at the time of his death, Kinnear is probably best known to movie audiences as the rich, indulgent father of spoiled brat Verruca Salt in the beloved children's film, WILLY WONKA & THE CHOCOLATE FACTORY (1971). His role in this film was finished using a body double, but the completed movie was not released theatrically in the U.S.; instead it debuted on the USA cable channel two years later. One of the film's co-stars, redoubtable horror legend Christopher Lee, said later that the producers considered scrapping it altogether after Kinnear's death. Kinnear was a close friend of director Richard Lester, the American-born, UK-based helmsman who's often known as "the father of the music video" for his innovative Beatles films of the 60s, A HARD DAY'S NIGHT (1964) and HELP! (1965). Lester gave up directing after the shoot, coming out of retirement only to film a special about a Paul McCartney concert in 1991. Kinnear's family reportedly received a settlement of 650,000 British pounds (more than 800,000 US dollars), divided between the production company and the hospital that treated Kinnear.
TOP GUN (1986) directed by Tony Scott for Paramount. One of the definitive films of the 80s, TOP GUN's script required numerous, exciting aerial stunts. One such stunt cost the life of top Hollywood pilot Art Scholl, whose plane crashed into the Pacific while he was executing an upside-down spin with cameras onboard to record the action. Neither the plane nor Scholl's body were ever found despite a two-day Coast Guard search. Scholl's widow, Judy, who helped him run an aviation school based in Rialto, California, said it was a stunt her husband had executed numerous times previously. Ironically, Scholl's good friend and colleague, Paul Mantz, another top Hollywood stunt pilot, was also killed while performing an aviation maneuver for a film, 1966's FLIGHT OF THE PHOENIX. Judy Scholl declined to file a suit against the producers of TOP GUN, saying that her husband would never have wanted it. The film was dedicated to Scholl, who was 53 at the time of his death. In addition, the Rialto, California Municipal Air Field was renamed the Art Scholl Memorial Air Field in his honor.
THE RIGHT STUFF (1983), directed by Philip Kaufman for Warner Brothers. Parachute stuntman Joseph Leonard Svec, a decorated former Green Beret, died while filming a stunt for this celebrated biopic about the early days of the U. S. manned space program.  Playing aviation pioneer Chuck Yeager in a scene where Yeager was forced to bail out of a failing jet, Svec was supposed to eject out of his plane and activate his parachute. However, after he jumped, he failed to pull his ripcord, and it is widely assumed that he fainted from smoke inhalation, as his parachute (later found to be perfectly operational) remained closed until he crashed into the ground. Coincidentally, top movie pilot Art Scholl (see above) also performed stunt work for THE RIGHT STUFF. The film was dedicated to Svec, who was 35 at the time of the accident.
VAMPIRE IN BROOKLYN (1995), directed by Wes Craven for release by Paramount . Tragedy visited this Eddie Murphy comedy-horror film when stuntwoman Sonja Davis, a frequent body double for Murphy's costar Angela Bassett, died while performing a fall from atop a multi-storied building. The 32-year-old Davis struck the surface of the building during her fall, bounced off, and subsequently  missed most of the inflatable air mattress that was placed on the hard pavement to catch her. She was in a coma for almost two weeks before she died. Sadly, her mother and two siblings were on the set and witnessed the accident. Davis's mother, Wanda Sapp, later filed a multi-million dollar suit against Craven and the production company, but it's unclear as of this writing if there was a settlement. The accident was investigated by the  Occupational Safety and Health Administration (OASHA), which fined the producers for not describing the planned stunt when it filed for safety permits, but no criminal charges were made.
TROY (2004), directed by Wolfgang Peterson for release by Warner Brothers . A very buff Brad Pitt headed an all-star cast for this big-budget sword-and-sandals epic about the Trojan War. Numerous extras were hired for location shooting on the island nation of Malta; the script called for a massive battle scene where stuntmen had to jump from a ship onto a beach. A local Maltese bodybuilder hired as an extra, George Camilleri, broke an ankle while making the jump in armor. The ankle injury resulted in a blood clot that caused a fatal heart attack and Camilleri died shortly afterward at just 39. After an inquest by Maltese authorities ruled that the bodybuilder's death was caused by the on-set accident, his family filed suit against Peterson and the production company; it's unclear at this writing whether they received any compensation. In a strange coincidence, an actor with the name of George Camilleri is listed in the cast credits for the 2015 film BY THE SEA starring Pitt and his former wife Angelina Jolie, but there is no indication on this actor's IMDB page that he is related to the other George Camilleri.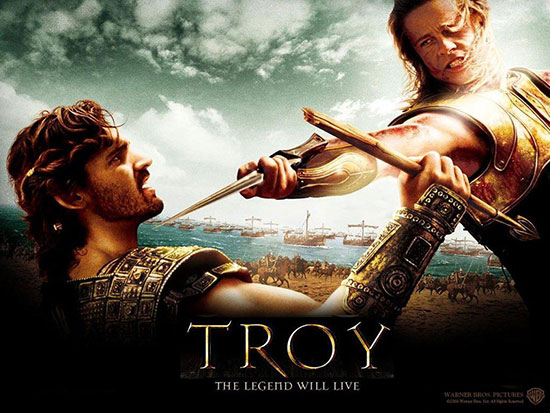 WAGONS EAST (1993), directed by Peter Markle for release by Tri-Star Pictures.  This forgettable comedy/Western required a lot of horse riding and fight scenes that, in concert with the warm, steamy climate of its Durango, Mexico filming location, may have put too much physical strain on the film's morbidly overweight star, Canadian funnyman John Candy. Candy died in his motel room of a heart attack after completing a busy full day's shoot that lasted well into the evening.  His weight at the time of his death was reportedly around 375 pounds; in addition he may have had a congenitally weak heart, as his father and grandfather had both died of heart attacks also. The beloved funnyman was mourned by nearly everyone in Hollywood, and his funeral at St. Martin of Tours Catholic Church in Los Angeles was attended by many stars, including Tom Hanks, Bill Murray and Dan Aykroyd.  A second service was held in his native Canada at St. Basil's Church in Toronto; attendees included an honor guard from the Royal Canadian Mounted Police. A motel attendant reported that Candy's last words before turning in for his final night were: "I'm so tired. I just want to go home and be with my family." The film was nearly completed at the time of Candy's death; remaining scenes were shot with a body double. Candy was 43.