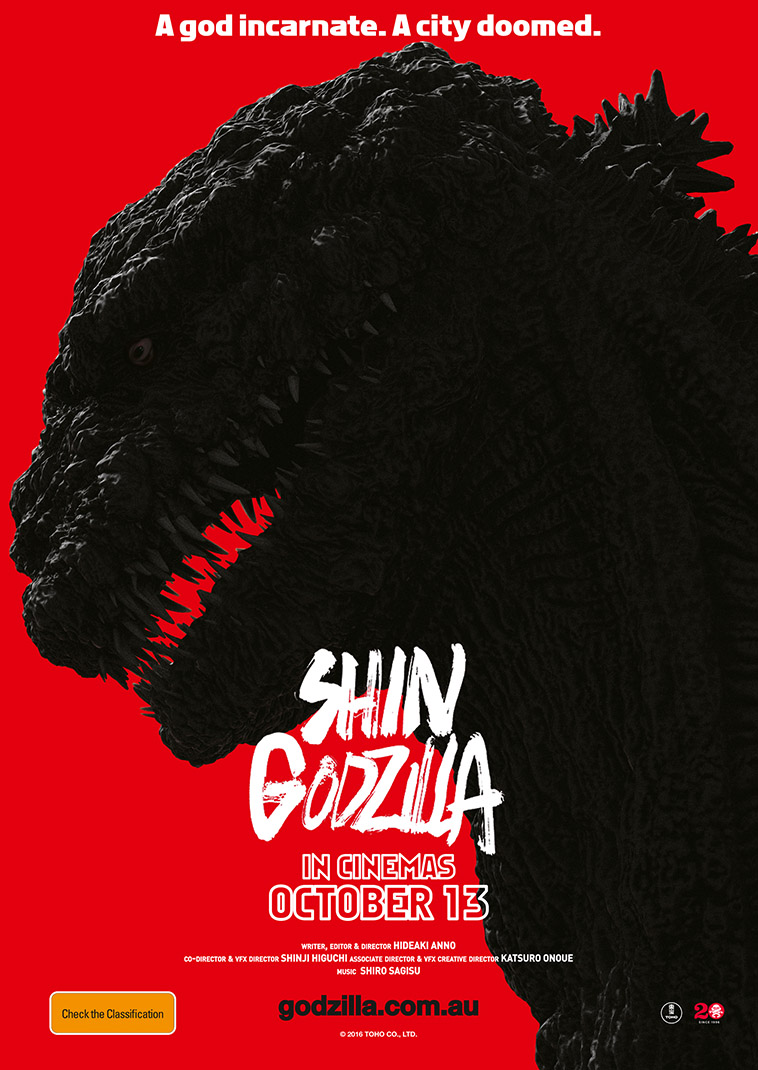 SYNOPSIS:
An unknown accident occurs in Tokyo Bay's Aqua Line, which causes an emergency cabinet to assemble. Suddenly, a giant creature appears from out of the water, destroying town after town in its wake, and heading for the capital. This mysterious giant monster is named "Godzilla".
REVIEW:
After the middling success of Gareth Edwards take on Godzilla (2014), it comes as no real surprise that Toho decided to resurrect their flagship creation, and bring forth a new Godzilla film. What's surprising is the direction Toho takes with this new incarnation of the Big G, because essentially this is a reboot of the character and its origins. There are no other creatures vying for screen time in this one, It's just Godzilla, doing what he does best (with a few nifty twists to make him even more formidable this time around).

It isn't too long after Shin Godzilla begins that we get our first look at a creature. Oddly enough, the creature we see isn't Godzilla, not yet anyway. Unnamed, this guy looks like an ambulatory fish, whose body is bulbous and ugly. It crawls along the streets, destroying everything it comes into contact with, but it isn't necessarily angry. It's just too big and unwieldly in its appearance. It breathes through some enormous gills along its side, that also flush out a red liquid every other step it takes. In short, it's a really ugly creature that reminded me of something I might've seen on an old episode of Ultraman back in the day. Eventually, this creature stops, and mutates into Godzilla. And while he wasn't exactly angry in his previous incarnation, he's plenty pissed off right now.
All the while, Shin Godzilla throws out a imposing amount of officials, who all have onscreen ID's that compete for screen space with the film's subtitles. After a few moments, I realized that I didn't really need to know who all of the talking heads were, especially since they kept coming back. The main characters here are Rando Yaguchi (Hiroki Hasegawa), a deputy cabinet secretary that realizes that Godzilla is indeed posing a threat to Japan. Rando also comes up with a possible solution to stopping Godzilla once conventional weaponry fails to make a dent in him. There's a palpable sense of individualism within the group that Rando puts together to brainstorm ideas on taking Godzilla down. The group works together in the same room, and share information between each other, but they excel on working on their own. Writer/Co-Director Hideaki Anno (Co-Directed with Shinji Higuchi) does a great job in showing the government to be earnest in their desire to help, but succeed mainly in slowing down Rando and his team. The other main character, Kayako Ann Patterson (Satomi Ishihara) is a member of the U.S. President's team that was sent over to lend assistance. Ishihara does what she can with the role, but quite frankly she looks too young to play the part, and her frequent lapses into English dialogue actually threw me off, especially after hearing so much Japanese.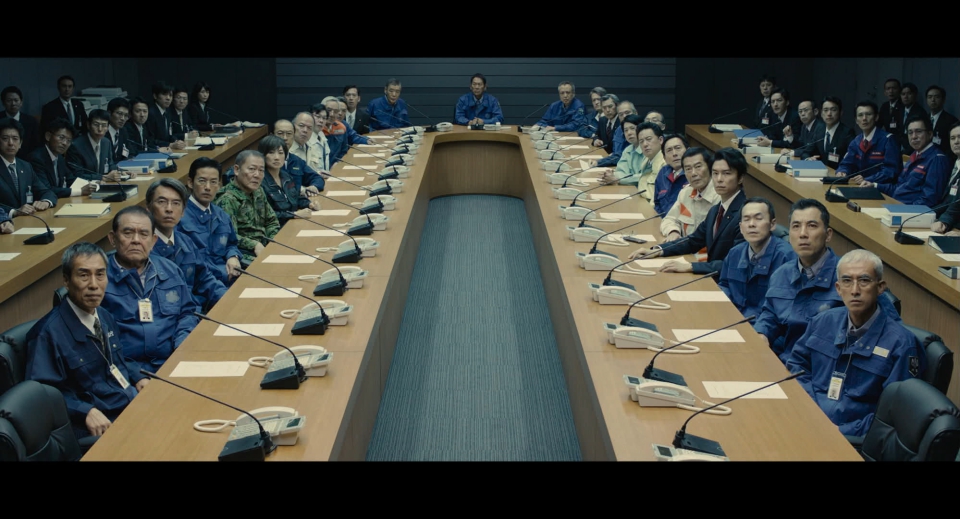 As to Godzilla, the FX that bring his to life are successful to a point. A combination of CGI, puppetry and a bit of stop motion, he's a truly fearsome and ferocious creature. A lot more svelte than the Godzilla we saw in Gareth Edwards film as well. The film makers take pains to make sure we notice that this version of Godzilla is very slow, he doesn't walk so much as he lumbers. Almost as if his immense size is too much for his legs to move him very quickly. But it works here, as he has more time to destroy whatever is in front of him. He's also been given some new abilities in regards to his atomic breath. I'm not gonna spoil the surprise, but this incarnation of Godzilla can do a lot more with it than any of the previous ones. The one big issue I have with the appearance of Godzilla in this film is with the way his eyes look. In both the initial creature that rises from the ocean, and its eventual mutation into Godzilla, the eyes are lifeless. They look more like eyes you'd find on a stuffed animal, than on a ferocious creature destroying cities in its wake. They're actually soulless, without passion or any discernible emotion. Hopefully they'll have some life in the inevitable sequel.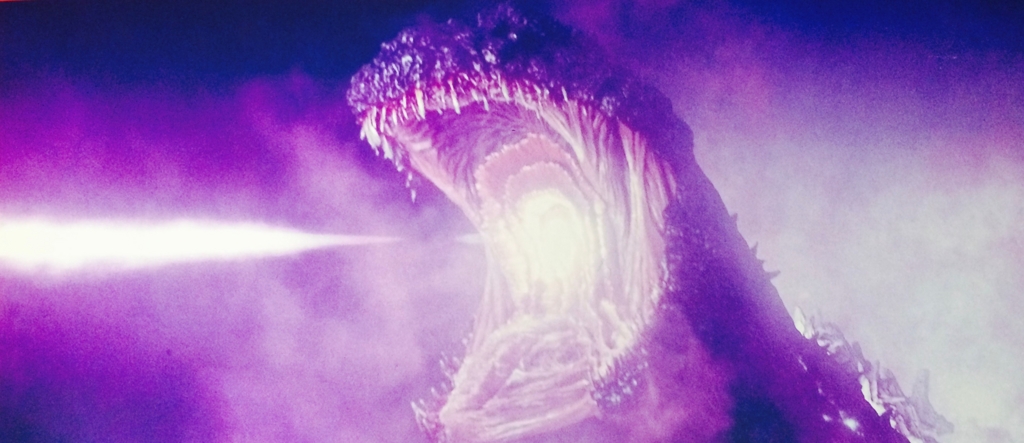 The word Shin translates into three different words: New, Genuine and God. The creature is referred to as a God repeatedly in the film, and he is indeed both genuine and new, so I guess you can use any of these three words to describe the creature – they all fit. The film's two hour running time is something of a burden, especially when a lot of that time is filled with various talking heads shouting orders at each other. One of my biggest beefs with the Godzilla film we got a few years ago was that he was barely in it, he was actually more of a secondary character in the film that was named after him. That also seems to be a issue here, we don't get to see too much of the big guy in this film either, but directors Anno and Higuchi maximize the time we get with him. And his sheer ferociousness is fairly awe inspiring at times, I never got that feeling from Gareth Edwards version of Godzilla.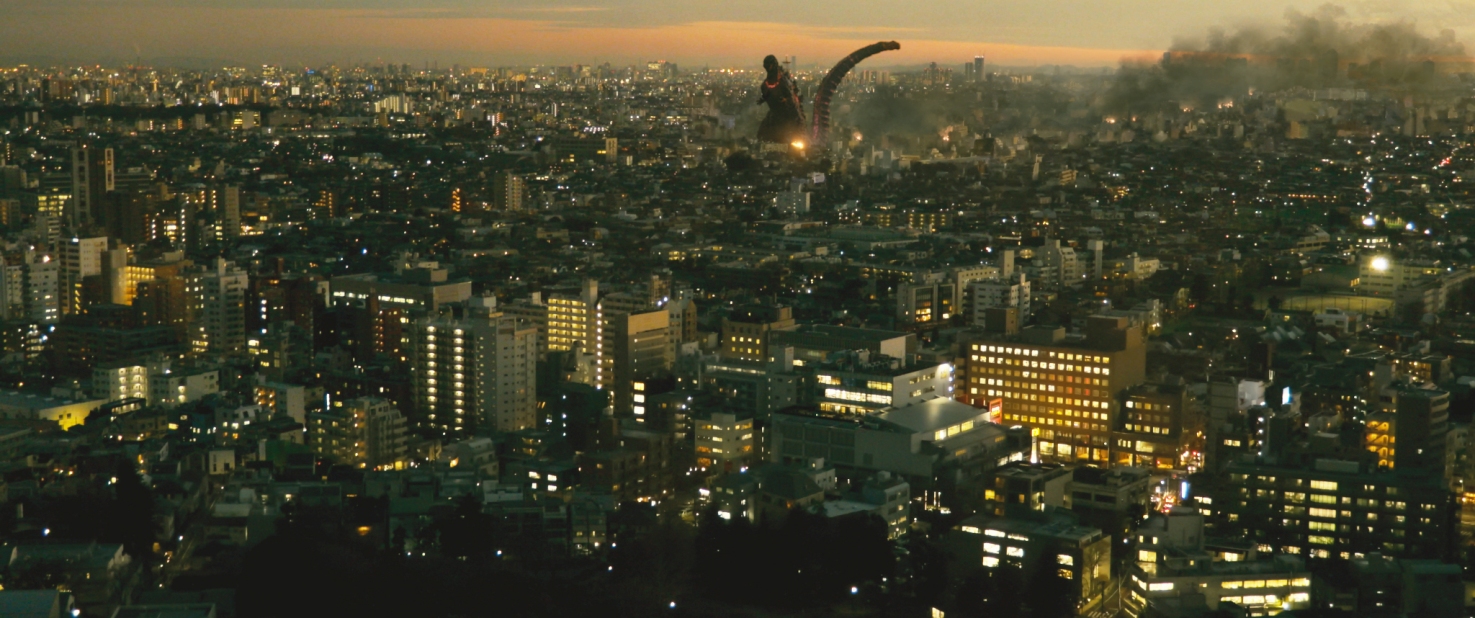 Shin Godzilla isn't perfect, but it's a well made entry that does a good job of introducing Godzilla to a whole new set of fans. This is a brand new introduction to the creature, and this film makes no mention of any previous Godzilla features, so we're starting from scratch here. Again, it's running time is a bit bloated, but it's never boring, and it ends with a flourish that promises some more new surprises from Godzilla in the next film. Shin Godzilla does exactly what it sets out to do, it introduces a new Godzilla with updated abilities that isn't looking to make any friends with anybody. This is a Godzilla that I've been waiting a long time for, and I can't wait to see what's in store for the next installment. The big guy is back, and he's taking absolutely no prisoners!
Shin Godzilla – 3.0 out of 5 Shrouds.