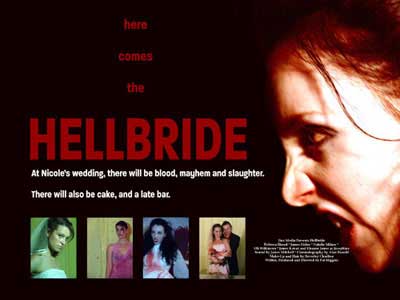 SYNOPSIS:
Lee Parker and Nicole Meadows are all set to be married. There are, however, one or two problems on the horizon. Nicole's engagement ring is cursed; once the property of a wronged bride who went on a killing spree, the ring has a history of bringing death and destruction to all who come in contact with it. Not only that, but Nicole's father has become involved in a fearsome dispute with a local mob boss; a situation that looks perilously close to spiralling into bloody violence at any minute. Also in the mix are a massively unreliable Best Man who yearns to reunite with his ex-girlfriend who happens to be the bridesmaid, and an eccentric expert on the occult who has been hunting for the cursed ring for years. On the wedding day, the ceremony will erupt into bloody violence, supernatural vengeance and utter mayehm. On the bright side, there will be cake and dancing, too.Jinx Media's acclaimed third feature film is the most terrifying romantic comedy of the year; a supernatural stew of laughs and scares that is quite unique.
REVIEW:
James Fisher as Lee Parker
Eleanor James as Josephine
Rebecca Herod as Nicole Meadows
James Kavaz as Lesley Meadows
Neil Andrews as The Shopkeeper
Cy Henty as Sinclair
Natalie Milner as Carly
Oli Wilkinson as Ricky Pearson
A ring with a curse. That's all it takes to set the horror in motion. As legend has it, Josephine Stewart betrayed by the man who she was engaged to marry goes on a rampage killing anyone associated with her former fiance. As most scorned lover tales go, this one ends badly with her biting her finger off, stabbing here fiance and committing suicide to forever curse the ring through history to its wearer. HellBride begins with a brief storybook tale that explains the ring over his troy and how it came to be. Its' current resting place happens to be in he collection of a local ring dealer.
Lee Parker (James Fisher)and Nicole Meadows (Rebecca Herod) our couple in love prepare to be married. Prior to proposing Lee had acquired a ring he fell in love with at a local jewelers store. The problem is, the ring is cursed with the vengeful spirit of Josephine Stewart. Nichole's father James Kavaz, a business man has his own trouble as deals with locals gagsters he owes money to. The trouble just got worst as he shoots the main gangsters son in the head after a brief office dispute.
The ring begins to overwhelm Nicole with night terrors, phantoms and daylight hallucinations as it begins to take its course. Troubled and distraught Nicole seeks out her best friend Carly's help to uncover the rings true nature in fear that something more sinister is at hand. Upon visit to Carly's cousin who knows a thing or 2 about the occult instantly recognizes the ring as the cursed ring of Josephine Stewart. Feeble attempts to trap the spirit into a mirror are short lived, though they appear to work for the moment.
The ghost of Josephine continues to haunt with the aid of a long nosed ugly beaked lackey that does all her dirty work. Even with minimal usage of makeup the lackey demon is still effective as it is used in minimal but jarring appearances. I also love the way the eyes come thru the mask that giving it that certain working creepiness that reminds me of creature you'd see in the film "Legend".
The wedding goes as planned in spite of the gangstering, vengeful spirit and metaphysical dilemmas. Of course with all these warring forces, something's got to give. A botched attempt at ridding the demon per a dismembered finger actually becomes quite comical as they hurriedly rush to reattach per a staple gun.
Directed by Pat Higgins, this is actually the 2nd film offering I've seen just recently. Once again Pat not only knows how to tell a story he does so in a way that keeps the audience engaged with clever use of humor, horror and camera eye. HellBride being a low budget independent release, its sometimes harder to convey the right elements on screen on limited finds and still deliver. Pat seems to have no problem with such restraints. Shots are composed for maximum effect which really does the trick. Pat also has a great sense of acting talent. I thoroughly enjoyed the acting roles, that not only fit the parts but carried over personality and humor form the script. Rebecca Herod was a nice mixture of sweet and aggressive combined.
My only disappointment was the digital FX which were a bit too on the cheap for my tastes. They were used very minimally but I'd like to see them ramped up on future needs for a bit more embellished believability. This simply can be rectified with a bit more knowledgeable compositor taking the helm. Though as far as low budget films goes, this is definitely one of the better I've seen. Budget or not it all comes down to viewer insight and timing and Pat really has that going for him. I'll be looking forward to the next release from Jinx Media and recommend you check out their titles.