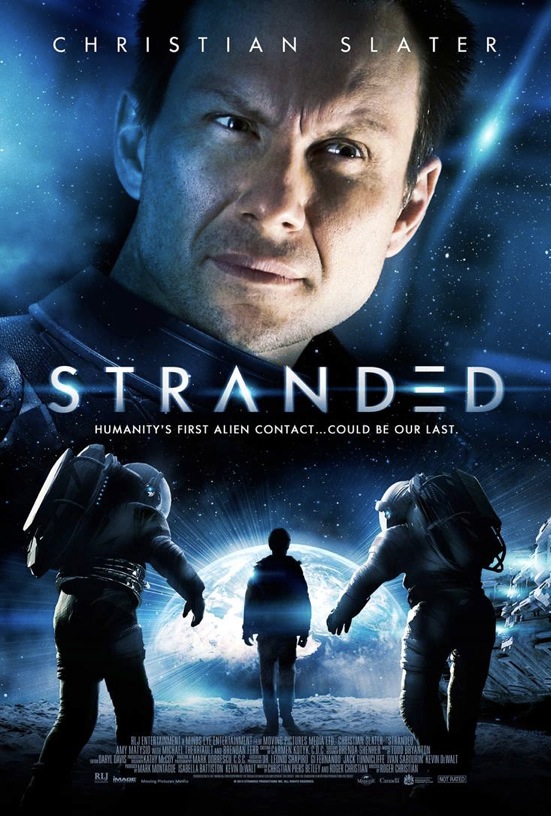 Image Entertainment, an RLJ Entertainment (NASDAQ: RLJE) brand, has announced the release of STRANDED on DVD, Blu-RayTM and digital download from Director Roger Christian and Writer Christian Piers Betley on 

Aug. 27, 2013

.  The film stars Christian Slater and Brendan Fehr.  STRANDED will be available on DVD for an SRP of $27.97 and Blu-rayTM for $29.97. 
When the isolated U.S. military moonbase is bombarded by a rogue meteor storm, Colonel Gerard Brauchman (Christian Slater) and his small crew are cut off from Earth with their life support failing.  Before long, the crew discovers the meteors harbored alien spores…and they're replicating. Now a vicious, shape-shifting predatory life form is loose inside the crippled facility, picking off victims one by one. Locked in a desperate fight for survival, Brauchman and the terrified remaining astronauts have one final mission…keep the creature from escaping the moon and finding a new food supply on Earth.
STRANDED was produced by Mark Montague, Isabella Battiston and Kevin DeWalt, and executive produced by Dr. Leonid Shapiro, Gi Fernando, Jack Tunnicliffe, Ivan Sabourin and Kevin DeWalt.   
Recent Image Entertainment releases include The Numbers Station with John Cusack and Malin Akerman, Tomorrow You're Gone with Stephen Dorff, Michelle Monaghan and Willem Dafoe, Day of the Falcon with Antonio Banderas, Freida Pinto and Mark Strong and the upcoming The Colony with Laurence Fishburne, Bill Paxton and Kevin Zegers, Blood with Paul Bettany, Mark Strong and Brian Cox and Paradise with Julianne Hough, Russell Brand, Octavia Spencer and Holly Hunter, written, directed and produced by Diablo Cody.