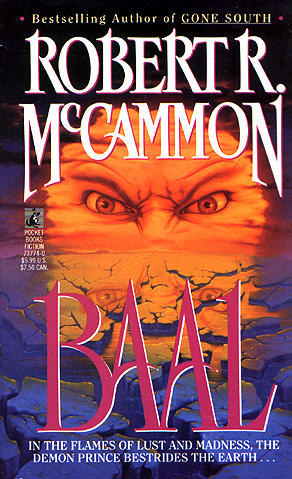 BAAL (1978)
By: Robert R. McCammon
Pocket Books
347 Pages
A dark prophet has been exhumed from the bowels of hellfire and brimstone to walk among mankind. Spreading his unholy gospel unto a legion of followers the prince of demons seems unstoppable. Will a rebel rising be enough to thwart his evil tendencies or will society ultimately crumble unto the power of Baal?
Readers familiar with McCammon's works will find no surprise that the veteran author was the recipient of the 2013 Bram Stoker Awards Lifetime Achievement honours just recently. To know McCammon's novels, whether contemporary or early endeavors is to fathom true captivation. His story telling prowess and imaginative plots are more comparable to fictional odysseys rather than a mere reading experience.
Baal, his first published novel is no exception. Written over thirty five years ago, his introductory story is gripping, chilling, thought provoking and packs a punch that pales most current novels in comparison. Most authors of today would gladly sell their soul to have the ability to compose a tale with even a fraction of the same impact.
The author has referred to this creation as his angry man novel in past interviews. A young Robert had worked in a department store at the time and penned this story after hours, long into the night in his desolate apartment. One has to wonder if he'd sported sideburns and bellbottoms accentuating a pop cultural look at the time. But as I digress I cannot help but shake the notion of this author claiming Baal is far from his favourite production and simply rates it okay.
McCammon's modesty finds the reader deeply embedded into the humble beginnings of the prince of demons. The supernatural power he holds over his birth parents is eerie and chilling. It's an effective segue unto what the impish disciple is capable of fixating the readership in ravenous page turning frenzy.
One can only deduce extensive research must have been conducted to illustrate a very thorough and believable setting of the Middle East and eventually Inuit (Greenland) culture. The diversity of locale is intriguing and will appeal to a wide audience. We get the best of both worlds so to speak and instantly we're absorbed into the background of the tale.
Conflict within Baal can be examined on a number of levels. God/Satan vs. man, the supernatural vs. man and so forth but perhaps the most interesting is the tension between Michael and Virga. We're instantly curious to find out more about the elusive Michael and what motivates him. McCammon ingeniously provides precious little hints about his character but just enough to enable the reader to realize his crucial importance.
The ability to create a timeless classic is mind blowing. A tale that stands the test of time is the sort of thing every author dreams of. Suffice to say Baal translates just as equally effective in 2013 as it does from its origin of 1978. The act of terrorism resonates among today's readership making this horror hit close to home. In a creative realm saturated with tales of supernatural entities, serial killers, zombies, vampires, creature and psychological thrillers Baal suddenly becomes larger than life with its apocalyptic undertones.
Although Baal is currently out of print a limited edition has been released from Subterranean Press along with his next three novels Bethany's Sin, The Night Boat and They Thirst. A link within the author's website www.robertmccammon.com provides readers with a list of potential places to purchase second hand editions online.