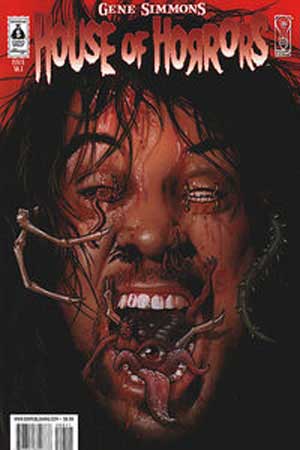 written by "various"
Art by "various"
Published by IDW Publishing
Publication Date: 2008
Format: Color – 192 pages
Price: $27.99
A wonderful collection of haunting, macabre and eerie tales brought to you from the demon himself, Gene Simmons. Straight off the IDW production line we have the graphic novel "Gene Simmons – House of Horrors". This packed edition contains all the contents of the series by the same name from issues 1-3 and guarantees hours of entertainment as it takes you thorough over 18 tales of horror approved by Gene himself. Add to that some dynamic covers along the way topped with short and sweet stories with a collection of killer artist contributions and you've got yourself a pretty cool read. Being a kiss fan myself, I really never knew the extent of Gene's story and his interest in comics. Gene provides a nice introduction that takes you back to the days before he decided to put a rock group together (ya I think they called it KISS ;). And come full circle he's still keeping the dream alive by producing a comic line that will appeal to all sorts of horror fans. With his own comic label "Simmons comics group" he hasn't stopped feeding the boyhood interest and his interest in the horror genre. Writers and artists in this one? Too many to name but all contribute a unique and artistic take on the tales that have been presented .
A little about the Simmons and IDW merger? Well I found this short bit after going a little digging: IDW Publishing is proud to announce that they have partnered with Rock Legend Gene Simmons of KISS fame to create the Simmons Comics Group, an imprint within IDW's stable of comics. Simmons himself will be writing some of the comics, and has fully created and fleshed out a number of new titles that will be appearing in comics shops and beyond in 2007 – published on www.simmons-comics.com
Are we pumping this book up just for marketing purposes? absolutely not! I love this book!! Being well into my adulthood, I can still come home from work kick back and enjoy a great comic. In this case a "great horror comic" The tales are short enough to read a few, grab some supper, and catch a few more later. 192 pages of coolness. Did we mention what else you get? Nick simmons provides a short story written personally to each edition inside, while his father takes the role of the crypt keeper by welcoming you into his house of horrors.
Stories range the gamut from devil children, oil serpents, an angry forest, a literal trip down into hell, ufos, aliens, water creatures, serial killers, family curses and a whole lot more! Macabre? – oh yes and plenty of it! While some tales are easily pg-13, other ones bring you into worlds of visceral horror and body parts galore. The illustration work is amazing complete with detail renderings and impressive inking. I know, all this excitement and nothing bad? To be honest no, I loved it and think you will too. Its a fun read and captures the heart of horror short stories From my perspective I'd say pass on the individual issues and just get this collection as a whole. It collects them all nicely in large graphic novel format to shelf next to you "Silent Hill" graphic novels – great stuff!