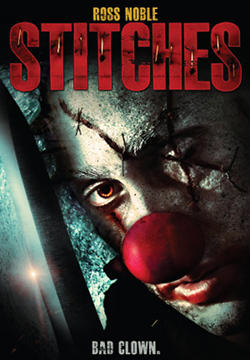 April 2nd will brings us STITCHES the latest killer clown movie coming at us from Dark Sky Films. Starring noted British comedian Ross Noble STITCHES tells the tale of a clown, back from the dead and ready to make balloon animals in a whole new way.
The press release fills us in:
World renowned British standup comedian Ross Noble stars as a murderous kids' birthday party clown for director Conor McMahon (Dead Meat, The Disturbed) in STITCHES, debuting with special April Fools' Day screenings in select cities on April 1, 2013. For fans who can't catch the rampage on the big screen, STITCHES will be available on VOD, Digital Download, Blu-ray, and DVD on April 2 from MPI/Dark Sky Films.
Years after a cruel kids' prank during a birthday party for 8-year-old Tommy (Tommy Knight, Doctor Who, The Sarah Jane Adventures) left hired clown Richard "Stitches" Grindle (Ross Noble) dead on the kitchen floor, the childhood friends gather to plan a birthday bash to end all bashes. But they haven't counted on the degenerate jester rising from the grave to seek vengeance on the children who mocked him and caused his grisly, untimely end.
Now Tommy and his teenage friends are on the run from an undead jokester who's ready to use every trick in the book (and many that aren't) to exact his revenge. Dead Meat writer-director Conor McMahon delivers a delirious slasher epic, a hilariously twisted and blood-soaked tale of one very bad clown with a talent for making balloon animals – but with one very hideous difference.
To usher in the coming release MPI/Dark Sky Films has sent along the following Red Band trailer. Enjoy, it's a pretty good one.