MAMA actually did quite well during its brief theatrical run and the fact that it stars an Academy Award nominee I'm sure didn't hurt it. It's already heading to home video and this morning brought the press release with all the news.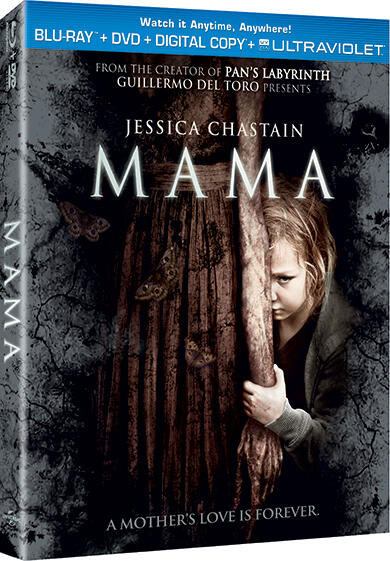 From the press release:
From Academy Award® nominated actress Jessica Chastain (Zero Dark Thirty, The Help) comes the pulse-pounding tale of one mother's twisted love in MAMA. Brought to life by Academy Award® nominee Guillermo del Toro (Pan's Labyrinth) and also starring Nikolaj Coster-Waldau ("Game of Thrones"), MAMA will be available on Blu-ray™ Combo Pack, DVD and On Demand on May 7, 2013 from Universal Studios Home Entertainment. Also available on Digital Download on April 23, 2013.
MAMA is the haunting tale of two little girls who vanish without a trace from their suburban neighborhood the day that their parents were killed. But when the young sisters are found alive years later in a decrepit cabin, their uncle (Coster-Waldau) and his girlfriend, Annabel (Chastain), take them in. As they try to introduce the children to a normal life, Annabel begins to wonder if the traumatized girls are the only guests they have welcomed into their home or if someone or something still wants to come tuck them in at night.
The Blu-ray™ Combo Pack allows fans to watch MAMA anytime, anywhere on the device of their choice. It includes a Blu-ray™ disc, a DVD, a Digital Copy and UltraViolet™ for the ultimate, complete viewing experience.
· Blu-ray™ disc unleashes the power of your HDTV and is the best way to watch movies at home, featuring perfect hi-def picture and perfect hi-def sound.
· Digital Copy provides fans with a choice of digital options to watch on devices such as iPhone®, iPad®, Android™, computers and more.
· DVD offers the flexibility and convenience of playing the movie in more places, both at home and while away.
· UltraViolet™ is a revolutionary new way for fans to collect their moves and TV shows in the cloud. UltraViolet™ lets consumers instantly stream and download to tablets, smartphones, computers and TVs. Now available in both the United States and Canada.
BONUS FEATURES (BLU-RAY™ and DVD):
MATRIARCAL SECRETS BD EXCLUSIVE: An in-depth exploration of the digital and practical effects employed to shape the film's phantom presence.
DELETED SCENES with Commentary by Director/Co-Writer Andy Muschietti and Producer/Co-Writer Barbara Muschietti
ORIGINAL SHORT WITH INTRODUCTION BY GUILLERMO DEL TORO with Commentary by Director/Co-Writer Andy Muschietti and Producer/Co-Writer Barbara Muschietti
THE BIRTH OF MAMA: MAMA began as a chilling short that announced a new voice in the horror genre. Exclusive interviews with Executive Producer Guillermo del Toro and the filmmakers track the bloodline of the feature and explore changes needed to make the transition to a film.
FEATURE COMMENTARY with Director/Co-Writer Andy Muschietti and Producer/Co-Writer Barbara Muschietti