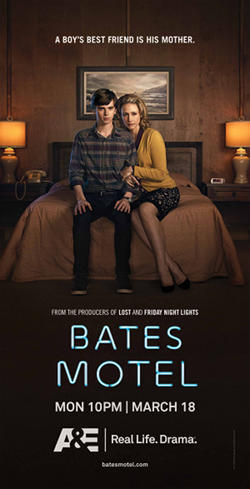 What better way to draw in an audience then to put out some extended footage and let word of mouth do what it does. Exactly what A&E is thinking with this extended four minute tease of BATES MOTEL. Before the clip, here's all the info to refresh you memory of exactly what you're watching.
The series stars Academy Award nominee Vera Farmiga (Up in the Air, The Departed), Freddie Highmore (Charlie and the Chocolate Factory, Finding Neverland), Max Thieriot (Disconnect), Olivia Cooke (Blackout), and Nicola Peltz (The Last Airbender). Season One also co-stars Nestor Carbonell ("Lost," The Dark Knight Rises) and Mike Vogel ("Pan Am"). "Bates Motel" is produced by Universal Television for A&E Network.
Series Premiere Synopsis – "First You Dream, Then You Die" (3/18/13 air date):
Norma Bates buys a motel on the outskirts of an idyllic coastal town seeking a fresh start with her teenage son, the handsome and shy Norman.
Here's that extended look and make your plans now to tune in on March 18th..