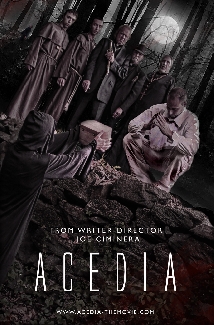 SYNOPSIS:
A group of priests have been commissioned by the Vatican to perform an exorcism on a girl seemingly possessed. The ritual unravels at the seams as the priests soon realize the village locals have been wishing upon an unholy box allegedly constructed from actual wood from Noah's Ark. The wishes come at a hellacious cost as he who casts the wish must exchange their eternal soul.
REVIEW:
Directed By: Joseph Ciminera
Starring: Matthew Burns, Robert Arensen, Joseph Ciminera, Frank Riano
Demonic possession films seem to be the theme of the hour. Many aspiring film makers not withstanding Hollywood's philosophy as well that if something works, carbon copy the formula and saturate its potential for all its worth. We've seen countless substandard productions as of late such as The Devil Inside, The Last Exorcism just to name a couple yet all of the contemporary releases dramatically pale in comparison to William Friedkin's the Exorcist.
Perhaps the 1973 production was ahead of its time. No question the film is incredibly controversial even by today's standards. Considering these variables it's difficult to decipher what Acedia was going for.
Sure the plot in written format looks intriguing enough. There are very original ideas crafted into the film such as a wish box and demonic possession all ravelled into one. There are three storylines running simultaneously which one can only speculate are three of the village's locals who have wished upon the perilous box. The plot tends to jump around quite a bit so close attention has to be made at all times, at all costs.
The special effects are of superb quality and reminiscent of The Ring or Grudge. The skitterish, quivering apparitions is an effective image and utilized well here. The spirits and the possessed child are creepy as hell and will likely resonate with most viewers long after the fact.
What began to ruin an otherwise half decent production was the acting in general. Initially the performances seemed okay, nothing exceptional but nothing putrid either. As each scene progressed one had the impression we were bearing witness to community theatre rather than a motion picture production. The demon voice over, or possessor of the box sounded like a monotonous, bored department store manager announcing the latest specials. The dialogue was repetitive and redundant in some cases. With one scene in particular a spirit child discloses her premonition of her living companion's death despite the fact it has already been clearly implied for several minutes. The audiences' intelligence is essentially been insulted making these moments in the film very awkward and difficult to watch.
Director Ciminera was also cast in the role of The Devil and could have been a fatal error in judgement. Typically fans of the horror genre have a preconceived notion of what Satan would sound, behave, appear and do. Ciminera, although highly talented in the ability of balancing on the balls of his feet for extended periods of time did not portray a very convincing performance. It was next to impossible to buy into his portrayal, making his scenes difficult to watch and embarrassing in a certain sense.
There is another scene with dialogue exchanged where they promptly switch to a foreign language. No subtitles are offered and then they just as quickly conclude their interaction back in English once again. It was surreal to see.
Perhaps his national status as a celebrity chef on his hit television show Taste This seemed like an obvious recipe for cinematic divinity. Regrettably Acedia for the most part just left a poor taste in my mouth.
I'm sure there's a market somewhere within cult classic aficionados for Acedia and worth a glimpse for fans of religion based films.
-One out of five tombstones
Acedia (2012)