If the name David Anders doesn't ring a bell you should be ashamed. He has been a part of some of televisions' most talked about genre series including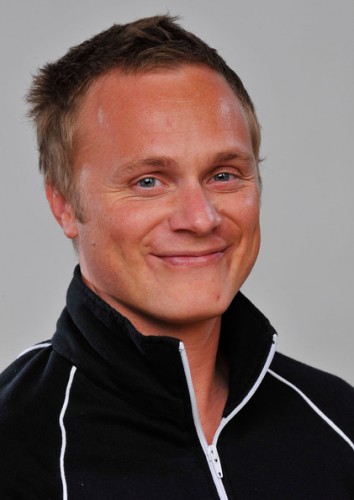 "Alias", "Heroes", "The Vampire Diaries", and now "Once Upon a Time". He is also rather well known for his strong British accent. His replication of the accent is flawless and you would never know that he was born and raised in Oregon. David recently had the chance to step into the lead role in special effects maestro Kerry Prior's "The Revenant" arriving on shelves from Lionsgate on September 18. I recently had the chance to speak with David about the film and here is what he has to say.
ZMan: Hey David, how're you doing?
DAVID ANDERS: I'm doing alright, Corey. How are you?
ZM: I'm doing great! So, it's finally coming out!!
DA: It's finally coming out, right? We shot it in 19 ought 4 I believe (laughs). Kerry took his f*cking time cutting it together but I think we've got something good.

ZM: How did THE REVENANT land in your hands? Was it something you were offered or auditioned for?
DA: Yeah, it's so funny. I actually had another audition in the area. I was totally just gonna skip it. I was like 'f*ck it', I'm here, I'll do it, whatever. I went in for Chris' (Wylde) part, for Joey, and initially I was gonna play Joey and Eric Balfour was gonna be Bart. Then Balfour fell out and Kerry gave me the choice of playing Bart or Joey. I was like "I'll be number one on the call sheet, sure". I'm so glad I made that choice because Chris is disgustingly good and so funny in this movie and I never would have met the f*cking guy, now he's one of my best friends. I'm so glad that I turned Joey down.
ZM: That leads in to my next question. You and Chris are just so amazing together onscreen that your chemistry would have me believe that you had been best friends before.
DA: Right, we bonded quick and he's one of the funniest guys I know. It was just great to feed off of him, we riffed a lot, we ad-libbed a lot, and the core of the movie really is about the friendship and the relationship between them. It was a treat.

ZM: When you started filming did you realize that you were on to something THIS GOOD?
DA: It took me about halfway through the process to say it, at first I didn't think this was going to work. But Chris kept saying, "It's going to be great, it's going to be great!" The make-up on top of the contacts were hell for me so, there were some days I wasn't a treat to be around on set
(laughs). Living behind the make-up and contacts really helped me get into this guys' skin and understand what it's like and where he is coming from, then like halfway through I told Kerry, I think what we're doing is f*cking good, original, and then I didn't like the first couple cuts. They were way over-long, and now finally we trimmed the fat and now I think it is its own beast.
ZM: I found it surprising that a genre film like this ran close to two hours, it is two hours right?
DA: Yeah, yeah.

ZM: It never felt like that and just flies by.
DA: I hope it clips along.
ZM: Oh, it does.
DA: It's a fun ride! At this point I've seen it so many times, so it's good to know that fresh eyes are thinking that the pace is alright. I think the first cut of the film was two and a half hours and I was like, "Dude, it's not "Schindler's List" for Christ's sake." Then Kerry trimmed some of that shit and yeah, it's good to know. I'm glad you liked it.
ZM: Did you do any sort of preparation for the role?
DA: No, no training, none of that. It was just flying by the seat of my pants. It was just showing up, putting on the make-up, and knowing my stuff. And constantly adding stuff too (laughs).
ZM: Was it a real difficult shoot? Technically it was Kerry's first feature as a director I guess but he was doing so many different things, was he wearing himself thin? Though he obviously pulled it all together perfectly in the end, was he tough to work with?
DA: Not at all. There were days when Kerry was frazzled because this was his baby and he wanted it to be perfect. Kerry did a great job directing, sticking with us, and we stuck with him. We followed him wherever he took us and vice versa. So, it, I don't know, you know (pause) I'm proud of it. At the end of the day that's really what it's about……….and people seeing it (laughs). We want people to get a chance to see it.
ZM: Have you seen it with an audience yet and what was the reception like?
DA: Yeah, oh totally, yeah! We did the festival thing. Chris and I went out to CineVegas and won the audience award, it was a packed house and great theater then we just brought it down to ComiCon in San Diego and that was another packed house and everybody loved it. It's fun to see it with a crowd. It's cool, one of the six or seven cities it was released in was Portland so that's where my family lives and a bunch of the friends I grew up with went to see it in the theater and said they had a great time. My parents saw it at a film festival in Portland some time ago which was great. So it's fun to watch with a live audience to see if they approve (laughs).
ZM: I actually reviewed the film earlier this year and I was just completely blown away by it. Then I watched it again the other night and it just gets better.
DA: (laughs)
ZM: I've been talking about it for months and I didn't know until recently what the release schedule was gonna be. Now, I can finally tell everyone when they can check it out.
DA: Yeah, please do, please do. Yeah, because we have been waiting awhile for this. We've been waiting awhile for September 18. We have a lot on the DVD. I think we have the best audio commentary ever, ever done. It's a wild ride!
ZM: It's you and Chris, right?
DA: Yeah, me, Chris, Louise (Griffiths) and Jacy (King), yeah so it's great. There's a bunch of special features with most of the scenes that were cut. There were some really great scenes that were cut. The packed package that's packed full of fun!!
ZM: Was there a particular scene that was your favorite or something that was just extremely difficult to shoot?
DA: Oh man, where do I start. There were a lot. The contacts and everything were just hell for me, so just the beginning of everyday getting in the
make-up then putting in the eyes was hell. Then people knew not to be around me for a minute or ten or twenty (laughs) then I'd be ready. Even though it was hell I was just ready to do it. A lot of the stuff, like the subway that was packed in and I only had one arm and shit. My character just goes to so many places in this movie that there were a lot of gems that were not fun to shoot but it served the character and the movie. Me being uncomfortable was kind of crucial I guess. If your pissed at the end of the day then use it.
ZM: I'm sure it was a pain having to spend the entire film in the make-up.
DA: Yeah, the face make-up took a little over an hour then the eyes. When my shirt was off and you see all the scars, that took three hours. It wasn't my first time doing prosthetics but every day of it just got to be a lot. You just go in your Zen cave (laughs) and transform, you know.
ZM: Some of the dialogue had a really snappy rhythm to it, was that Kerry's writing and was he open to improvisation.
DA: Chris and I had an amazing chemistry so we riffed and ad-libbed a lot and sometimes we'd have our own version of a scene and Kerry would be like, "Can we do my version now?" And you know he was gonna use our version. Kerry wrote a lot of great jokes and we loved and kept them. But once Chris and I were let off the leash we'd just go on till they yelled cut.
ZM: Straying from the subject but I have to ask how "Once Upon a Time" is going?
DA: Oh, it's going great man. We just wrapped episode 2×05 and it's gonna knock your socks off, fold them, and neatly tuck them in your dresser. It's that good!! I'm not saying if it's my big reveal, because I'm not allowed, but I'm not saying it's not.
ZM: So I take it you'll be getting more screen time this season?
DA: Yeah and my character's motivation is revealed finally. And that's the whole reason I did the show was for this. It took a whole year but damnit it's good stuff. I love Vancouver where we shoot it. It's a great city and I'm from Oregon originally so it's a little like home, like nature on steroids.
ZM: Do you have any other projects in the works that you can talk about?
DA: No, just "Once Upon a Time" right now. Actually, later today I'm going in to read for a part on "Revolution" and what I have read of that script is great! My brother J.J . put his name on that. J.J. Abrams is my champion, he's the reason I have a career. So who knows. Maybe if I talk to you tomorrow…
ZM: Well best of luck! That show is looking great, man.
DA: The script is fantastic and the pilot so hopefully I'll be able to step into it.
ZM: Well David, I really appreciate you taking the time out to talk with me.
DA: Absolutely Corey, it was a pleasure talking to you. Have a great day!


Hailed as a "flat out fantastic horror-comedy" (JoBlo.com) The Revenant arrives on DVD, Digital Download and On Demand September 18 from Lionsgate Home Entertainment, following a limited theatrical release from Lightning Entertainment rolling out on August 24th. Winner of the Best Feature, Best Director, Best Actor and Audience Choice at the 2009 New York City Horror Film Festival, this hilarious thriller stars David Anders (TV's "The Vampire Diaries") and Chris Wylde (Joe Dirt). Loaded with special features including two audio commentaries; one with director Kerry Prior and the other with cast members David Anders and Chris Wylde, a "making of" featurette, deleted scenes and a photo gallery, The Revenant DVD will be available for the suggested retail price of $26.98.
Interview: David Anders (The Revenant)